Blog
5 Keys to sending successful messages: A recap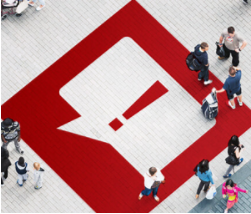 There are numerous reasons why a message could fail, and in the emergency management and public safety business, failure isn't an option. That's why we here at Everbridge held a webinar with two experts who came on to explain just how to make sure any time there is an emergency, your organization is able to notify the right people with the right information in the right ways. If you'd like to view the full webinar, you can access it here. Our first guest, Tom Crane, was formerly employed by FEMA and is now a Senior Solutions Consultant here at Everbridge. He joined us to give some of his keys to sending a successful message. We won't get into all of his keys here, but for all of his best practices, you can watch the webinar replay. Tom split his keys to success into two categories: governance and procedural best practices. We put these two categories together and picked our five favorite keys to success to present here.
Get leaders and stakeholders involved. They can help set goals and objectives, and they will have a vested interest in the success of the notification program.
Build a communication plan that clearly states the authorities and responsibilities of alert senders. Your plan should address who will be responsible for sending alerts 24/7, 365 as well as what circumstances would require that a message be sent.
Have a policy for how users will access the system and send notifications. Preventing false alarms can be as important as sending critical messages during emergencies. Having a buddy system or peer-review process can reduce the risk of incorrect information being sent out to the public.
Ensure your SOP includes message composition requirements. Having policies surrounding when a message should be sent is important, but don't forget to mention what information should be included in that message. Should the message include a location? Any images? A directive to take a certain action? This should be determined before an incident occurs.
Make improvements as often as possible. Just like any plan or process, make improvements whenever possible to ensure a program is as complete and effective as it can be. Updating policies if mistakes are made and having regular process reviews can also make a communication plan more effective.
Alongside Tom, we were also joined by Everbridge's SVP of Product Management, Claudia Dent. Claudia came on to discuss what makes an ENS resilient and how Everbridge can help your organization send better, more reliable messages. Interested in hearing more? Watch the full webinar replay here. Learn more about Everbridge and how we can help you send better messages.