Blog
The ballad of IT interruptions – Let's "take a sad song, and make it better"
Network outages. Security breaches. IT interruptions. We've all lived through them, whether we were aware of them or not. And while they are inconvenient for you and me, they wreak utter havoc on organizations. As these types of incidents increase in regularity, we decided to take a much deeper look into how companies are responding to these IT communication challenges today – and what we found was pretty interesting.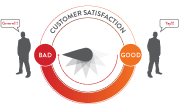 Everbridge recently surveyed 200 individuals responsible for their company's IT operations. The survey questions focused on the impact that IT interruptions had on their business – as well as the impact they had on their own personal and professional lives. All of the findings can be found in our e-book, "Current Trends and Concerns in IT Communications," but first, let's take a minute to walk you through some of the highlights right here.
IT Incident Frequency – Real-World Stats
Respondents reported dealing with a whopping 30,000 IT-related incident in 2013, which averages to 150 incidents per organization. These stats included things like hardware failures, individual app and network outages, lost connectivity between sites or regional offices and data center performance issues. While we all know that IT outages are increasing in regularity, these findings drive this fact home even further.
Top Challenges with IT Outages – Communication and Time
Close to 50 percent of respondents said that communicating and collaborating quickly and effectively with impacted customers during an IT incident was their top challenge. Other major challenges included keeping internal stakeholders informed of the severity and likely duration of the outage and having the proper time to repair the problems.
What exacerbated many of these challenges was the method in which IT teams communicated with stakeholders. Brace yourself: 78 percent of respondents still rely on manual phone calls to communicate when an IT incident occurs. In today's mobile workforce, that is simply not an effective or appropriate means to reaching those impacted! Repeat after me, "automate your IT incident response and communications process."
Impact on the Business AND the Professional
Not surprisingly, 41 percent of respondents said that their organization experienced decreased customer satisfaction as a result of IT incidents. But what is often overlooked is the impact these incidents have on IT professionals themselves. Sixty-four percent of respondents said that they experienced personal stress as a result of IT incidents.
If this survey tells us anything, it's that organizations have a lot of work to do. They have to look critically at their IT outage response and communication processes and deploy automation tools to ensure that (1) the right experts are engaged as quickly as possible during and service outage to resolve the issues and minimize business disruptions and (2) the impacted stakeholders (customers, employees, management) are kept informed during (and after) the incident.
IT Alerting — We Are Here to Help
To read more about how companies are impacted by IT outages, don't forget to read the free e-book. You can also learn more about Everbridge's recently released IT Alerting solution, which is designed to improve IT incident communications.