Blog
Think twice before building your own IT incident management solution
Why You Should Think Twice Before You Decide to Build Your own IT Incident Management Solution
As a company, do you really want to enter the IT incident response business. Think twice before you decide to build your own IT alerting solution: "why wouldn't we just build this ourselves?"
You probably did not ask your IT engineers to build the CRM & HR systems, IT monitoring tools, application performance or the ticketing system your organization use today. Why would this be any different for IT management solutions? The decision to embark on an in-house tool development has to be well thought-through, here's why…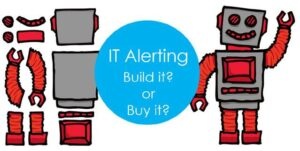 What Does it Really Take to Build Such a Tool From Scratch?
These are all really big problems, and they are big enough for many IT departments that they decide to go down the path towards building and deploying their own internal IT alerting solution. This may be the right way to go but you need to think through the development effort involved, and more importantly, the support and the maintenance of this additional IT ops tool.
For some small shop, it may seem like a good idea but building a reliable and economically viable IT alerting solution in-house requires more than just funding a development team for a few years, negotiating a good plan with telecom providers for SMS, voice and conference calls, in the US and in the countries where your IT people might be.
You need to consider the cost to develop the solution, host it, support and maintain it.
In regards to the development, you'll need to assemble a team comprised of a software architect, a few developers, a mobile app developer, a dba and a UX designer. Also make sure they stick around for a few years so they can support and maintain their custom code and bring new features together as the tool becomes utilized across the enterprise. You surely want to avoid turnover here. The great benefit of such a custom built solution is that it should address your specific needs whereas a solution from a vendor may only accommodate 90% of those.
These 7 developers will cost you about a million US dollars, and this is not including resources for QA and UAT, the infrastructure guys and a technical writer. That's another few hundred thousand per year at least until the tool is ready for prime time!
In addition, you will need to reserve some operational budget to cover the cost associated with hosting, operating, monitoring, supporting and maintaining the solution:
Hosting

Account for the hardware, the databases and the software you'll need to build, test, and run the solution in the production environment. If you want the solution to be highly available, you will also consider active-active clusters and a disaster recovery site. That's another few thousands US dollars every year.

Monitoring

This new IT Alerting tool will most likely be flagged as a critical application in your IT ips toolset and will require monitoring by the NOCs along with a runbook and an escalation procedure in case of a problem. Isn't this a catch-22? When something wrong happens with your brand new IT alerting tool, you won't be able to use it to reach out to the on-call people. Make sure you have a special emergency runbook for when this occurs. If you include technical maintenance, bug fixing, QA, that may add up to a half FTE or $75,000 per year.

Integrating

It is most likely that you will want to integrate your IT alerting tool with the other IT ops and ITSM tools you are currently using so that communications can be automatically triggered as soon as a critical incident is detected. You may need to find a few API developers to make this happen. Remember that those integration connectors will all need to be maintained and tested with every new release of these ITOM and ITSM tools.

Communicating

Besides voice, text and SMS, if mobile app push notification is a requirement then you need to build a mobile app so that people can update their schedule and availability from their smartphone. This is a great feature which will also need to be developed, hosted, supported and maintained.

Running

You will need to provision for all your communication costs should they be voice, internal voice, SMS, international SMS and collaboration tools such as conference calls. This can become significantly expensive especially if you have distributed teams across continents. Jeff, the Director of IT Ops who we were speaking with was saying they had on average two critical incidents per week, with an average of 10 people on each call who would spend an average of 3 hours per conference call. That's almost 200,000 minutes per year for conference calls only, not including SMS and voice. Prices range from a few pennies per minutes in the US to a few dimes in other countries.
The alternative is to select an IT incident response (also known as IT Alerting) solution from established vendors. I invite you to check out what real users say about the IT Incident Management solutions they use:
To learn more about what customers are really saying about Everbridge IT Alerting, check out this blog By Zisse Hanfling-Mueller from IT Central Station: