Blog
Fairfax CERT Program uses ContactBridge app for reporting field assessments
Fairfax County, Virginia is home to over 1 million residents across 390 square miles in the suburbs of Washington, D.C.. Since 2003, the county's Community Emergency Response Team (CERT) has embraced the reality that residents need to be prepared for major emergencies.
"Widespread emergencies like the Derecho windstorm of 2012 and the "Snowmageddon" snowstorm of 2010 emphasize that emergency responders are not always the first responders—bystanders and neighbors are often relied upon during and after disaster," explained Jeffrey Katz of Fairfax County Fire and Rescue.
Over 2,500 county residents have learned necessary skills for emergency situations. The 25-hour CERT course is delivered by the fire department and in coordination with the county's Office of Emergency Management. CERT training is based on the national CERT program curriculum administered by the Federal Emergency Management Agency.
The county's CERT classes are filled with residents eager to learn skills and help their neighbors, but coordinating volunteers and keeping them involved has always been a complicated task.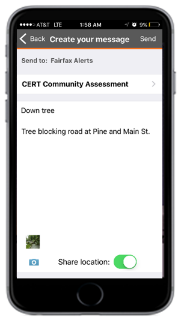 "Volunteers aren't issued radios, cellphones, email addresses or any of the traditional things we've used in the past to maintain communication with County firefighters, EMTs, or police officers. Nowadays, however, almost everyone has a cellphone or email address. We use Everbridge to regularly keep CERT members informed in a number of ways—email, SMS text messaging, automated phone calls, and the ContactBridge mobile app. Poll messages are also useful to quickly gather feedback from CERT members," said Katz.
Recently, Fairfax County began using the Everbridge platform to improve the way CERT members perform disaster assessments, which are typically conducted after severe storms. Members use the ContactBridge app to record and report their observations.
"The app cuts down on the time it takes to record and report observations. CERT members can now take pictures, write notes, and geotag their locations when sending information back to team leaders," said Paul Lupe of Fairfax County Office of Emergency Management.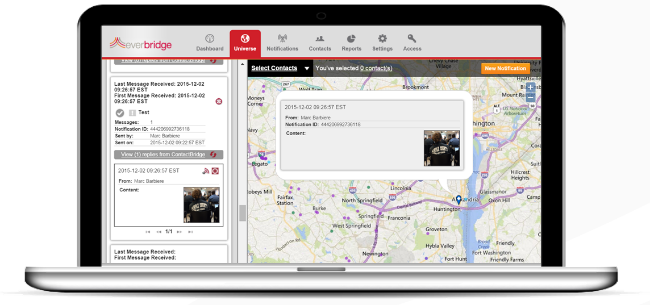 Lupe continues, "Geotagging and picture-taking features give us more accurate information on location and extent of damage. Team leaders like it because they can view member responses in near-real-time on an interactive web map and list format within the Everbridge platform. They don't need to sit around waiting for reports, nor do they need to sort through numerous emails and pages of reports to tally and analyze reports. We invite members to participate in periodic drills as a way to keep them engaged, but also to ensure they are well-practiced and prepared to use the app after a disaster."
Lupe presents on the county's use of the ContactBridge app in a 26-minute video. Click HERE to view it.
The ContactBridge app is available on Android and Apple devices and is for Everbridge customers. The app can be set to allow or disable solicited and unsolicited messages. Everbridge users can set their own thresholds to determine if or when they'd like to be notified when someone sends a report to them.