Blog
Are you attending Coachella this year? Sign up for safety, traffic and event alerts!
Since its inception in 1999, the Coachella Valley Music and Arts Festival has attracted thousands of people to Indio, CA for the chance to experience live entertainment from a wide variety of bands spanning various music genres.
Last year, "Coachella grossed a staggering $84,264,264 in ticket sales from a total of 198,000 tickets sold, both records. In its fourth year as a two-weekend event (April 10-12 and April 17-19) with virtually identical lineups, Coachella sold out its capacity of 99,000 per weekend." [1]
This year will be no different.
But after several devastating world events over the past year, Indio police officers have heightened concert security. They have partnered with other agencies in the area, will perform routine vehicle checks and will keep concert-goers informed with alerts through the Nixle app.
Attendees simply text "Coachella" to 888777 for updates and alerts.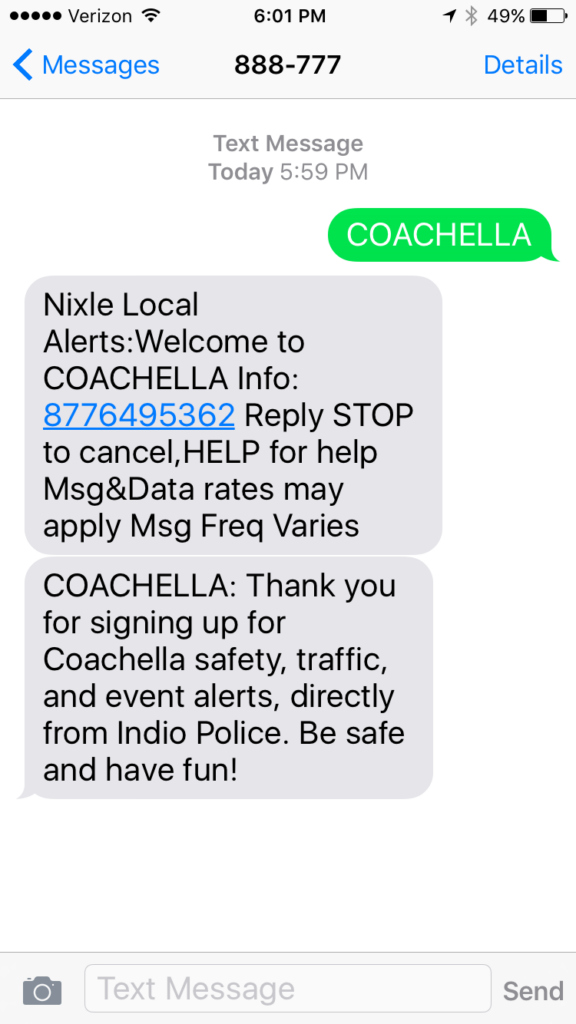 "It's our job, and it's our duty to provide a safe area for these people to enjoy the concert," Sgt. Dan Marshall said. [2]
Stay safe and connected at Coachella with the help of Nixle Alerts!
[1] http://www.billboard.com/articles/business/6633636/coachella-2015-earnings-84-million-breaks-attendance-records
[2] http://www.kesq.com/news/police-focusing-on-security-at-coachella/39035750
Additional coverage:
http://www.nbclosangeles.com/news/local/Annual-Coachella-Music-Festival-Begins-Friday-375821051.html