Blog
Did you know: IT issues and airline computer systems don't fly together?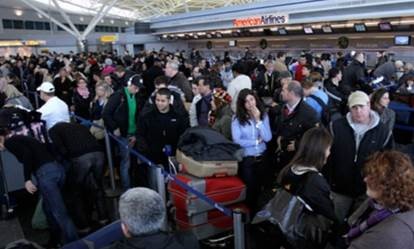 What do you think happens when the computer reservation system of an airline company crashes? Well, a major airlines experienced that exact situation last September – watch this three minute video and learn about the domino effect.
When a problem occurs with an airline computer system, it's a ripple effect which can quickly become a real mess as passengers are stuck in airports. The airline will soon order that all aircrafts be grounded. Passengers will start complaining and calling into the reservation desk to book other flights. In addition, labor laws will prevent the crew from working or flying.
Under these circumstances, when every minute counts, the IT department needs to quickly get to the right IT experts to investigate the issue and restore the service as quick as possible, before it just becomes unmanageable. Communication is critical between the IT experts but it's also primordial that the IT team be able to update stakeholders and especially the agents dealing with the passengers' anger and complaints. Often overlooked is the effect that an IT incident has on the employees of the airline. Watch this 30 second video to see how it feels to be an employee with no information to share whatsoever on what's going on during an incident.
Unfortunately, IT incidents are not rare events. JetBlue experienced the same issue a month ago. Watch this video to see what people had to say on social media.
Many of our customers' IT departments use Everbridge IT Alerting to reach out and communicate with the right on-call people as soon as the central reservation system has a hiccup so they can fix the problem faster and reduce the impact on the business.
The benefit is simple! You get the right on-call IT experts to collaborate on the issue resolution making the overall resolution time shorter and getting your planes back in the air. Ultimately, this saves you time and money and protects your brand image.
To learn more about how to use Everbridge for IT incident management and response, visit ITAlerting.com.