Blog
Did you know?: Poor web experience + slow MTTR = lost revenue
When an e-commerce website is too slow, when the "checkout" button on a favorite site just does not work or when an e-consumer has been staring at the little spinning wheel for a few seconds, it's most likely that their patience will wear out and they'll take immediate action.
The survey titled "Users are still Disappointed by Web Experiences During Peak Periods," [1] found that today's e-customers are not getting the performance they want from the websites they visit. E-consumers are also less tolerant of poor website experiences. As a result: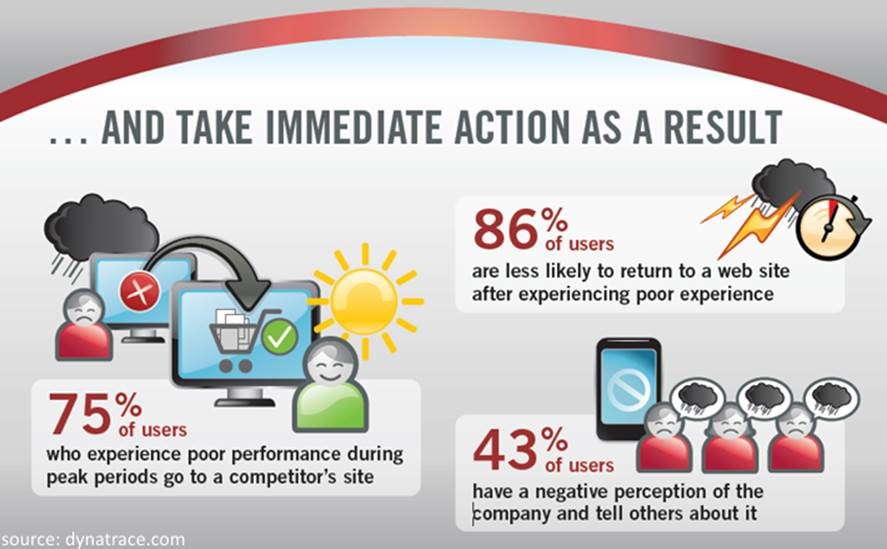 75% of users who experienced poor performance during peak periods go to a competitor's site.
86% of users are less likely to return to a web site after experiencing poor experience.
43% of users have a negative perception of the company and tell others about it.
From the survey, it is clear to see how critical IT issues can:
Impact online revenue. Every second until the issue is fixed – especially during peak seasons.
Hurt customer loyalty and retention. Customers are, in fact, one click away from your competitor.
Damage the company's image and brand. Website users can spread bad publicity on social networks.
The bottom line for companies: e-customers hate waiting and their slow website experiences could negatively impact revenue. This is why when a critical IT issue occurs and website performance is slow, it is crucial to get to the right support people fast so they can investigate the issue and restore service as quickly as possible. In other words, if a company can lower its Mean Time To Repair (MTTR) an IT incident such as slow website performance, the less impact the incident has on the business and its revenue.
At Everbridge, we help keep your e-customers happy! To learn how your IT departments can use the Everbridge cloud-based IT Alerting and Communications solution for IT incident management visit our website today!
[1]https://info.dynatrace.com/rs/compuware/images/Users_Still_Disappointed_Infographic.pdf?mkt_tok=3RkMMJWWfF9wsRolsqnMZKXonjHpfsX67ekvWqCzhYkz2EFye%2BLIHETpodcMTsZgM6%2BTFAwTG5toziV8R7PALs1uzNoQXhfg