Digital Wayfinding: More Than Just a Hospital Roadmap
A hospital's sprawling campus can seem like an obstacle course for people trying to navigate quickly and efficiently through its interconnected buildings and maze-like hallways. It's easy to see why patients and even staff can become lost. And this can add stress to an already urgent situation.
What is Digital Wayfinding
Digital wayfinding, indoor GPS for hospitals that leverages blue-dot, turn-by-turn navigation is designed to guide patients, visitors, and staff to their destination, quickly and efficiently. The technology has been linked to improving workflow efficiencies, patient satisfaction, and eliminating missed or late appointments—a problem that costs hospitals over $150 billion annually in the U.S.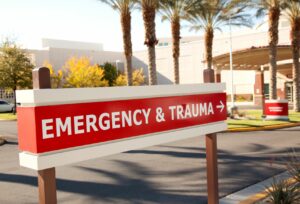 But hospitals are also leveraging wayfinding to manage the flow of traffic during critical events, rapidly locating and directing those in harm's way to safety or ensuring those in need of urgent care can access it without delay. A new Massachusetts law, Laura's Law, highlights the key need for safe and reliable wayfinding, ensuring that all patients in crisis can access care without issue.
The legislation is named after 34-year-old Laura Beth Levis, who succumbed to an asthma attack after arriving at an emergency room entrance that was locked. Unable to locate the correct entrance while in distress, she called 911 for help but her call was transferred. By the time first responders reached her, she was just 29 feet from the hospital's main entrance, but it was too late.
Under the new legislation, the Department of Public Health will implement statewide standards requiring hospitals to improve lighting, signage, wayfinding, and monitoring of all ER entrances. The law will take effect up to one year after the end of the state's COVID-19 emergency.
"Hospitals are at the center of their communities and ensuring access to care," said Eric Chetwynd, general healthcare manager at Everbridge. "This is particularly evident during a crisis when those in need of aid tend to turn to their local Emergency Department."
"Recognizing this and given the strain that many hospitals continue to face due to COVID-19, many hospitals are looking for new ways of ensuring they can respond quickly and efficiently," adds Chetwynd.
Chetwynd explains that there are three things to consider about wayfinding:
Traffic Flow During Critical Events
Instant Notifications
Patient Experience


Traffic Flow During Critical Events
Through wayfinding, people can be directed away from an incident or toward an exit, while digital signage can be leveraged to display essential information and updates. Within seconds, the hospital can redirect patients through interactive guides, eliminating the need for staff interaction and decreasing or redirecting the flow of traffic to certain areas of the hospital.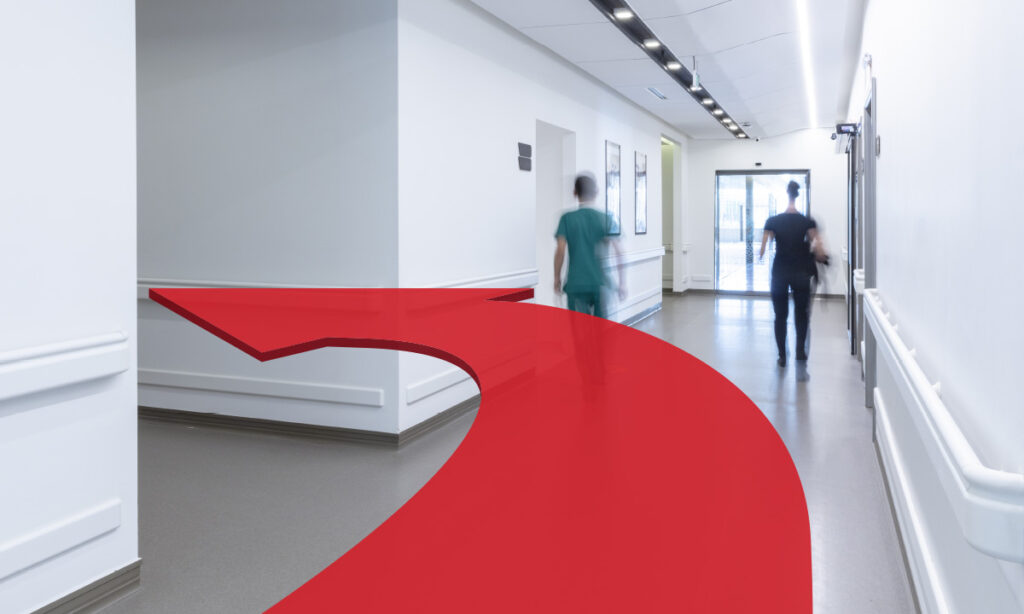 During COVID-19 this has been critical for hospitals. Through zone-based routing capabilities hospitals can create designated patient zones to keep COVID-19 patients isolated from the remainder of the patient population, minimizing the risk of infection. Patients can also receive real-time updates through their mobile app or hospital kiosk. When points of entry are shut down or appointment and screening locations are moved, updates can be automatically pushed out to wayfinding applications.
Instant Notifications
When points of entry and visitor policies change regularly, many health systems struggle to keep patients informed. Although hospital websites provide this information and there may be signage in and around main areas of the hospital, during urgent incidents as in the case of Laura Levis, when signage isn't clear and points of entry have changed, lives are placed at risk.
The wayfinding app addresses this by using Bluetooth low energy (BLE) beacons to safely guide patients to their destination from arrival to departure. Patients receive the latest policy and guides instantly, eliminating wasted time searching for the most up-to-date hospital routes or rules and the possibility of a missed appointment.
Patient Experience
Digital wayfinding systems are also designed to improve the patient experience by helping them to navigate around a hospital campus independently–it's estimated that 40% of patients and visitors depend on hospital staff for directions. And since wayfinding guides patients to the right destination with ease and reliability, it contributes to a less stressful patient experience that can lead to increased patient satisfaction.
"Technologies like wayfinding are leading the way by helping hospitals manage capacity, triage care, and inform and keep people safe," said Chetwynd.