Blog
Find Everbridge at DRJ Fall World 2014 (#DRJFall)
Summer is winding down. Bummer. Fortunately, Disaster Recovery Journal Fall World 2014 in beautiful San Diego is right around the corner. Sunday, September 7th, marks the first day of the event and the Everbridge team is gearing up for a great show.
Just like at DRJ Spring World, our team is full of anticipation for this event – the premier business continuity and disaster recovery conference. It has been a very exciting year and we have lots of updates to share, including the latest enhancements to our Unified Critical Communication Suite.
If you're attending the show, here is a quick run down of what to expect from Everbridge. And, for those of you not lucky enough to be in Southern California for the show – or if you are just playing hooky to hang with Ron Burgundy and enjoy some sunshine – you can follow us on Twitter. We will be live-Tweeting from @Everbridge, and using the conference hashtag, #DRJFall:
Visit our booth (#101 and #103): Stop by and meet with our team of experts – they will be available to answer questions, walk through use cases and provide product demonstrations throughout the show.
First Looks: Speaking of demos, Everbridge will include first looks at new features, such as PrecisionGIS and On-Call Scheduling.
Don't miss your chance to win an iPad: After you make your way to our booth, you can enter to win an iPad – simply take our survey on emergency preparedness best practices.
Customer Love: Every 30 minutes we will be holding exclusive "one-on-one" discussions with Imad Mouline, Chief Technology Officer. Contact marketing@everbridge.com to request one of these sessions in advance – spots are limited!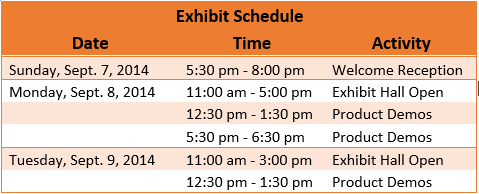 Finally, here is our booth schedule to help you plan ahead:
If DRJ is just too far away, feel free to request a demo or quote prior to the show. We are always here to help!