Register for the Free Virtual Symposium Today
Everbridge Executive Summit gathers top leaders to chart return to work path amid COVID-19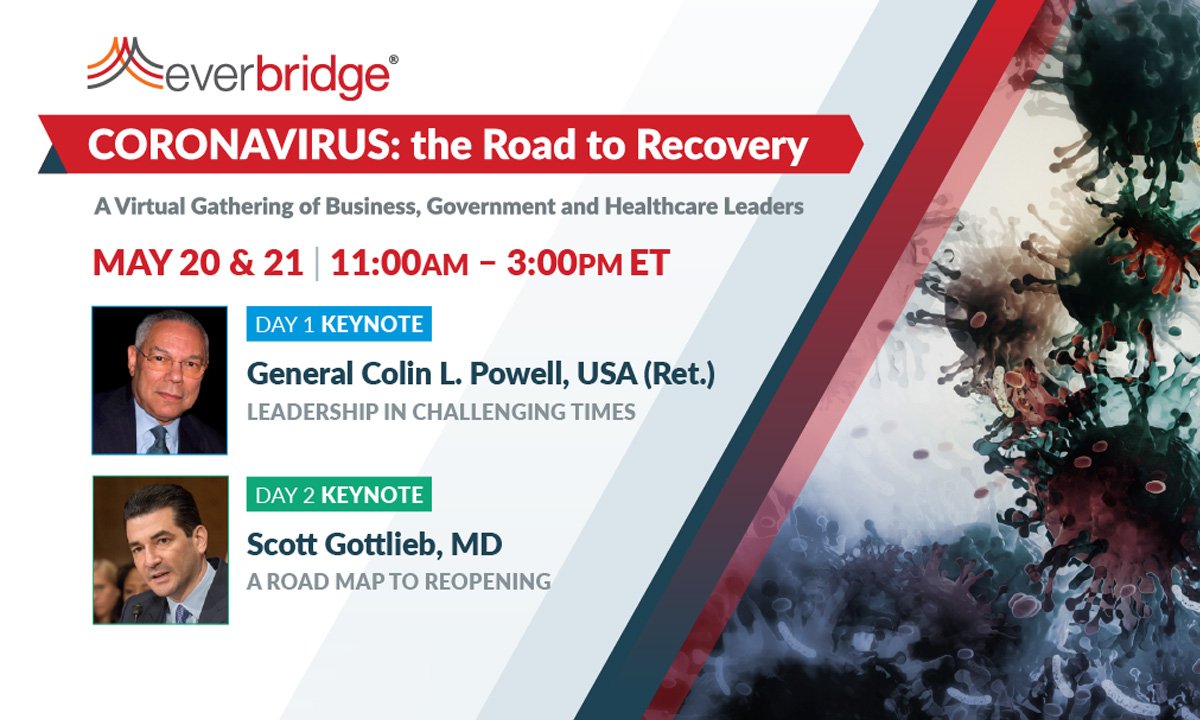 As people return to work and public spaces over the coming weeks and months the risk of a resurgence of the coronavirus pandemic is top of mind. Success will require cooperation among business, government and healthcare leaders. Everbridge brought together executives for Coronavirus: the Road to Recovery, a free virtual gathering designed to help organizations around the world chart a path forward.
Everbridge had two keynote speakers General Colin L. Powell, USA (Ret.) and Scott Gottlieb, MD. Among Gen. Powell's many achievements are serving as Secretary of State under President George W. Bush, Commander of the U.S. Armed Forces and Chairman of the Joint Chiefs of Staff.
Dr. Gottlieb was Commissioner of the U.S. Food and Drug Administration from 2017 to 2019 and has dedicated his career to advancing public health by developing innovative approaches to improving medical outcomes and reshaping healthcare delivery.
They were joined by senior executives from Biogen, the Cleveland Clinic, the Houston Methodist Hospital, Accenture, Gap Inc., the Florida Division of Emergency Management, the Boston Celtics and many other institutions that are on the front lines of the battle against COVID-19.
The gathering focused on how organizations can band together to overcome the obstacles to Return to Work and to Return to Public Spaces with a particular focus on the next several months. Speakers addressed the needs of executive-level decision-makers in areas related to security, operations, risk, human resources, clinical operations, emergency management, and supply chain.
The agenda covered such topics as:
How to motivate and manage a remote workforce that will likely remain a significant presence in business and government for the foreseeable future;

How to manage the talent pipeline to continue to attract and retain the people you need;

How to fortify supply chains for the long term;

How to build and maintain customer relationships using the tools of digital engagement;

How healthcare organizations should prepare for reopening and resuming the elective procedures that are so important financially;

How cities, counties and states can meet the informational needs of their residents on an ongoing basis; and

How to stay abreast of the latest information on new outbreaks, regulation changes and advisories across multiple geographies.
The conference builds upon a series of initiatives Everbridge has launched since the outbreak began in order to help governments and businesses cope with the impact of the virus.
Everbridge's new

Covid-19 Return to Work

and

Covid-19 Shield

packages provide organizations with critical information and tools needed to keep up with changing regulations, protect employees and customers, maintain business operations and safeguard supply chains.

The

Coronavirus Preparedness Digital Hub

features an interactive map showing the most recent alerts around the world overlaid with news from the world's largest database of verified risk data.

A series of webinars, best practice preparedness kits, and blog posts keep critical event professions up-to-date with the latest news and advice on response and management strategies.
Everbridge serves over 5,000 enterprise customers, 1,500 healthcare entities, 3,700 first responder agencies, and the populations of entire states and countries around the world. Since the COVID-19 outbreak began, organizations have used Everbridge's critical event management platform to send over 300 million virus-related communications as well as to coordinate rapid response plans and teams.
The road to recovery could be a long one. Prepare yourself for the journey. Watch on-demand sessions now.