Blog
A great response to Everbridge at London's 2014 BCI World
Remember, remember! The 5th of November! This year Guy Fawkes shared his day with the kick-off of one of the biggest events on the Everbridge EMEA calendar. BCI World, hosted by the BCI, is the industry's largest conference and exhibition, and it drew over 600 global industry professionals to the Olympia Conference Centre London.
There to officially launch the rebrand of recently acquired Vocal, Everbridge EMEA spent an exceptionally busy two days welcoming visitors to the stand and meeting hundreds of delegates keen to experience and find out more about our company and exactly what we do.
But it didn't end there. Alongside the Everbridge exhibition stand in the main hall, our CTO, Imad Mouline dedicated his time to providing visitors with the opportunity to gain a clear understanding into the product roadmap and vision for 2015. We are renowned for introducing innovative, industry leading critical communications technology to the market year upon year and attendees of these personal, focused sessions were lucky enough to gain a sneak peek into the direction that we are set to take next year.
Imad also led the way with the much anticipated launch of the inaugural BCI Emergency Communications survey, produced in partnership with Everbridge. This benchmark research collated nearly 700 responses from industry professionals across the globe, providing contemporary and fascinating insights into the absolute necessity of emergency communications within the workplace, as well as the mind set of our industry professionals in an ever changing, evolving landscape. To download your copy of the BCI Emergency Communication report, please click here.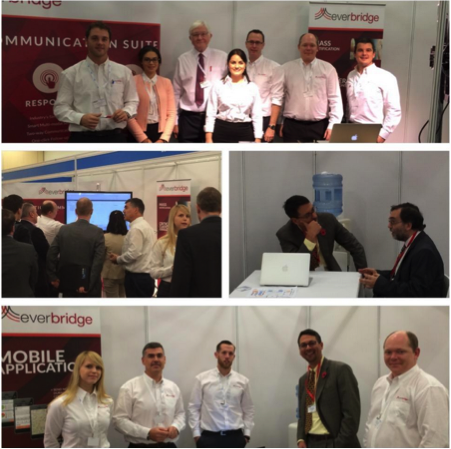 Mobilizing your incident response is the industry's hot topic at the moment and we are keen to empower today's workforce to leverage, connect and engage with today's mobile environment. With this ethos in mind, Daren Rapley, Everbridge Enterprise Sales Manager, hosted a well-received, informative 45 minute session, delivering best practices in overcoming the critical communication challenges of a mobile world.
All in all, the team had a fantastic show, meeting both our valued customers and making brand new contacts with whom we hope to have close working relationships in the future. We're already planning for next year's conference. For more information about the BCI and the work they do, please visit www.thebci.org.