Blog
Harnessing the Internet of Things: Everbridge and Federal Signal
Imagine that your local community's water dam was connected to a critical communication system. Now imagine that every time that it needed to be released, the system would automatically trigger a notification to the public works department to enable them to take the appropriate action.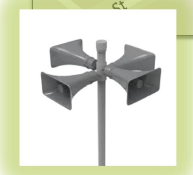 You can stop imagining–the future of "Smart Cities" and Internet of Things-enabled critical communication is here. In case you missed it, this week we announced a game-changing partnership between Everbridge and Federal Signal. The relationship is the industry's first partnership that is built on the Internet of Things–a combined system that joins Internet-connected warning devices, including sirens, radios, panic buttons and digital signage to trigger Everbridge emergency notifications, warnings, community announcements and other communications when necessary.
This is a significant announcement that will enable our customers to deliver real-time contextual communications during critical events directly from emergency alerting tools. Some examples:
Following a hazardous chemical spill, businesses and local governments can activate emergency sirens to deliver an Everbridge-powered SmartMsg notification that alerts individuals to evacuate their nearby homes and facilities
Warning systems for cities, municipalities, universities, industrial and nuclear power plants can now be used to broadcast national weather service storm warnings directly from the Everbridge/Federal Signal solution
In addition, Gartner recently highlighted this partnership in a new report, "Everbridge and Federal Signal Partner to Enhance IoT Emergency Alerts."
Stay tuned for more as we continue to harness the Internet of Things to empower innovative ways to communicate critically and effectively.