Blog
Hospital communication best practices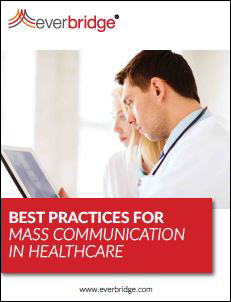 In the past, hospitals utilized mass communication systems simply for emergency notification. However, that is beginning to change, as the critical communications needs of hospitals are rapidly evolving. In addition to emergency notification, hospitals now utilize mass communication systems for code calling and STEMI alerts, staffing and much more.
Stephen Monteiro, Capacity and Emergency Management Director, Boston Children's Hospital, used his mass communication system during a critical power failure to reach key personnel required to remedy the situation:
"During a critical power failure in our region, we utilized our mass communication system to quickly gather all key personnel into a single location to mitigate the situation," he said. "Without a mass communication system, we may not have been able to gather all the required employees in an unplanned meeting on short notice. By being able to assemble these people so quickly, we were able to easily disseminate information that lead to the successful management of what could have been a crisis situation,"
Discover additional best practices and use cases for your mass communications system from experts at hospitals, including:
Stephen Monteiro, Capacity and Emergency Management Director at Boston Children's Hospital, manages the mass communication system for the world renowned 395 bed comprehensive care center for pediatric care.
Tim Klippert, Emergency Preparedness Manager at University of Colorado Health, uses mass notification across multiple facilities at the highest-performing academic hospital in the United States.
Kelby Hill, Preparedness Coordinator at Texas Trauma Service Area G Piney Woods RAC, manages the top-down functionality of their mass communication system across all RAC area hospitals.
Download the white paper, Best Practices for Mass Communication in Healthcare.