How Wayfinding Technology Helps Hospitals Navigate COVID-19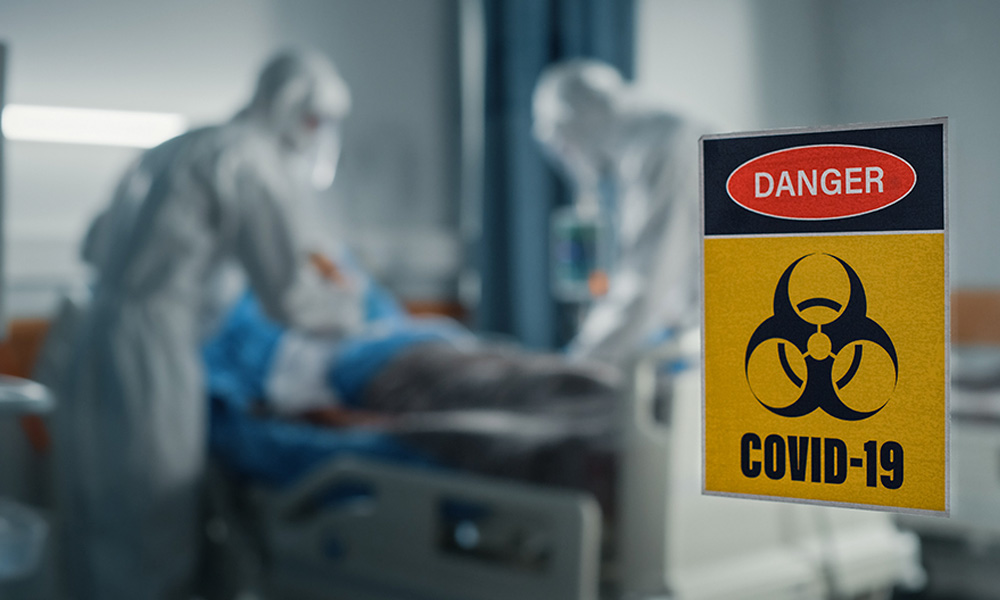 Wayfinding technology is digital information that assists with guiding people through a physical environment and the navigation of indoor spaces.
As COVID-19 cases rise in the United States, many hospitals are already at or near-maximum capacity. According to some experts, over the next two months, 4.8 million patients will be admitted to hospitals because of this pandemic. Hospitals are now designating certain facilities solely for the treatment of COVID-19 patients, and others for non-COVID-19 patients. Directing patients to the appropriate location can be challenging and can have a huge impact on the patient experience and a hospital's ability to effectively manage the surge of COVID-19 patients.
Everbridge's wayfinding technology offers a solution. Our indoor GPS mapping and navigation app can help hospitals manage the anticipated influx of patients to the hospital.
Everbridge Wayfinding Technology Capabilities:

COVID-19 "Screening Location Finder"

: Finds the nearest hospital screening location closest to you.

COVID-19 Alert/Policy

: Pushes notifications for pertinent information when the patient or staff member enters the hospital.

Zone-Based Notifications

: Smartphone-based notifications warn patients and staff of restricted areas such as COVID-19 testing areas.

Screening Waypoints

: Announces policies that a patient needs to pass a COVID-19 screening test to enter the hospital, and then navigate the user to the screening location.

Route Editing

: Prevents patients and staff from navigating to restricted areas within the hospital.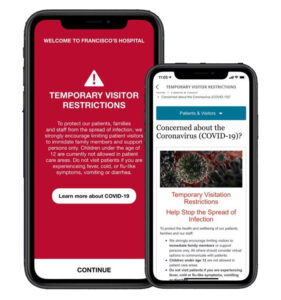 Mark Green, General Manager of Connexient, an Everbridge company, says that having a wayfinding solution will allow hospitals to better manage the huge increase in patient volume due to this pandemic. "The more people who use the app to navigate, the better off hospitals will be in managing COVID-19-related surge events," says Green. Hospitals are rerouting many of their patients to different areas of the hospital and in some cases different hospital sites based on their level of need.
Green adds, "there are many new screening locations, both at the hospital and in the local community that people need directions to. And while the current focus is taking care of our COVID-19 patients, there are many other patients that are ill or injured that still need care within a hospital. Our digital wayfinding app can help them navigate to their destination safely, while limiting exposure to other COVID-19 patients."
Wayfinding accomplishes this by rerouting and navigating patients away from or to predetermined areas of the hospital. Many hospitals now have COVID-19 screening areas to decrease traffic beyond a certain point. If a non-COVID-19 patient has an appointment in another area, such as cardiology, and tries to get directions to that ward, the app may direct them to the screening or registration area first. Green clarifies that these navigation guides will work whether they're launched in the hospital or outside in the parking lot at a makeshift testing area. In addition, the app can also be useful in directing people to the nearest hand-sanitizing station.
Getting the most accurate and up-to-date messages to the right people in hospitals is more crucial than ever. This technology allows targeted alerts to be sent to people within a certain area. These alerts can not only inform the user of a nearby restricted area but also notify and provide targeted content based on the user's location. For example, patients "arrive in the garage and get a push notification to their phone that gives them the latest information on COVID-19 and then tells them where they need to go to get screened," says Green.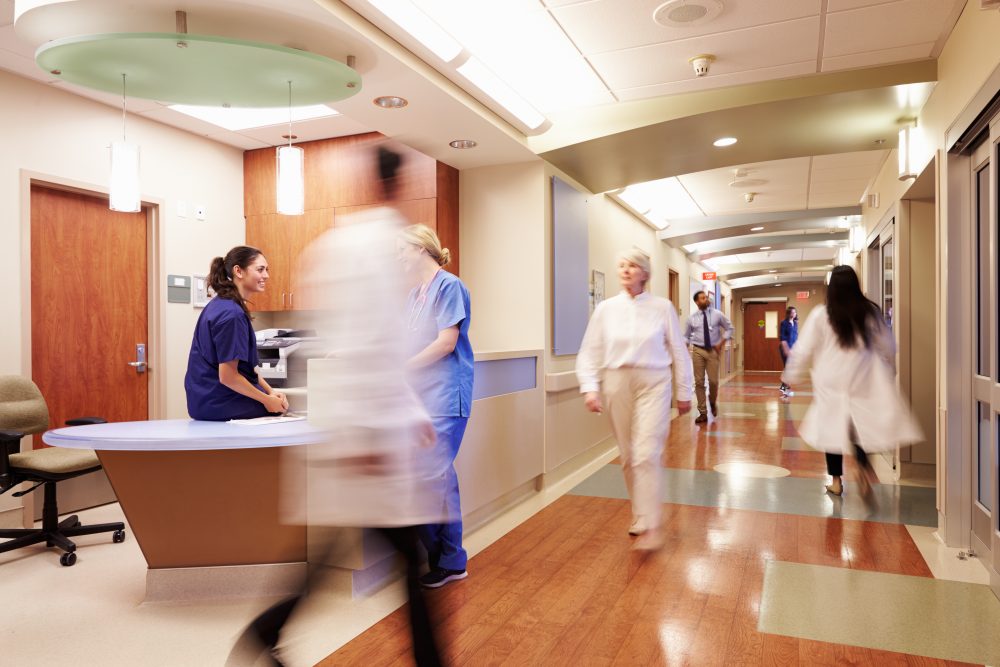 Within this rapidly changing climate, hospitals need to update their visitor policies frequently to keep up. Hospital websites provide this information and there may be signage at the hospital entrance. But the wayfinding app can use Bluetooth low energy (BLE) beacons to push these visitor policies to the user's phone as soon as they arrive, so they have the latest policy instantly, eliminating wasted time searching for the most up-to-date preventative measures.
Visitors pre-planning their trip to the hospital can use the real-time mapping and notification capabilities to access up-to-date alerts, policies, and appointment and screening locations in advance of arrival. This can eliminate wasted travel time, the worry of an already stressful situation, and in some cases unnecessary trips.
As this rapidly changing public health crisis unfolds, there are many new insights that will be gained. New best practices and takeaways on how to better care for patients with COVID-19, communication and collaboration strategies, and preventative measures will emerge.
At Everbridge, as we work to provide tools to help hospitals respond and build resilience during this critical time, we are grateful for those working on the frontlines to battle this virus.
We hope our resource hub, which includes an up to date COVID-19 Situation Report and other materials, will be a continued source of information and support as we all continue to respond and adapt to this public health crisis.
Learn more about wayfinding in the whitepaper, Wayfinding Tailored to the Patient Experience.