Facts Over Fears
Innovative Pandemic Response Strategies for Hospitals to Combat COVID-19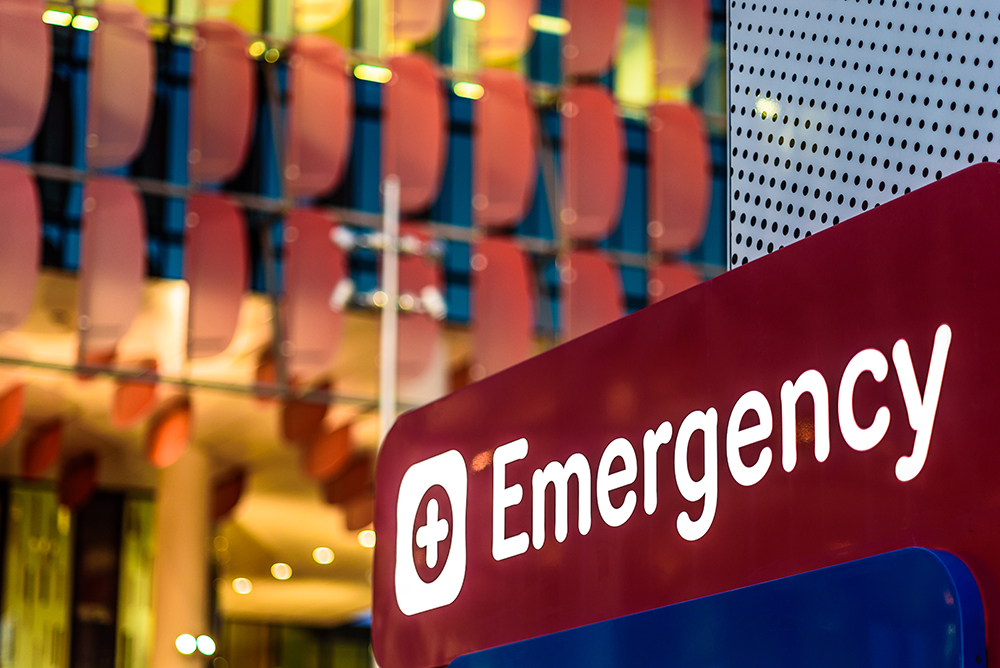 As novel coronavirus 2019 (COVID-19) cases continue to rise across the globe, overcapacity, staffing, and safety and security fears are coming to life for our hospitals. With hospitals already at or near-maximum capacity given a strong, late flu season, innovative new strategies are emerging to help those working on the frontlines of this pandemic.
One of the biggest challenges that hospitals will face is maintaining sufficient staffing levels. Long hours and added stress will be taxing, resulting in weakened immune systems for hospital staff that may lead to illness. Not to mention, the potential for becoming infected. As a result, staff may be unable to report to work due to illness, or opt-out of going to work due to other circumstances.
Staffing and surge capacity go hand in hand. Staffing shortages will compromise the surge capacity of an already strained healthcare system.
Dealing with Overcapacity Statistics in Real-time
There are many statistics with varying ranges to consider when trying to predict what our hospitals will face. In the United States, an estimated 38 million could need medical care; 1 to 10 million people might need to be hospitalized; and between 200,000 and 2.9 million people might need to stay in an intensive care unit, depending on how the pandemic unfolds.
Equally striking are the statistics we do know for certain, including the lack of intensive care resources currently available in most countries. The U.S. has about 46,500 medical ICU beds and an estimated 46,000 ICU beds from hospital specialty units that could be converted in a crisis. This is less than half of what may be needed if the disease turns out to have moderate severity.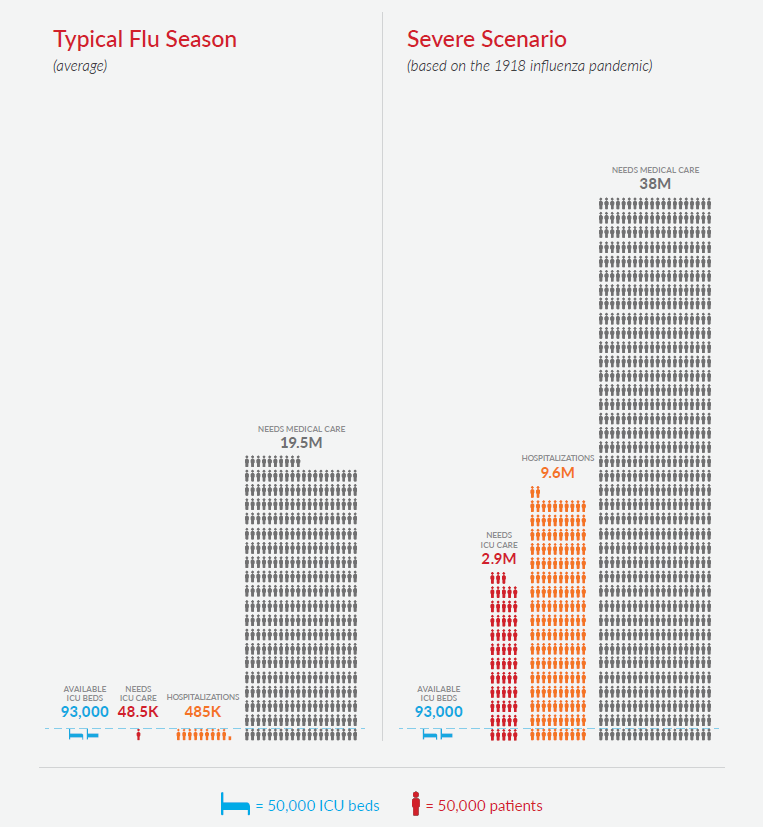 Another statistic that has severe implications for healthcare systems worldwide – the projected duration of this crisis is estimated to last 12-18 months; hospitals need to brace for the long-haul.
To overcome surge capacity, every day hospitals will need to reassess their response and adapt to this unfolding situation. This will require a delicate balance of non-urgent, critical, and COVID-19 cases with the following strategies in mind:
Prioritize and Triage Care: When faced with overcapacity issues, hospitals will need to prioritize which services and types of elective procedures can be deferred to accommodate more critical patients.

Create Capacity: Discharge patients who qualify for early discharge and transition patients that no longer need hospital care/resources to a rehabilitation center or long-term facility.

Develop and Maintain a Communications Plan: Develop and maintain a communications plan to better coordinate patient care within the facility and increase efficiencies including patient throughput.

Collaborate with Local and Regional Hospitals: Collaborate with local and regional hospitals to leverage resources and when necessary transfer patients based on bed availability.
Steve Crimando, internationally known consultant and educator specializing in crisis management and emergency response and Regina Phelps, an internationally recognized expert in the field of crisis management and pandemic planning, combined forces to create this whitepaper, COVID-19: What Hospitals Can Do Now to Protect Staff, Patients and Communities. It expands on the strategies above and provides insights into how hospitals can adapt to the rapidly changing circumstances of this pandemic. Best practices include steps to better coordinate clinical care and triage COVID-19 patients, inform staff and prevent burn-out, and ensure all staff and patients are safe.
The Importance of Communication
When responding to a public health crisis of this magnitude, many paths of communication will need to be considered. For example, a hospital may need to rapidly activate alert teams in the hospital, call in additional clinical staff to handle the surge, notify the administrator-on-duty of the event, or notify facilities to change traffic patterns and isolate triage areas, among many other notifications.
Communication will also play a critical role in building transparency and trust among staff and providing necessary updates and training to support staff. The ability to account for all staff, locate staff during an incident, and better assess if they are safe and are able to care for patients will also help hospitals better anticipate, adapt and respond to risks.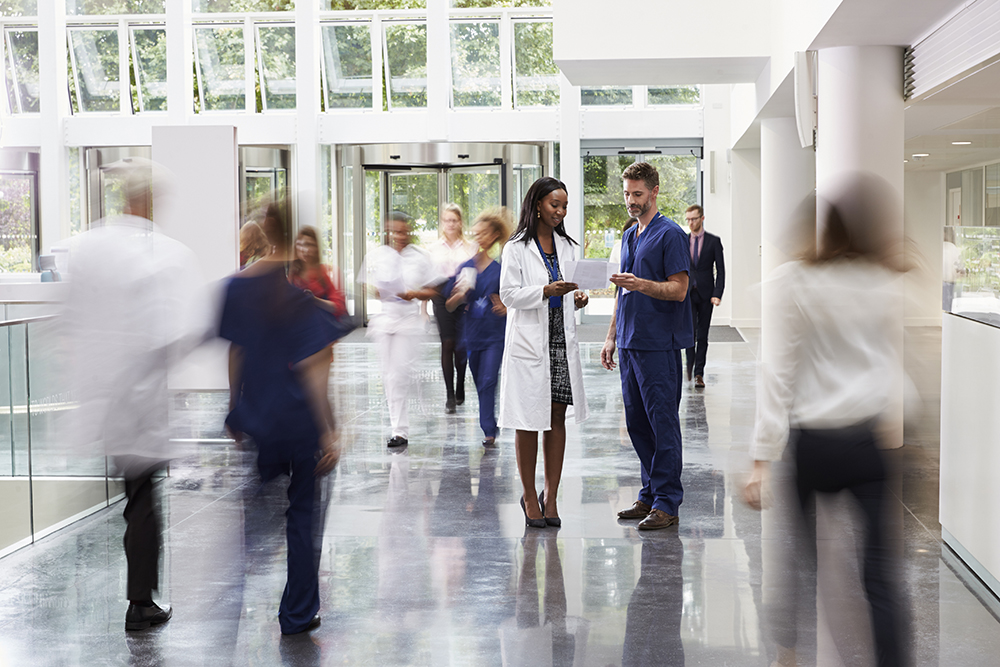 Many new safety and security technologies can be leveraged to alert at-risk staff, whether on-site or off-site. For example, communication platforms can be leveraged to provide situational awareness to home health workers, who may be entering a neighborhood that has seen a recent wave of violence. Technologies with two-way communication and a panic button feature can also enable hospitals to conduct well-being check-ins and can empower staff to call if they're in need of help.
During this webinar, Crimando shares insights on how hospitals can anticipate and prepare for the behavioral response to the coronavirus outbreak and a surge in healthcare-seeking behavior.
As this rapidly changing public health crisis unfolds there are many new insights that will be gained. New best practices and takeaways on how to better care for patients with COVID-19, communication and collaboration strategies, and preventative measures will emerge.
At Everbridge, as we work to provide tools to help hospitals and organizations respond and build resilience during this critical time, we are grateful for those working on the frontlines to battle this disease.
We hope our resource hub, which includes an up to date COVID-19 Situation Report and other materials will be a continued source of information and support as we all continue to prevent, respond and adapt to this public health crisis.