Blog
Insights from Forrester: Corporate data security a must in an IoT driven market
The Internet of Things is making a splash in the business world. Customers are more connected to the corporations that serve them than ever before, whether it's through the latest connected wearable devices or through sensors that digitize traditional industrial processes. According to a May, 2015 Forrester Research, Inc. report entitled: "CIOs: Drive Internet-Of-Things Strategies Forward With Effective Data Protection Practices," this customer engagement has a significant impact on the way that corporations deliver products and services to their clients. Businesses recognize the market potential around the Internet of Things not only in terms of efficiency and cost savings but also in the creation of new business. In fact, as shown in Figure 1 below, 44% of European and 42% of global technology and business decision-makers consider it to be a top strategic priority: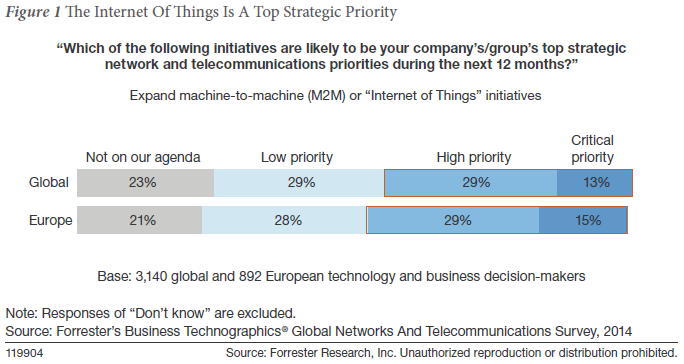 With the connections to customers and their personal data rapidly growing, firms have a greater responsibility to protect this data. An organization's success is built on its ability to meet and surpass customer expectations for data protection. There is quite a bit at stake in regards to customer data security, but nothing as important as a firm's capacity to create a trusting and credible relationship with their consumers in order to take engagement even further. Failure to protect customer data can prove to be devastating to companies; it destroys trust and engagement with customers and partners and it can severely compromise a brand reputation. In a recent Forrester survey, some 39% of global decision-makers and 35% of European decision-makers at firms that experienced a data breach in the past 12 months reported damage to their brand as shown in Figure 2 below: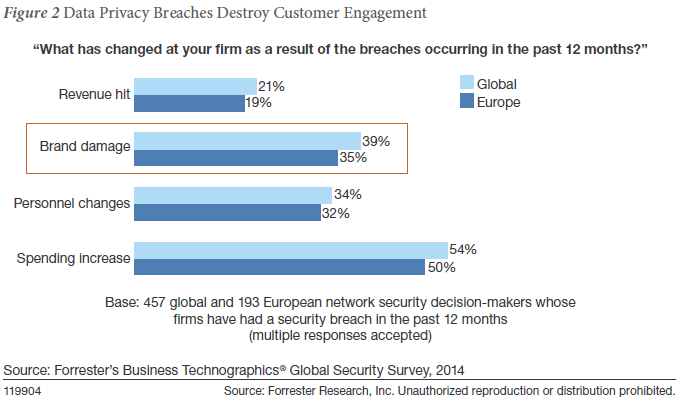 Given sensitivities around security, the key to maintaining customer engagement and loyalty during IoT deployments is a proactive and transparent communication approach. Preventive alerts about security policies or tips on setting privacy features help keep customers informed and up-to-date on the latest data protection best practices. Data security alerts and policy notifications will also build customer confidence – they take comfort in knowing their data is safe. And when an incident occurs, organizations should leverage IT Alerting solutions to ensure the right team members, and the right customers, are notified proactively to mitigate damage and rectify the issue as quickly as possible.