Blog
A look back at the Great Shakeout: Earthquake preparedness and safety
This past week, the Everbridge team was proud to participate in the Great ShakeOut Earthquake Drill. The regionally organized campaign, focused on earthquake preparedness and safety, spanned 70+ countries and involved more than 50 million people. The big day was Thursday, October 20, International ShakeOut Day. At exactly 10:20 AM, millions of participants practiced how to "Drop, Cover, and Hold On."
Everbridge was an active participant on multiple fronts. With our extensive customer base in California, and throughout the Pacific Coast, we supported the training and preparations of these corporations and communities by helping them distribute over 1.5 million drill notifications. Even though it wasn't a live earthquake, emergency notification is such a critical component of the response plan, so it was great we were able to help support these efforts.
The City of Berkeley had 72,000 participants in the Great ShakeOut, including the students, faculty, and staff of the University of Southern California Berkeley. As warning sirens sounded across campus, UCPD used the opportunity to conduct a test of its Everbridge Nixle emergency notification system. Campus community members received the test message via text and email.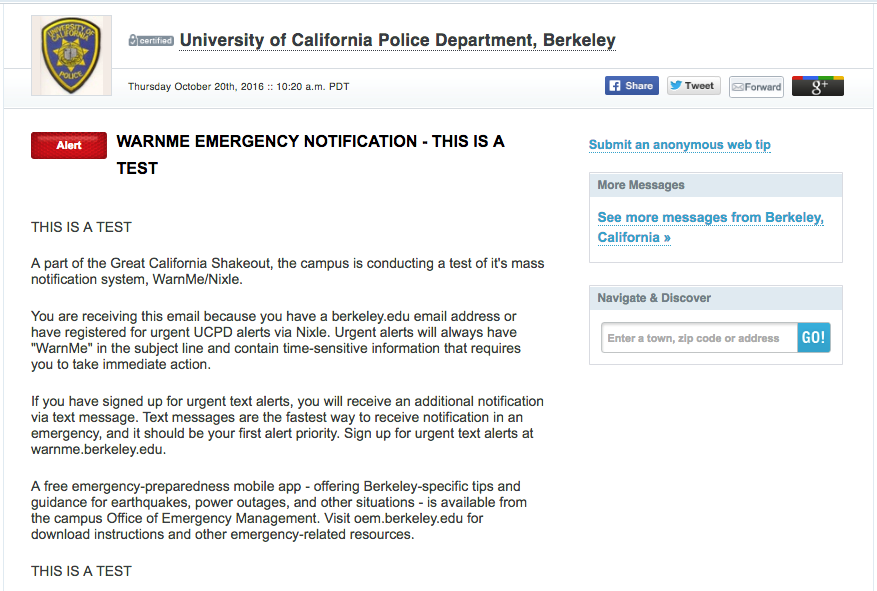 Hundreds of miles south of Berkeley, the police department at Glendale Community College also got in on the action, reminding everyone of the importance of earthquake preparedness. As students, faculty, and staff got ready to drop under the nearest tables, cover their heads, and hold on tight, GCCPD sent out alerts telling them when the drill was starting, and when it was "safe" to go back to class.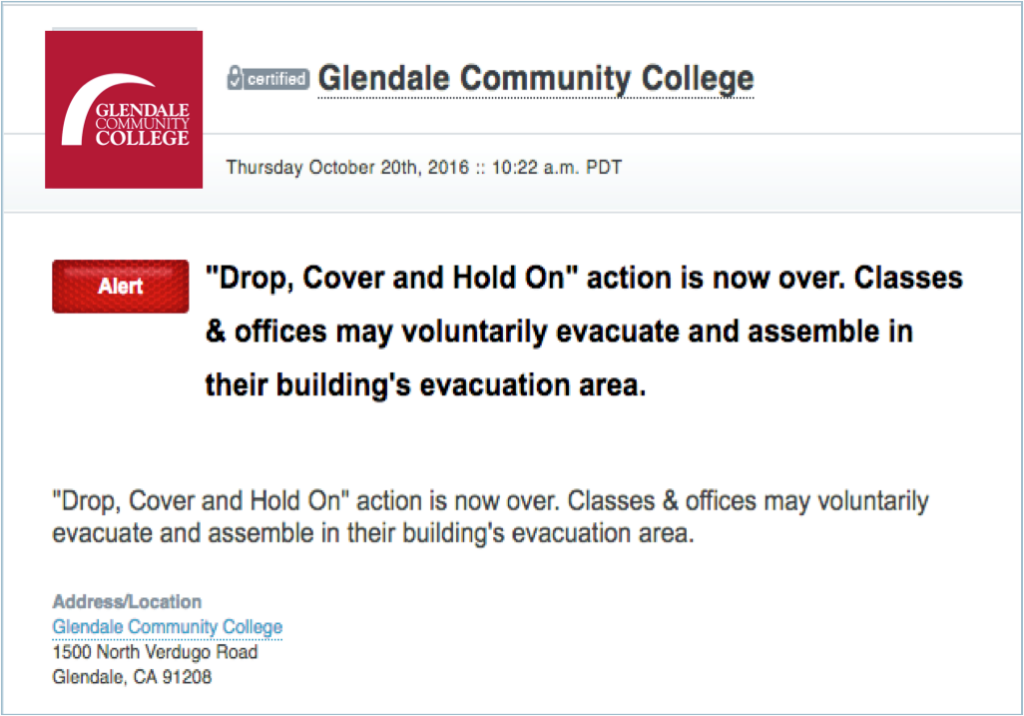 The Great ShakeOut wasn't limited only to cities and colleges. The Everbridge team also took part in the day's events. Our Pasadena team, under the guidance of our local leadership, participated in the emergency preparedness activities as well!