Blog
Managing incident command systems with an ENS for improved public safety communications
Public Safety Communications Need Effective Incident Command Systems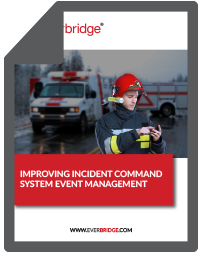 Incident command systems are valuable for centralizing part of your public safety communications strategy. When a disaster strikes, you often need multi agency event response. Large scale events call for coordinated efforts that include local police, fire and emergency management from surrounding areas (e.g. towns, cities and/or counties). Because of this, Incident Command Systems are formed to ensure event response is effective. Read the white paper, Improving Incident Command System Event Management to learn how your public safety communication strategy can be improved. This paper covers many topics including:
Challenges of Effective ICS Deployments
Leveraging an Emergency Notification System (ENS) to Improve ICS Event Management and Response for:
Centralized Data
Message Standardization
Reliable Communication and Coordination
Continuous Improvement with After Actions Reports
Read the full white paper here
. To learn how Everbridge can help improve your strategy, visit our
public safety communications page.