Managing multiple threats: the impact of incomplete data
Effective critical event management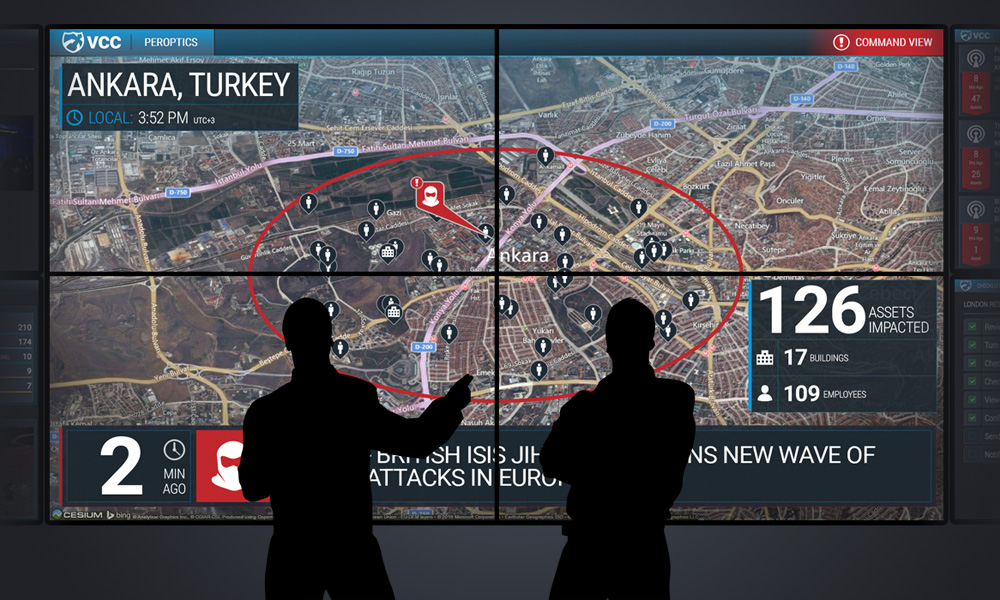 Having access to the right data – blended in the right way – is vital for effective critical event management. Discover why it's important for insight-driven decision making.
According to IDC, the world will produce around 40 trillion gigabytes of data this year alone. To put it differently, that's 40 trillion gigabytes of potential insight –
but how much of it is put to good use?

While enterprise data analytics is now commonplace, countless organisations around the world are still failing to put their data to work. And the consequences for critical event management could be significant. As part of our blog series on managing multiple threats, we'll look at the impact of an incomplete data picture across your organisation and suggest ways to plug the gaps to gain invaluable insights. The reality of incomplete data Picture this: you're the head of a global manufacturer with sites across Europe, North America, and Asia. You're feeling the effects of COVID-19 on your productivity and supplier reliability. And to make matters worse, your IT systems have just been targeted by cybercriminals – bringing your operations to a halt and your brand into disrepute. It's a bleak scenario, but it demonstrates how critical events don't take turns. And why an incomplete data picture can restrict your ability to understand the risks that multiple critical events can pose to your operations, and react effectively in a crisis. If you'd had a complete picture of your suppliers and real-time security monitoring, your response – and outcomes – may have been different.
Access to the right blended data is critical
Effective multiple critical event management relies on having access to a wide range of data, blended in the right way.

There are two main types of data to understand:
1. Data to proactively respond to crises – including Government guidance and alerts, travel advice, reports from reputable media outlets, and advice from
non-governmental organisations like the World Health Organisation (WHO).

2. Data to recover from a crisis – such as employee locations, what messages you want to send, and the status of your sites and suppliers.
However, collecting these different types of data and using them effectively requires you to process large amounts of information in real time – and pick out
what's important. Without a complete, single view of your assets, employees, and physical locations around the world, understanding all the risks that pose a threat to your organisation -and making effective, informed decisions – is almost impossible.
What does a complete data picture look like?
The more data you have at your disposal, the better informed you'll be about the risks and threats facing your organisation. But while any large data sets analysed in the right way can provide invaluable insights, there are some must-haves. These include:

• Property, digital, and supply chain asset data – from corporate management and HR systems, and IoT devices
• Employee location information – including real-time travel schedules, corporate system logs, and ID badge scanning
• Weather and radar – from internationally-recognised live feeds and organisations like NOAA and the Met Office
• Intelligence information – which could include anything from cyberattack monitoring to terrorism alert statuses
• Law enforcement and crime data – such as real-time feeds or postal code level crime trends
• Traffic information – including live highways camera feeds
• Reputable news wires – such as Reuters, Associated Press, and the Press Association
• Regional data – which can include anything from local Government advice to monitoring social media for upcoming events

While this isn't an exhaustive list, blending data from these sources will give you a rounded view of your potential exposure to risk, and enable you to take
preventative measures. If the COVID-19 global pandemic has taught us anything, it's that access to consistent, independent information and expert analysis can make all the difference to business continuity. For example, having access to data from non-governmental organisations such as the World Health Organisation (WHO) during a health crisis can be invaluable. It not only gives you the latest guidance from expert medical professionals, but can also ensure your own organisation's policies and guidance are in line with globally recognised standards.
Automation is critical
Having large data sets can put you at a significant advantage, but how do you make sense of all this information? The fact is few organisations have the resources to monitor hundreds of data feeds 24/7/365. And that's not to mention how difficult it is to manually sift through the
noise to find the right signals. And the consequences of relying on manual processes go far beyond alert fatigue.
According to IBM's 2019 Cost of a Data Breach report, losses from an IT incident alone can be 95% worse for organisations without security automation.

That's why an automated critical event management platform is vital. By automating data analysis across your organisation, you can produce accurate
insights quicker than would have been possible manually. Automation also helps provide focus. By removing the manual labour of data analysis, you can free your people to focus on insight-driven decision-making – something that's invaluable in a crisis where every second counts.

Effective critical event management beyond COVID-19
Having a complete understanding of the critical events facing your business could be one of the most important issues you address this year. While countless
organisations around the world are still coming to terms with the impact of COVID19, the next threat to your business may be just around the corner.
To learn more about the complete picture of the emerging threats, unexpected impacts of critical events, the importance of having the right processes and strategy in place, and the most effective way to navigate a post-COVID-19 world, download our latest eBook – managing multiple threats: COVID-19 and beyond.
And if you'd like more information about critical event management and choosing the right platform for your needs, get in touch with our team of experts.