Blog
Nixle in action: Amarillo Police Department locates good citizen
It is so common to live in a city and not know many of your fellow residents. People walk by that live in your neighborhood but you may have never met. However, even if you don't know everyone, you are still a part of that community. There may be a time when someone you have never met could change your life.
In Amarillo, Texas, a life was saved because of stranger. A woman, who was having a mental health emergency, was halfway over a fence barrier on a bridge when a man driving by saw her and stopped. He was able to talk the woman down but left before police could identify him. Because of this man's actions, the woman is now safe. [1]
The Amarillo Police Department sent out a Nixle message to the community thanking this unidentified man for his actions and hoping to find out who he is.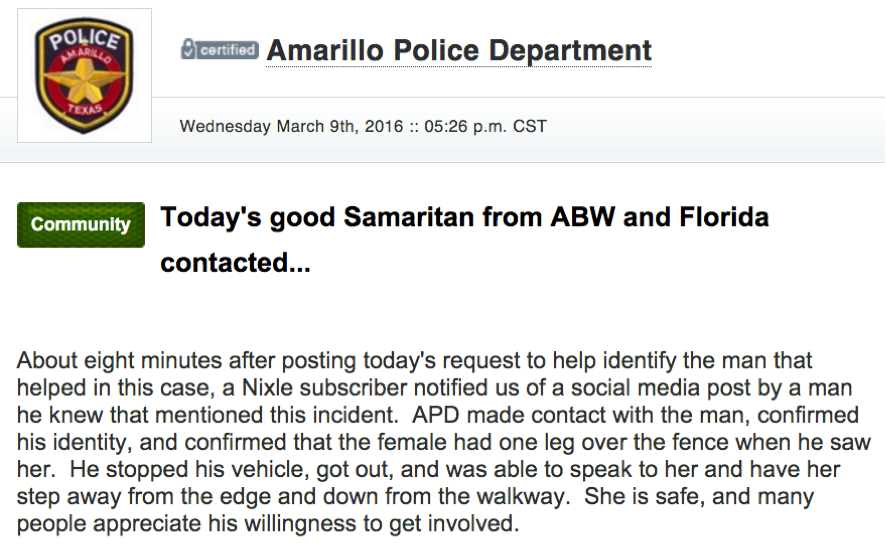 Within 8 minutes of the Nixle message being sent out, a woman contacted the Amarillo Police Department with information after seeing someone post on social media about a similar experience. The police were able to thank the man and share the good news with their Nixle subscribers.
Events such as this remind us of the importance of community and looking out for one another. The lives of these two strangers crossed paths and helped to save a woman's life. Amarillo PD was able reach out to the community to find the good Samaritan as well as share the story with their community. Nixle is a tool that can help law enforcement and public safety engage the community and share information in a quick and reliable way.
Amarillo PD isn't the only agency in Texas who is using Nixle to quickly get information out to residents. The San Angelo Police Department uses Nixle along with social media to improve community relations and increase engagement with residents. Watch how Nixle is being used in this webinar replay.
[1] http://www.myhighplains.com/news/amarillo-police-unknown-man-helps-suicidal-woman