Blog
Nixle in action: Bringing communities together with chocolate lovers festival
In Virginia, residents look forward to receiving community text alerts from the City of Fairfax -especially when it involves chocolate. The city is host to the Chocolate Lovers Festival that has been a popular community event since 1992. The event was created to increase visitors to Old Town Fairfax, promote community engagement, and help to grow the relationship between the city's government, businesses, and residents.[1]
This event draws chocolate enthusiasts from around the world but is also an annual event for the local community to look forward to. From chocolate chip pancake breakfasts to chocolate sculpture creations, this event attracts all ages. Hosted by the City of Fairfax and other city organizations, the Chocolate Lovers Festival is a key event that brings the city together. Being able to attract the interest of residents also has the benefit of keeping a good relationship between a city and those who live there. Fairfax is encouraging residents to sign up for Nixle alerts regarding the festival by texting "CHOCOLATE" to 888-777.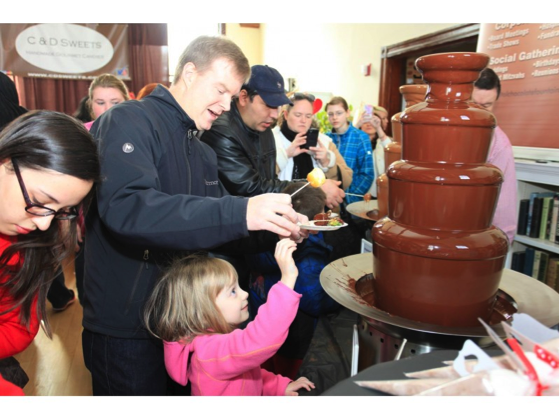 Photo credit: City of Fairfax parks and Recreation[2]
By opting in to receive alerts, residents can stay in the loop about the festival and related information, such as road closures or change in event schedule. It also gives the city a reliable way to communicate with residents when needed. Chocolate is what brings the community together but Nixle alerts are what keeps the community informed for the rest of the year.
To learn more about keyword messaging, check out how Philadelphia prepared for Pope Francis' historic 2015 visit to the United States in this case study.
[1] http://www.fairfaxva.gov/government/parks-recreation/special-events/chocolate-lovers-festival
[2] http://patch.com/virginia/fairfaxcity/fairfax-citys-chocolate-lovers-festival-sending-sweet-text-updates