Blog
Nixle in action: #LESM- empowering law enforcement through social media
It isn't everyday that residents are able to chat with their local Police Chief or experience the daily routine of a K9 officer. However, social media is a constant presence in most of our lives and makes connecting with local law enforcement easier than ever before. Recognizing the increasingly important role that social media plays in the lives of its residents, the Fremont Police Department uses Nixle to publish messages directly to Facebook and Twitter.
Using Nixle, Fremont PD is able to send a message to residents through SMS, email and web message and have those messages publish directly to department Facebook and Twitter accounts. Not only is this useful when it comes to urgent alerts, but also a great tool to keep the community connected. Nixle expands the reach of Fremont PD's message in one click of a mouse.

Fremont PD publishing Nixle messages directly to Twitter
Fremont PD has done a great job utilizing social media and Nixle to lessen the gap between law enforcement and citizens. Through social media, they invited residents to "Coffee with the Cops" where the community is invited to meet the police chief, his command staff, and city staff. With almost 10,000 likes, the Fremont Police Department Facebook page is a great way to keep the community in the loop with events and tips.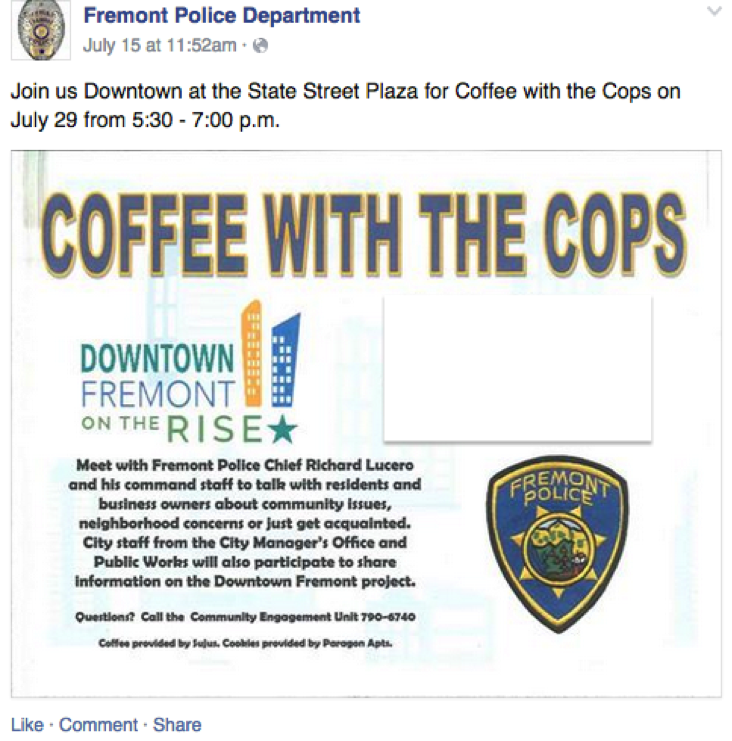 Fremont PD sharing Coffee with the Cops event information on social media
In addition to Facebook, Fremont Police Department is also very active on Twitter. Fremont PD's Twitter account shares a frequent "Patrol Blotter" that shares with residents recent arrests and incidents so that everyone stay informed, via Nixle.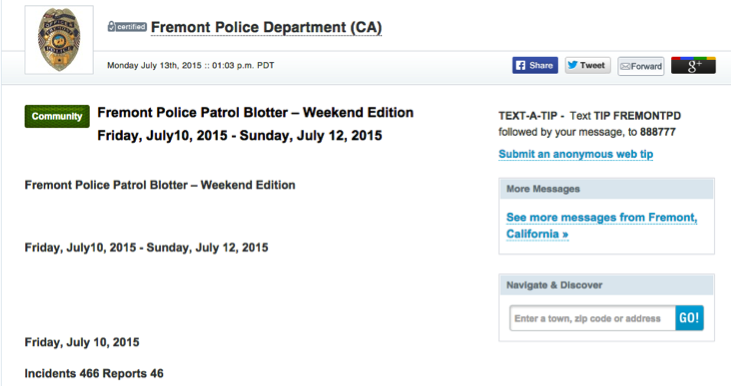 Nixle allows Fremont PD to connect with residents
For those residents that are not active on Social Media, these notifications are sent via Nixle as SMS, email and web message. Combining Nixle and the use of Facebook and Twitter, the Fremont Police Department has expanded the reach of their messages to maximize the number of residents informed. It is clear that the members of the Fremont PD have a common goal: keeping their community engaged and informed.