Blog
Hurricane Joaquin: Emergency prep and communications
A lot of activity has been taking place in our world over here at Everbridge–and even more is to come as we help prepare our customers for Hurricane JOAQUIN. The Category 3 hurricane is expected to bring significant flooding to the East Coast. With that in mind, we thought it would be helpful to revisit a blog post we wrote in anticipation of Hurricane Preparedness Week back in May of this year.
Revisiting "Sandy" Communications for Hurricane Preparedness Week
If you're looking for some immediate best practices for communicating during severe weather season, look no further than the below. Your company, community or hospital should focus on these key stategies, and data points, to help you prepare for a busy season.
Don't trust a single device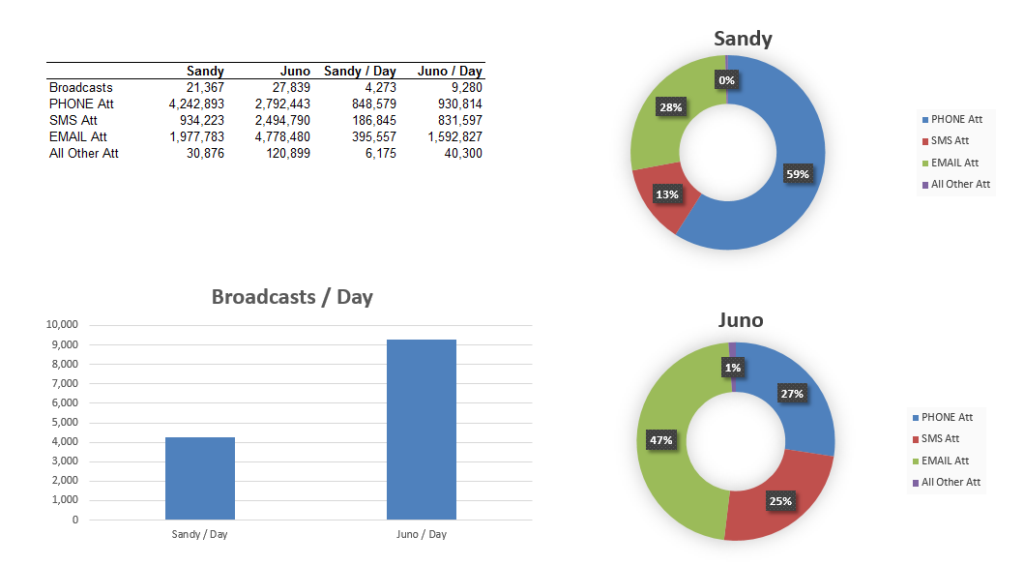 Every organization should have multiple contact paths for each individual to decrease reliance on any one device. Moreover, the demographic of the community should be assessed when determining the optimal contact paths for each group. But, don't stop there. You should also assess broader demographic shifts in terms of recipient contact preferences. Take a look at the below grid which demonstrates how contact paths have shifted significantly since Sandy. You'll note that during winter storm Juno, phone broadcasts actually declined and SMS/Email accounted for a much larger share of attempted contacts. This means users increasingly prefer SMS/Email as a primary critical communication contact path, but remember, it's still important to use a multi-modal approach to ensure message success and confirmation.
Gather information to help your response to meet the current conditions
Social media has dramatically changed the public's expectations around communications. Twitter, for example, should be monitored for real-time, location-specific impact to individuals and communities to deliver situational intelligence to emergency response teams as quickly as possible. Using Mobile Member, your team can get information and pictures from first responders at key locations. Weather alerts can provide up-to-the-minute information on watch, warning and advisory updates for the weather situation.
Train to succeed, don't fail to train
Regular system and staff testing and preparation procedures should be followed, including system testing for effectiveness and data accuracy. Staff should be trained to operate the critical communication system from both desktop and mobile devices to achieve an aptitude with the system, ensuring more consistent results during high anxiety situations. Use the training resources you have in Everbridge University and custom training to keep your members sharp. Plan exercises and review the reports to see where your team hit or missed the mark.
Remember, communication is not the only aspect of proper hurricane preparedness. Encourage your employees, residents and/or family members to visit the Hurricane Preparedness Week website and "Get a Plan."