Blog
Smartphones – Your new best friend in emergency notification
The way we communicate today is very different than the way we communicated ten or even five years ago (remember land line phones?). Smart phones are the new norm, in fact nearly 2 billion people own one – allowing those users to access email, text, calls and much more anywhere from a single device.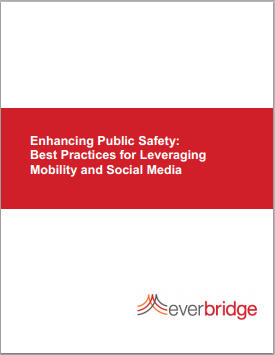 Having a large selection of communication methods – or "multi-modal" messaging – available on one device is a huge advantage during disasters for local authorizes and responders – that is, if they are properly utilized. Here's the most important tip to remember – people don't universally answer messages the same way at the same time. In addition to this, people aren't checking messages the same way throughout the day. Imagine yourself at 7:30 in the evening on a Friday right before you're about to hit the town. A phone call or text might get answered, but I'm sure your work email is getting ignored – whereas on a Monday at 10 AM you are glued to your computer screen and likely to receive that same email.
So how do you know what the best way is to reach someone at a given time? You don't. What you do know is most people will check their mobile devices at one point or another (Don't believe me? Didn't you just check your cell?). A best practice to consider is incorporating a notification system that can send a message that cycles through contact paths until a message receipt is confirmed. Moreover, make sure it incorporates two way communication.
Speaking of two way communication, let's explore one more mode of communication used extensively on smartphones that needs some love – social media (yes that tab you have open to the left of this blog). Believe it or not, during a large event like a hurricane, people will use social media to get a good portion of their information and news from sites like Twitter or Facebook. Local agencies like police or fire often will post alerts on these outlets to warn residents. Those residents can even send updates back to authorities and act as the ''eyes and ears" on the ground since they can post pictures and videos of what is happening. The best part is "tweets" and posts can be geo located, letting responders know where those messages are coming from.
For more information on how utilization of mobile devices, such as smart phones can increase safety and awareness for first responders and authorities, read our new whitepaper, Enhancing Public Safety Through Mobility.