Takeda becomes first to earn diamond tier status for Best in Resilience™ Certification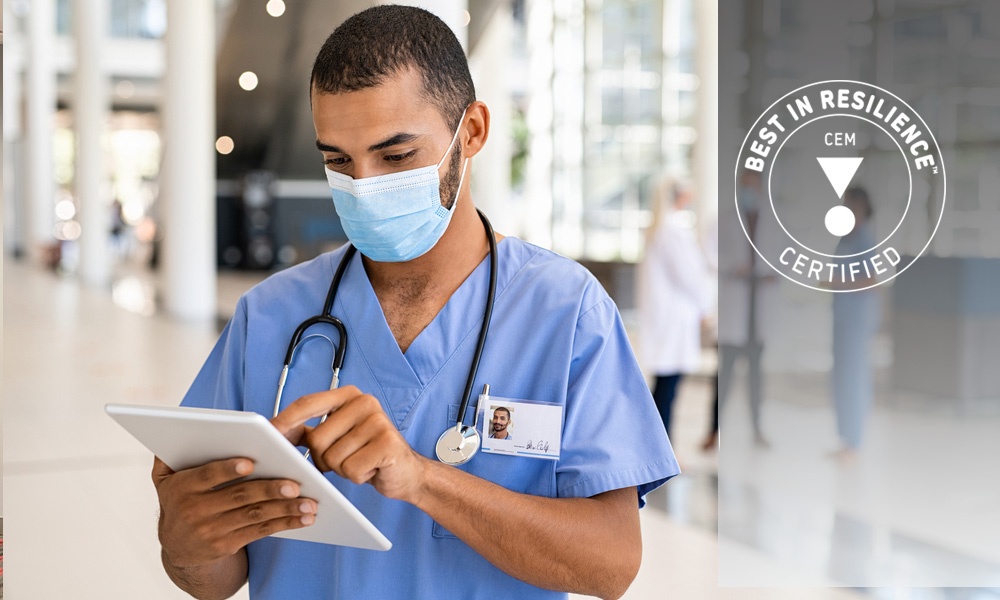 We are excited to announce Takeda Pharmaceutical Company as the first to achieve Diamond Tier status for the Best in Resilience™ Certification program. This designation recognizes Takeda for employing "best in class" Critical Event Management (CEM) processes and technologies to power organizational resilience. Takeda earned Gold Tier status in 2021 and has since implemented many improvements to optimize their ability to detect and assess risks, coordinate with crisis response teams, communicate emergency information to employees, and account for their safety.
Takeda is a global, values-based, R&D-driven biopharmaceutical leader committed to discovering and delivering life-transforming treatments. Their employees are committed to improving the quality of life for patients and working with partners in health care in approximately 80 countries and regions.
"At Takeda, the security and safety of our employees is our top priority so they can focus on what they do best – improving patient lives around the globe," said Whit Chaiyabhat, Head of Global Security & Crisis Management at Takeda. "This award symbolizes our ongoing commitment and recognizes the many years of progress we've undergone to continuously strengthen our global security and crisis management capabilities."
Over 50 organizations have earned certification since the program was launched in 2021, including numerous Fortune 500 companies and public safety agencies.
Takeda was awarded the Diamond Tier status after completing a thorough assessment process. The assessment team evaluated Takeda across four competency areas:
Data and Analytics: Availability, maintenance, and accuracy of threat intelligence and asset data.
Digital Transformation: Digitization of plans and processes to support efficient and effective operations.
Smart Process Automation: Automation of processes to orchestrate more effective and timely execution.
Communication and Collaboration: Communicate the right information, to the right people, in the right ways, and facilitate coordination and information sharing.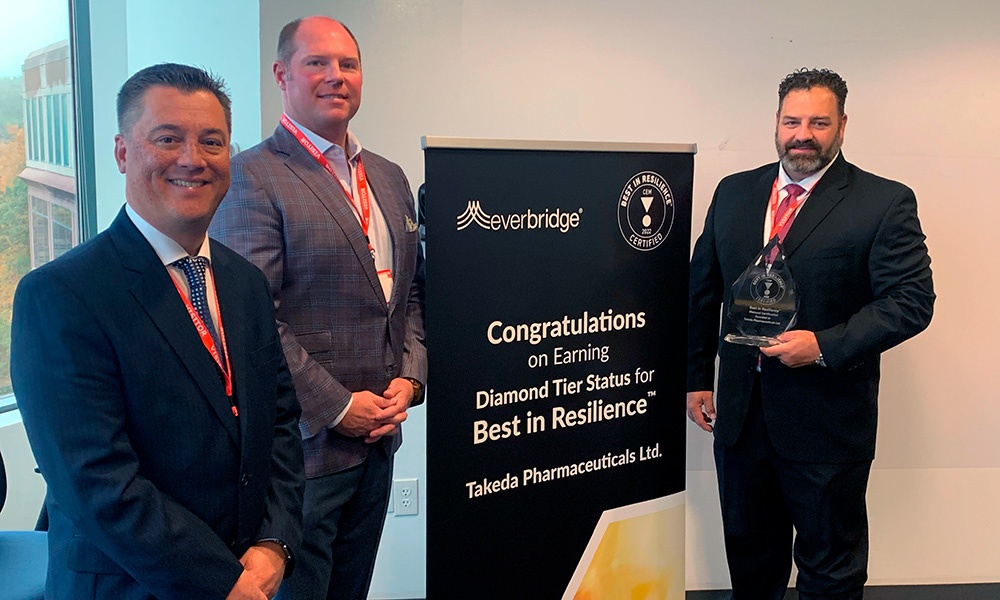 Takeda earned high marks in each competency area. In the past year, a dedicated Technical Account Manager from Everbridge worked with Takeda to advance their capabilities and support areas for improvement that were identified during their 2021 assessment. The Technical Account Manager (TAM) provides expert consultation and support to ensure they are maximizing the use of their tools and technologies.
"When crises and critical events occur, organizations need to act fast to keep their people safe. The difference between top-tier programs and others is often how quickly they can identify risks and then take appropriate action," explains Tracy Reinhold, Chief Security Officer at Everbridge.
Takeda's assessment revealed significant strengths in how quickly and effectively they can identify risks to employees, which was made possible by integrating their CEM platform with their badging and travel risk management systems. This assures they can identify travelers and individuals in a building who may be impacted by a risk event, and quickly communicate with them. Facilities can also report issues easily, like a power outage, using the Everbridge app custom buttons, which launches an incident notification to their Global Security Operations Center (GSOC). Takeda also employs an open-source intelligence solution, Signal, for identifying risks to personnel and business operations as well as scours social media and the dark web for potential hazards.
Takeda's Global Security and Crisis Management program is leading an initiative to digitize Crisis Management Plans with the Crisis Management module of their CEM platform. These digitized plans will ensure they are prepared for all types of events and allows the Global Crisis Management Committee to manage tasks, communications, and dashboards more efficiently.
Takeda also excels with their communication and collaboration capabilities. They have created over 350 communication templates for various situations, which ensures they can quickly communicate the right information, to the right people, in the right way. Alerts are sent using multiple methods and include an "impact assessment" poll for life-threatening situations, and the GSOC persists to account for 100% of impacted employees.
To be eligible for certification, organizations must complete a rigorous assessment. The scope of the assessment and certifications is determined by five pillars: Business Operations, People Resilience, Digital Operations, Smart Security, and Public Safety. To learn more about the Best in Resilience™ program visit bestinresilience.com.