Blog
Tell, teach, involve: Training and learning techniques for critical communications personnel
"Tell me and I forget, teach me, and I may remember, involve me and I learn." ― Benjamin Franklin
How do you deliver training to an emergency management team?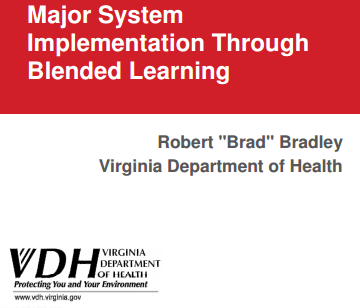 I recently read a white paper "Major System Implementation Through Blended Learning" by Robert "Brad" Bradley from the Virginia Department of Health. I wanted to stand up and applaud. Brad had the task of putting together a learning plan that would help train 300 admins and over 4,000 recipients who would be alerted. He had a great resource in his excellent regional training coordinators. They knew how to train, help the learners apply, and create real life scenarios. He also understood the learning process. Brad had been a "system implementation guy." These are two great advantages in the training field! Brad used a model called "The five moments of learning" to meet his challenges.
The Five Moments of Learning
For over a decade the American Society for Training and Development (ASTD) has been stressing the mantra, "Telling ain't training." We have all sat through eight hours of PowerPoint lectures intended to train learners while they really only, at best, inform attendees. Training research from the last 25 years is ignored and the easiest delivery method is typically selected. Brad's white paper deals with the real training methods that actually work. When you are sending alerts that could affect life or death, you need to be sure your staff isn't just informed but are also able to do the job.
The Blended Classroom
The five moments of learning takes both the formal and informal aspects of learning and integrates them in a blended learning process. There is not only learning but a focus on putting the learning into action. He uses a "flipped classroom" approach using a LMS for the initial instruction and the basic work process. In class work, he stressed the application and use of the training, and customized it for the learners. It is a model that effectively uses an LMS and instructor led training in tandem.
But what are the Five Moments of Learning?
Sorry, I am not going to tell you, read Brad's white paper! The paper provides great perspectives into learning techniques from a training expert in a large state health agency showing us what can work when it's done right. His results were impressive—after the system implementation, the agency issued several alerts but had 70% fewer help desk calls. That is a metric that helps validate the effectiveness of Brad's approach.