Blog
Get social! Using social media to improve communication for law eforcement
Social media is known for its capability to spread information quickly to numerous people. Simply by retweeting a post, a Tweet can be shared with a new, larger group of people and the effect can be exponential. Perhaps one of the most important applications of using social media as a force multiplier is with law enforcement. A 2015 survey by IACP revealed that over 96% of agencies use social media. In 2016, social media was found to be one of the most effective tools to use when reaching out to the community. Increasingly, Twitter, Facebook and other social channels have proven successful when used to engage the public in searches for, and identification of, missing people or suspects.
For example, in Lafayette, Indiana, a 12-year-old boy was reported missing after school. The Lafayette Police Department sent out a Tweet on their Twitter page as well as a Nixle alert to share with residents that showed the boy's last seen location as well as a description and picture. Just 20 minutes later, the boy was found safe and the police sent residents an update and thanked them for their part in the search. [1]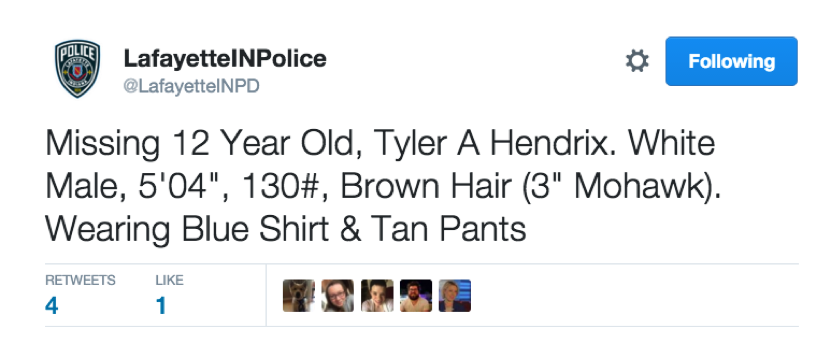 Tweet from @LafayetteINPD about missing boy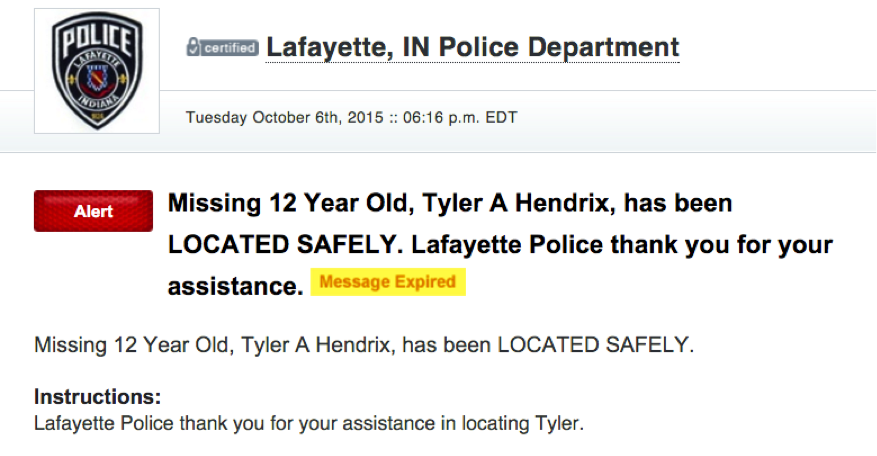 Nixle Message to notify residents that missing child was safely located
Increasingly so, social media is being used by law enforcement agencies across the country not only as a valuable resource when finding missing children or wanted suspects, but also as a community engagement tool to connect with residents. The ability to communicate with residents on a large scale by sending out a Tweet or a Nixle alert encourages residents to be invested in their community and to stay involved with matters that effect their city. Clearly, the growing presence of social media in our everyday lives has had a positive impact on the relationship between law enforcement and the community and this impact is still growing.
So, we know that social media is a communication channel used by law enforcement agencies of all sizes. But, what are the best practices to harness the power of social media to its full potential? Learn social media tips and best practices from a law enforcement perspective in this whitepaper- 9 Social Media Best Practices for Law Enforcement.
[1] http://wlfi.com/2015/10/06/lpd-searching-for-missing-12-year-old-boy/