Blog
Webinar recap: Designing an active shooter training exercise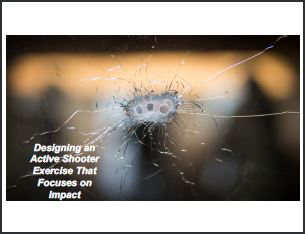 This week we held our webinar, "Designing an Active Shooter Training Exercise," with Regina Phelps, Founder, Emergency Management and Safety Solutions. She offered some great best practices for organizations looking to put together an exercise or drill for the evolving active shooter threat. With active shooter events on the rise, now is the perfect time to run an exercise at your organization. Some key takeaways from Regina's presentation include:
Before you even begin designing an exercise, there are four things that you'll need; senior management support, a workplace violence policy, plan and program, an exercise design team and, at least, 90 days to plan.
Develop clear exercise goals and objectives
A successful active shooter exercise will take two hours at a minimum
Understand that this type of exercise could be sensitive to some employees
If you missed the webinar, we've made a recording available that you can watch here. To learn how Everbridge can be utilized during an active shooter training exercise, and an actual active shooter incident, contact us or request a demo.