Digital Wayfinding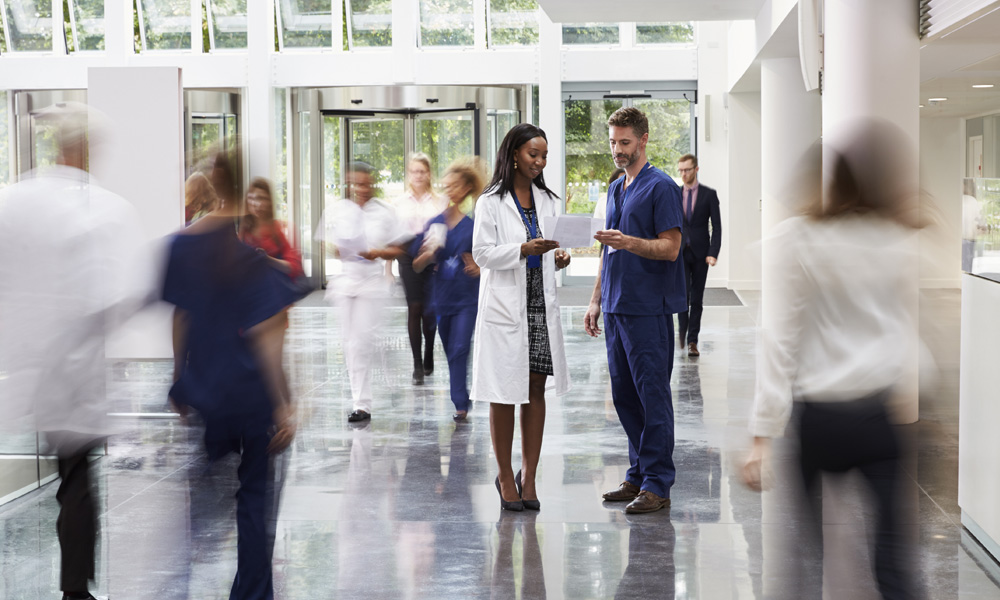 How Wayfinding Works
With COVID-19, digital wayfinding is helping control the flow of traffic to designated areas of the hospital, providing a way for the general hospital population to get to the right place without inadvertently coming into contact with potentially infectious patients. Digital wayfinding, indoor GPS for hospitals, is designed to help patients, visitors and staff navigate their way around a hospital campus with ease and reliability. Similar to GPS, which positions users with a blue dot that follows their journey on a map of the outside world, wayfinding recreates this experience indoors, through true turn-by-turn mobile navigation, audio prompts, off-route notification and much more. The outcome is an improved patient experience and efficiencies for both patients and staff, including a reduction in missed or late appointments– a problem that costs a typical hospital 10M annually.
This new IoT capability helps health systems understand and improve the flow of patients and visitors as well as the patient experience at the hospital. Enabling real-time indoor location and navigation is also a key strategy for health systems as they seek to implement a resilience strategy, which includes patients, visitors, staff, as well as digital and physical assets.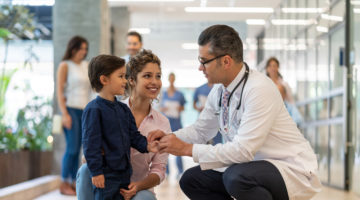 Increase Patient Satisfaction
Guide patients and visitors to their destination quicker, alleviating the stress of navigating a hospital's many interconnected buildings and maze-like hallways while creating an improved patient experience.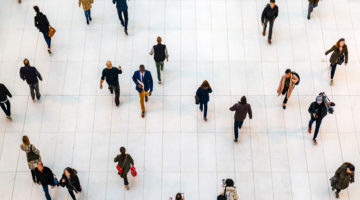 Create Efficient Patient Flows
Help patients find their way independently, improving traffic flow through busy hospital areas while ensuring less congestion, easy access during emergency situations.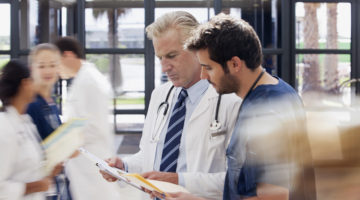 Enhance Staff Productivity
Enable staff to reach their destination quicker, enhancing workflow efficiencies and staff productivity while eliminating the need for staff to provide directions to visitors and patients.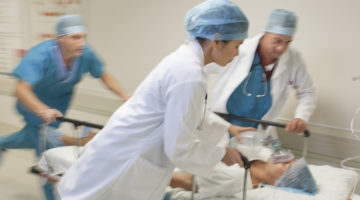 Build Organizational Resilience
Leverage real-time indoor location and navigation as part of a resilience strategy that includes patients, visitors, staff, as well as digital and physical assets.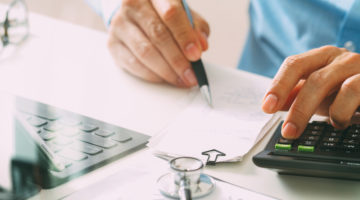 Reduce Costs
Eliminate missed or late appointments-unused time slots costs physicians 60 minutes and $200 on average, while late appointments can lead to delays and backlogs in appointments.
True Turn-by-Turn Indoor Navigation
Provides reliable indoor positioning accuracy of 1 to 2 meters, navigation cues, visual landmark references, off-route notification and more, without tracking personal or identifiable information, as patients and visitors move throughout the hospital campus.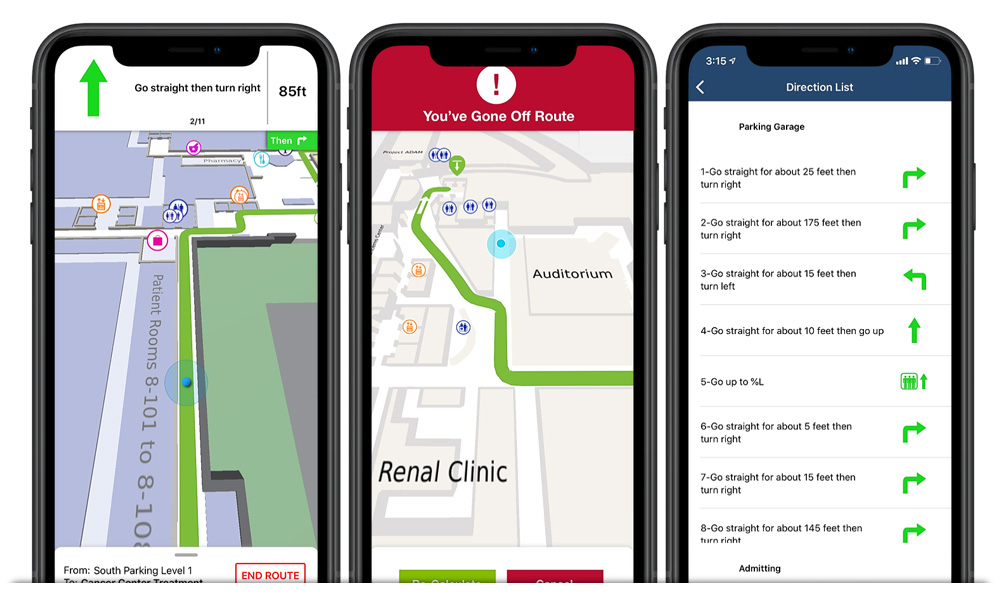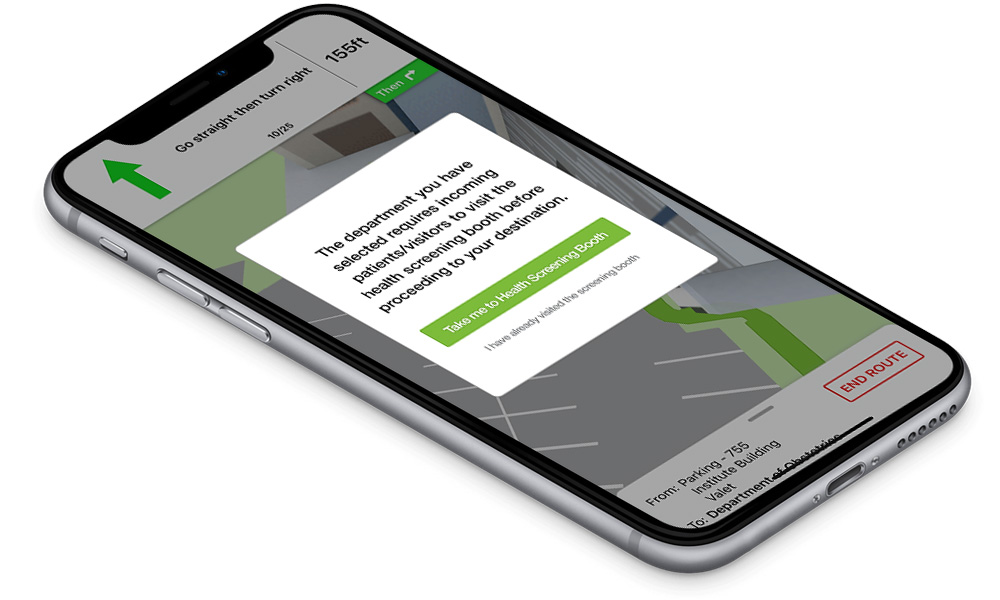 Zone-based Alerts
Send targeted alerts to staff, patients and visitors within a certain area, providing informa­tion based on the user's location, whether within or outside the hospital.
Parking Planner
Helps patients and visitors easily find a garage closest to their destination within the hospital, automatically detecting arrival in the garage, saving the parking location, and directing the user to the correct entrance based on the parking location.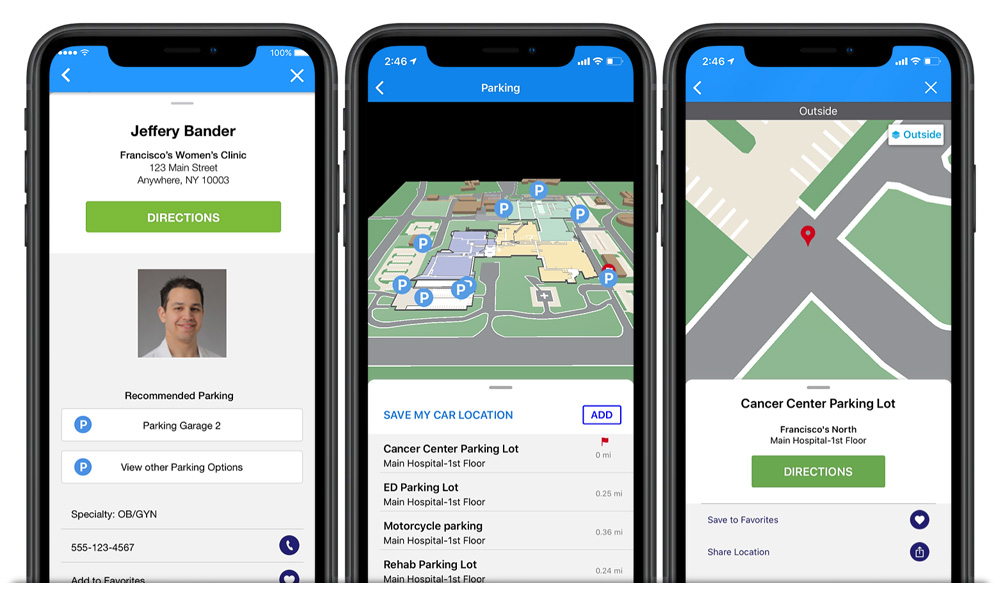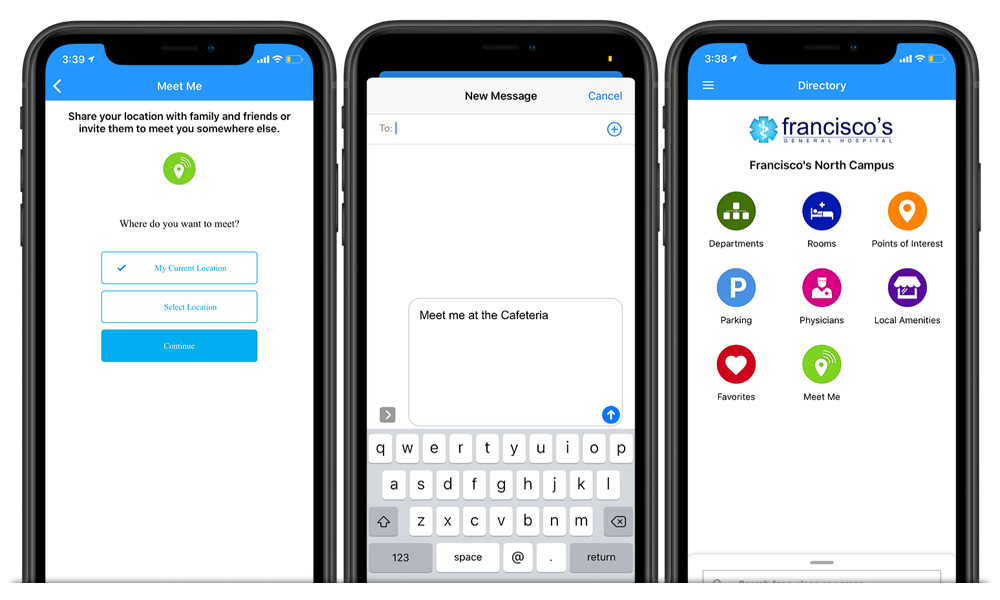 Meet Me Feature
Provides location-sharing and location-based analytics, enabling patients and visitors to connect on the hospital campus.
Multi-channel, multi-modal approach
Accounts for a wide-range of demographics and is available in a mobile version for both iOS (iPhone/iPad) and Android devices as well as a web version for desktop use and digital kiosks.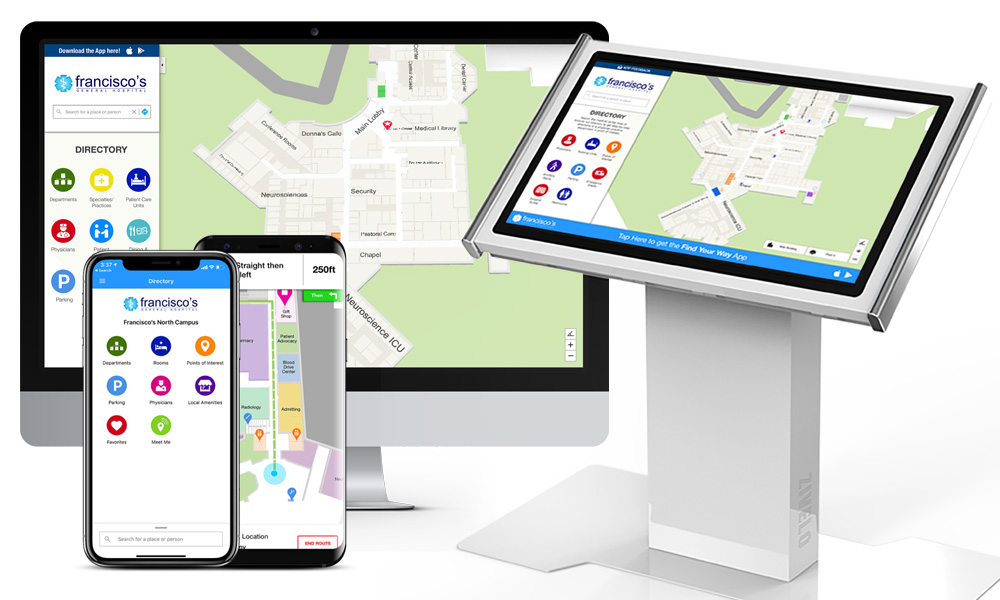 Compatibility with Leading Infrastructures
Integrates with EHR systems and appointment scheduling apps. The solution's location engine is compatible with all leading location infrastructures (Cisco, Centrak, Mist/Juniper, Siemens/Enlighted, HP/Aruba, etc.).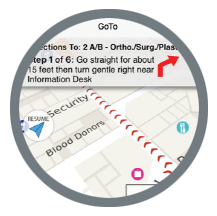 MapKit
Responsible for rendering map, POIs, Routes and Navigation UX/UI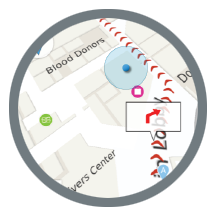 LocationKit
Integrating device position, managing zones, proximity actions and other location-based services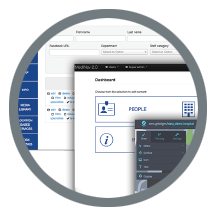 CMSKit
Data integration with our CMS, or using data from client CMSI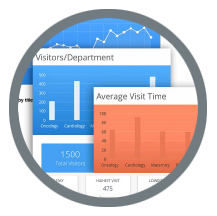 AnalyticsKit
Reporting & analytics on user traffic flows, dwell time, behaviors, etc
"We are always looking for new and innovative ways to improve the patient experience. Connexient's wayfinding technology enables us to build upon our digital platform while creating a seamless integration with our EMR system."
"We're thrilled to launch Indoor Directions and look forward to deploying it at all Rush locations," said Dr. Shafiq Rab, Rush's CIO. "Rush is committed to delivering a positive patient experience, and the My Rush app helps us achieve this goal by combining Connexient's cutting edge technology with patient appointment and health information."
"At RVH, patients and their families are at the center of everything we do and ensuring they have a positive experience in our health center is a key focus. RVH is a very large facility and can be difficult to navigate so implementing Connexient's innovative, bluetooth-based indoor positioning and navigation technology will most definitely be a tremendous benefit to the patient and family experience."
"At RVH, patients and their families are at the center of everything we do and ensuring they have a positive experience in our health center is a key focus. RVH is a very large facility and can be difficult to navigate so implementing Connexient's innovative, bluetooth-based indoor positioning and navigation technology will most definitely be a tremendous benefit to the patient and family experience."
"Taking existing applications and combining them in a new and powerful way allows Hackensack Meridian Health to continue to leverage our technology solutions to further advance the patient experience throughout the health care process at Hackensack Meridian Health."