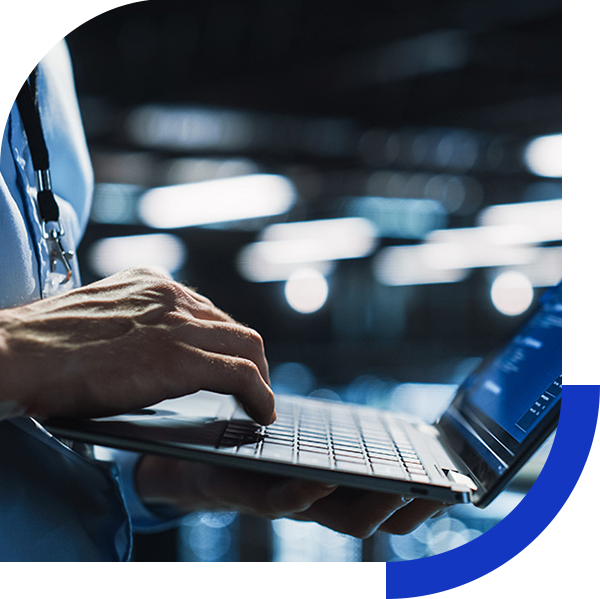 Licenses:
Zabbix License: Any Zabbix license
Version 3.4
Everbridge license: Active IT Alerting standard or IT Alerting enterprise
Version: SaaS Annual Subscription (latest version).
Security:
Zabbix user account of any type
Everbridge user account with API Privileges
An API key is needed, but that will be generated when you perform the procedures in the iPaaS Configuration section of the Everbridge user guide under Documentation at https://manager.everbridge.net/login
Deployment
Installation of extra software, beyond Everbridge and Zabbix, is not needed.
Self-service configuration of Zabbix integration, by an end user, is easy from the Settings -> Everbridge Open -> iPaaS tab of the Everbridge SaaS application. Click "New Agent":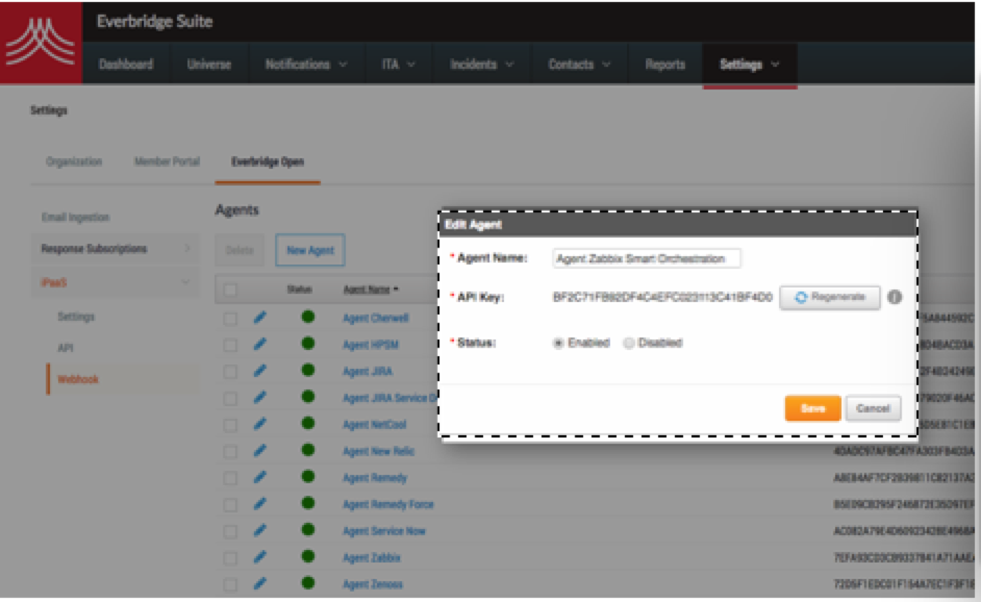 Interaction
Zabbix monitors network devices and servers for problems, and automatically launches Everbridge incidents. Immediately after a monitor breaks a threshold

… triggers creation of an Everbridge incident and populates the important details: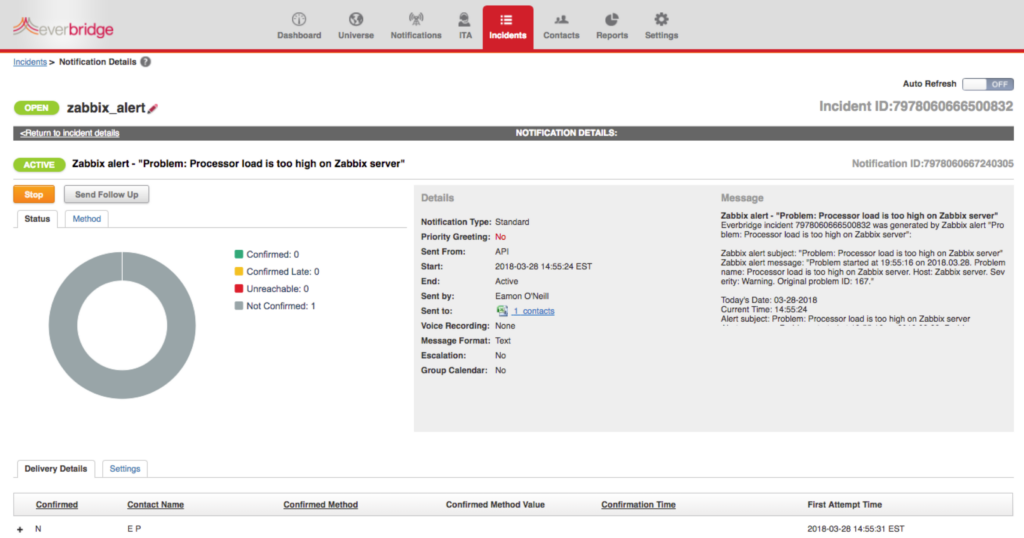 User can control the conditions under which Zabbix automatically triggers incident creation in Everbridge: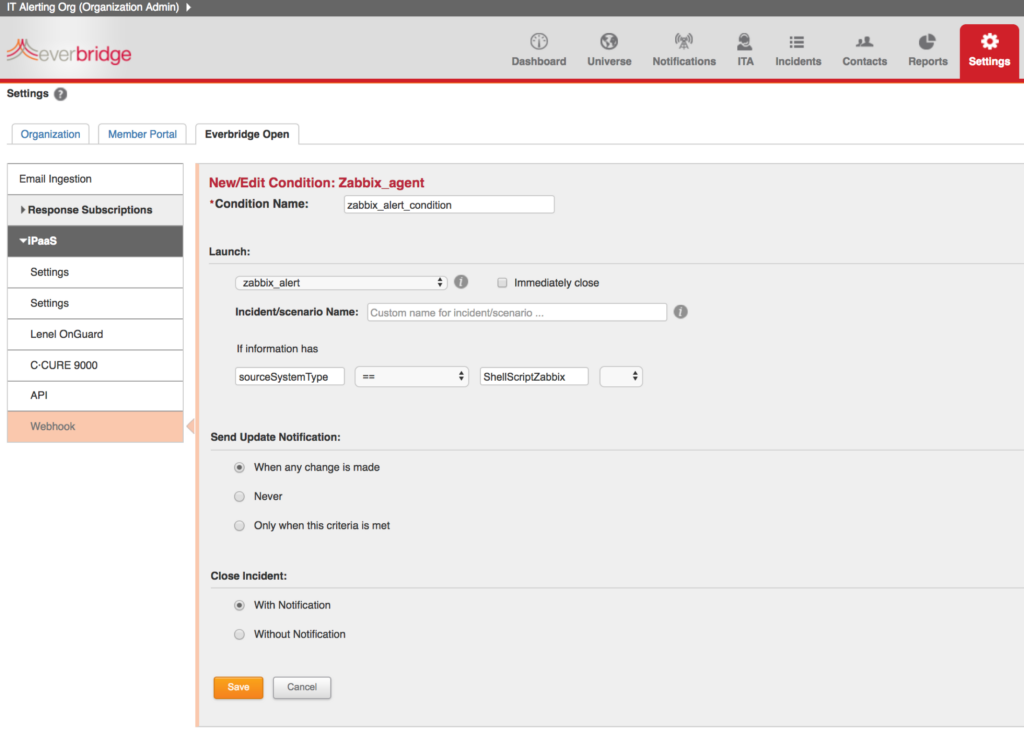 1.
In Everbridge, create an Incident Template configured with Zabbix fields
2.
In Zabbix, select one of the quickstart Triggers, such as "CPU load too high on 'New host' for 3 minutes". For this Trigger, create an Action that uses the "Post to Create Everbridge iPaaS" Media Type
3.
Test the interaction by starting connecting to the Zabbix monitored host and launching processes to increase CPU load
4.
When the Zabbix Trigger fires, it will automatically create an Everbridge Incident
5.
Everbridge notifies contacts, to resolve the issue
Under Help & Support -> Online Help, read the following section: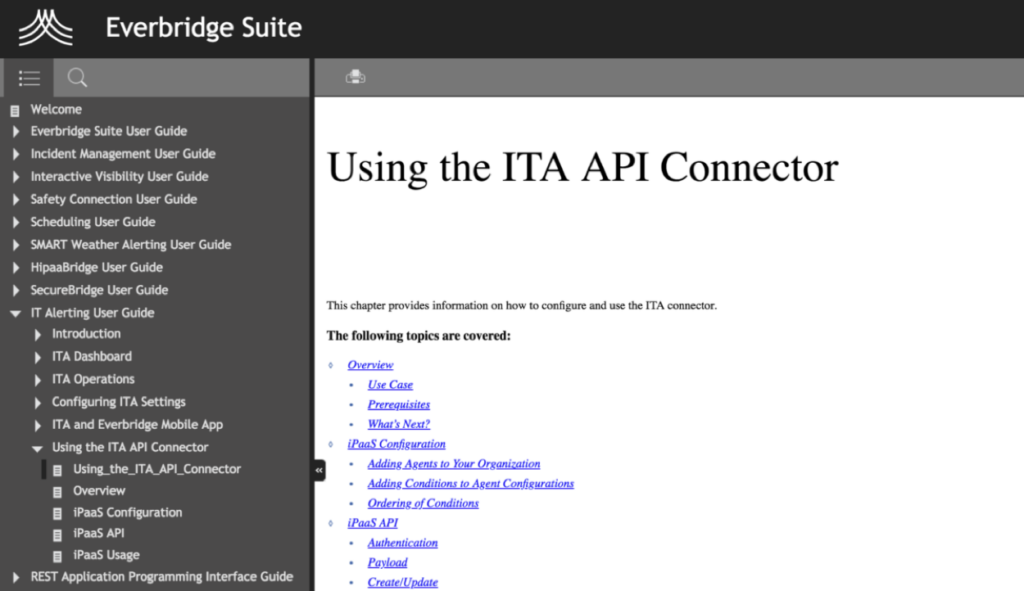 Under Under Help & Support -> Everbridge Support Center, download the IT Alerting User Guide, and read the following section: