Public Warning
COVID-19: What We Can Learn From Norway's Health Ministry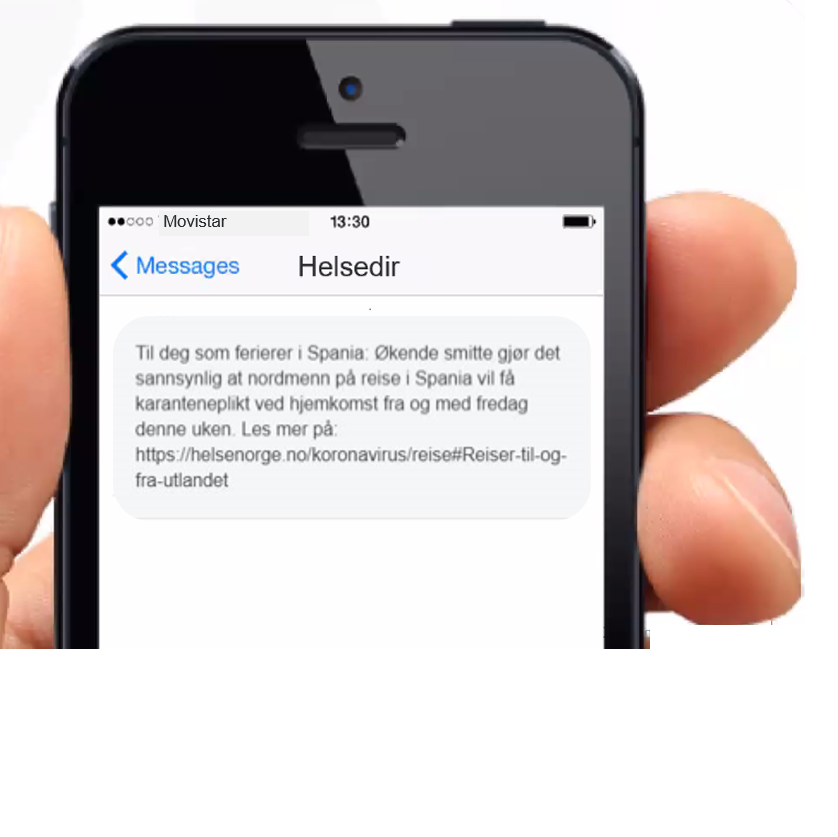 In the last 10 years, international travellers have doubled from 500 million to 1.1 billion. The effects of coronavirus has reduced the number of travellers in recent months but people who choose to take a holiday or travel on business are at significant risk from COVID-19.
Across the world, cases will emerge in pockets leading to renewed local or national lock-downs. The ECDC tracks cases across Europe on a weekly basis, the latest statistics reveal spikes in infection in Spain, the UK, Sweden and eastern Europe.
Government departments such as the Ministry of Health or Ministry for Foreign Affairs have a duty of care to ensure that their travelling citizens receive consistent and precise information whilst out of the country as well as informing foreign visitors to their own country.
The European Electronic Communications Code (EECC) Article 110 requires all EU countries to implement a public warning system which is capable of sending alerts to mobile devices during man-made or natural disasters. The coronavirus pandemic has accelerated the need for such technology to be adopted now.
4 Lessons from Norway
One country taking advantage of public warning technology is Norway. Since April, the Ministry of Health has been using Everbridge's public warning platform in several ways in response to COVID-19:
Enforcing Lock-down
In April the Ministry sent 5.4 million alerts to the entire Norwegian population and 300,000 foreign visitors advising them on lock-down restrictions. These SMS messages were sent direct to mobile phones users in their local language including Norwegian, English, French, German, Spanish, Polish and Russian.
Maintaining lock down
Many city dwellers in Norway have second homes in the mountains. During lock-down the Ministry used Everbridge to enforce 'stay home' orders, to avoid an influx of people which threatened to overwhelm the healthcare system in these small mountain communities. SMS alerts were sent to the population of Oslo and Bergen advising them to stay home.
Traveller Alerts: Contacting Norwegians Overseas
More recently this week, the Ministry of Health used the Everbridge platform to send traveller alerts to all of its Norwegian citizens in Spain. A recent spike in COVID-19 cases in Spain meant that from July 25th the Norwegian authorities have imposed quarantine restrictions on travellers arriving back in Norway from Spain.
Using the Everbridge Public Warming platform, the Ministry for Health in Norway was able to see the exact number of Norwegian cellphones connected to the Spanish operator networks. A message was sent to over 10,000 devices in Norwegian advising them of the change in quarantine coming into effect with a link to further official information from the Ministry. The screen shot below shows the number of Norwegian cellphones in Spain using the Everbridge platform:
Alerting Inbound Roamers
In addition, Everbridge Public Warning is currently being used to send messages to all foreign visitors entering Norway to ensure they are aware of restrictions during the pandemic. When a non Norwegian arrives at the border, their phone connects to one of the Norwegian networks, at this point an alert is triggered by the Everbridge system so that the person receives an SMS in their native language.:
"COVID-19. Welcome to Norway.
Please read the information regarding rules of quarantine, testing
and how to stop the spread at www.helsenorge.no/coronavirus"
Espen Nakstad , Norwegian Directorate of Health was recently interviewed by NRK and is quoted as saying:
"When more tourists come to Norway, it is important to inform them in a good way about which corona rules apply, and where you can get tested if you become ill"
The SMS notification was first tested in Nordland and has been active since July 15th. Chief of Police Heidi Kløkstad is also quoted in the same NRK article saying
"the idea is that those who come to Norway should get good enough information about current rules."
Summary
Norway is leading the way for other European nations to follow. With the 2022 deadline moving closer, and the ongoing threat from COVID-19; other countries cannot afford to delay their implementation of a national public warning system to protect their citizens at home and abroad, as well as those who visit their country.
About Everbridge Public Warning for Traveller Alerts
When a crisis situation occurs, important information often struggles to reach affected people, due to the difficulty in distinguishing who has been affected and how to communicate with them. Governments and local authorities find it difficult to respond effectively to these situations. Language barriers can also be a factor, especially for tourists.
In today's digital era, information (both true and false) will spread in the blink of an eye. Hence, it has become essential that travellers are equipped with reliable information to make well-informed decisions. Based on this knowledge, the Everbridge Public Warning Platform provides governments with the ability to:
Communicate with your citizens abroad when it matters the most, in one click, without violation of privacy
Communicate with all your citizens while protecting privacy
Know how many of you citizens are abroad
Reach out to all of your citizens in a foreign country in one click
Share public safety information with your people even when they are abroad
Cross-border communications with your residents abroad
Easy to use for government, public safety departments, ministry of health, …
Intuitive graphical user interface
One click SMS alerting
Situational Awareness
Alerting front-end, gateway and APIs
2-way engagement
On-prem, hosted or SaaS
For your residents:
No opt-in required,
No mobile app,
No download
Areas of use
Advice for travellers in countries affected by coronavirus or other pandemics.
Instructions for safe repatriation including advice on quarantine procedures.
Guiding travelling citizens to embassies, hospitals and emergency shelters overseas.
Evacuation and directions to safe assembly points on the ground.
Click here for more information on Everbridge Public Warning.