A historic year for enterprise resilience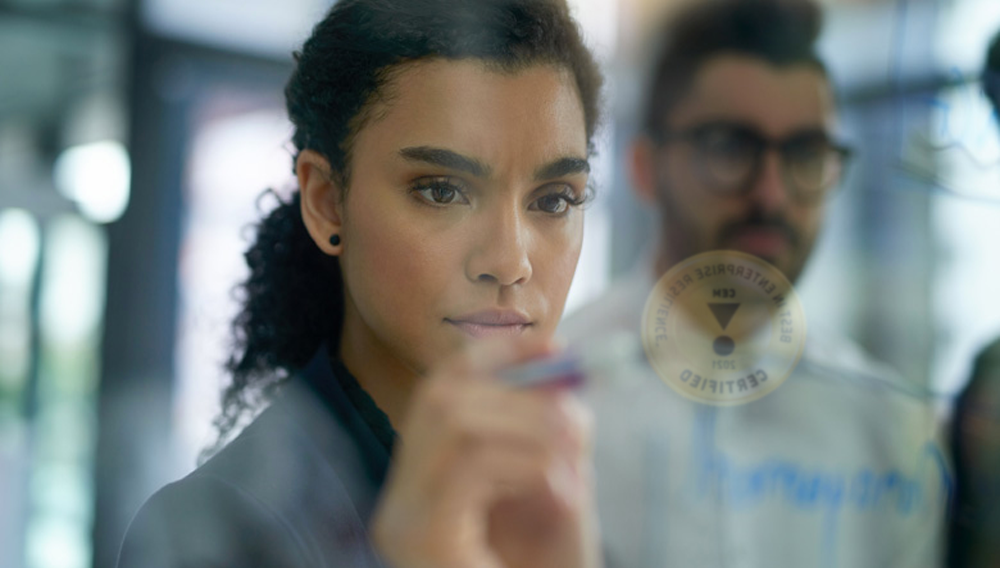 The year 2021 represented another historic period of resilience, during which businesses began to spring back from the pandemic lockdowns of 2020. Yet, many senior leaders and boards found themselves navigating their people and assets through the impact of new COVID variants and other critical events, such as severe weather, bushfires, cyber-attacks, IT outages, and more.
To increase their enterprise resilience against these and other disruptions, a growing number of organizations have turned to digital transformation – and more specifically, adopting Critical Event Management (CEM) solutions – to prepare for disruptions, protect their people and assets, and thrive.
In July 2021, to help organizations benchmark and reinforce their enterprise resilience, Everbridge rolled out the industry's first CEM Certification™ Program. Developed from 20 years of professional services engagements across tens of thousands of projects in over 150 countries and facilitating tens of billions of critical interactions, Everbridge's proprietary framework offers organizations an end-to-end methodology for evaluating and benchmarking enterprise resilience preparedness. Businesses that achieve CEM Certification™, and its corresponding Best in Enterprise Resilience™ designation, follow proven industry best practices for enterprise resilience to keep their people safe and organizations running, faster.
Organizations across categories and regions have embraced the program. Several industry leaders, including FORTUNE 500 companies and multi-national corporations, engaged in the evaluation process and received the prestigious designation, such as Discover, Goldman Sachs, Siemens, Takeda, NBCUniversal, Dow, dentsu, Alexion and others. Recipients of Best in Enterprise Resilience™ cite among the program's key benefits the ability to enhance resilience planning, demonstrate the organization's commitment to enterprise resilience and duty of care, and instill trust in internal and external stakeholders.
One Vice President of a Global Fortune 100 media company noted:
"We're in budget season right now, so as I'm clawing – along with other peer Vice Presidents – trying to get more dollars for our Crisis Management and GSSC teams, this will be very helpful because it is a great document to use as a reference point."
To date, recipients span more than a dozen industries, including financial services, pharmaceuticals, technology, media, security, and non-profit, as well as multiple geographies including North America, EMEA, and Asia Pacific. Even more importantly, the program has helped benchmark and foster enterprise resilience to protect more than 2.7 million employees, and indirectly millions of citizens globally.
Why and how to leverage Best in Enterprise Resilience in 2022
Through the certification process, the Everbridge team found that top companies receiving Best in Enterprise Resilience™ tend to use CEM solutions to assist both offensive and defensive revenue enablement decisions. They also score highly for Business Operations, People Resilience, Digital Operations, Smart Security and Public Safety.
As we look to 2022, there are many reasons why organizations should leverage the certification to highlight their proficiency in these areas. For example, in the current environment marked by "the Great Resignation," economic uncertainty, and a persistent hybrid work environment, employers have an opportunity to emphasize Best in Enterprise Resilience™ as evidence of their dedication to resilience and duty of care. This certification translates to a commitment to keeping employees and citizens safe and prospering as an organization, which can help retain top talent while reassuring other key stakeholders that the business is built to last.
The program differentiates a company from other places of employment. Despite global labor and supply shortages, it also sends a message to partners and customers about the organization's readiness to navigate such challenges, while sending a reassuring message to investors that the company will be more resilient than many others during uncertain economic times.
To leverage the program, Everbridge recommends 5 key promotional tips:
Announce the well-earned recognition: Issue a press release announcing the award like Comerica.
Post about it on social media: Create a social post about this honor like Dow Chairman and CEO Jim Fitterling.
Include it in company advertising: Consider adding the Best in Enterprise Resilience seal in digital and print media campaigns.
Showcase it on your Careers site: Add the seal to the company's Careers page to let prospective employees know that the organization is committed to its duty of care
Display the certificate onsite: Make sure visitors see the honor when they visit company headquarters, by displaying the seal and gold-plated medallion in the office's reception area.
Taking these actions will show employees, prospective hires, customers, partners, and investors, that the business is a savvy, forward-looking leader prepared to take on the future, keep people safe and prosper.
Becoming Best in Enterprise Resilience™ demonstrates comprehensive resilience and sets the organization apart as a market leader in keeping people safe and ensuring your organization is running smoothly.
If you believe your organization would benefit from Best in Enterprise Resilience™ assessment and certification, visit https://bestinenterpriseresilience.com/.