Adapt or fail: climate change resilience for organizations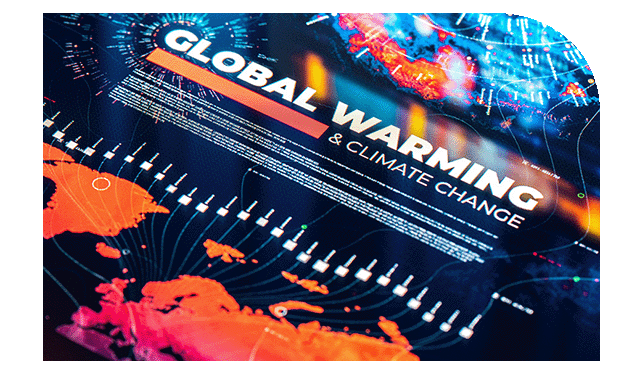 With the growing concern over climate change, organizations are starting to take notice of the risks that come with it. Unfortunately, many organizations are still not fully aware of the consequences of ignoring these risks, which can lead to significant business disruption and financial losses. According to research conducted by Verdantix, "more than half of organizations have less than $1 million to respond to catastrophic events, and 41% of participants stated that they had no budget at all for catastrophic events" (Navigating Climate Threats and Proactive Mechanisms to Achieve Business Climate Resilience, November 2022). With climate change disasters on the rise, it is nearly inevitable that organizations will face a crisis at some point in the near future, and the time to begin preparing is now.
The current systems and solutions in place for managing climate hazards are often inadequate, and the reliance on traditional insurance has become insufficient. But there's more to it than just the financial impact—organizations must take the necessary steps to become more resilient to the risks of climate change, keep their people safe, and position themselves to succeed in a dynamic market.
What is climate resilience?
Climate resilience refers to an organization's ability to anticipate, prepare for, and adapt to the impacts of climate change while maintaining essential functions and keeping people and assets safe. It requires strategies, actions, and technology that enable organizations to manage and reduce climate-related risks and seize opportunities to build a more sustainable and resilient future.
The insufficiency of traditional insurance
Organizations often rely on insurance providers to provide protection against the impacts of extreme weather events. However, traditional insurance models are becoming less reliable due to the unpredictability of such events. There are often significant delays in the dispersal of funds from insurance companies, or sometimes they do not cover the claim at all. The report found that "over two-thirds of organizations had a loss caused by an extreme weather event in the two last years, with most submitting an insurance claim for these events" (Navigating Climate Threats and Proactive Mechanisms to Achieve Business Climate Resilience, November 2022). These delays or denials of funds can leave organizations unable to react and adapt quickly, leading to business disruption and financial losses.
Increasing external pressure
Soon, if they haven't already, organizations will face significant external pressure in the form of new sustainability regulations. In fact, "74% of participants in the [Verdantix] study highlighted regulatory pressure as a key factor influencing climate risk management budgets" (Navigating Climate Threats and Proactive Mechanisms to Achieve Business Climate Resilience, November 2022). This will require organizations to evaluate their exposure to climate hazards, which means that organizations must take the necessary steps to develop adaptive strategies for risk reduction when dealing with climate hazards due to global warming, ultimately increasing their resilience. Failing to do so will result in further costs and consequences down the line.
Invest in the future, not just the present
Many organizations focus on short-term costs, ignoring the long-term benefits of investing in resilience. It is concerning that "most firms are not planning to invest in critical climate change risk management solutions" (Navigating Climate Threats and Proactive Mechanisms to Achieve Business Climate Resilience, November 2022). This lack of preparedness can lead to significant costs later on. By investing in an adaptive resilience solution now, organizations can save potentially millions down the line.
An adaptive resilience solution: How to improve climate resilience
To build resilience in the face of climate change, organizations need to take a proactive approach. Some tangible steps they can take are:
Implementing adaptation measures, such as reviewing and updating business continuity plans and identifying potential supply chain disruptions.
Exploring alternative finance options, such as parametric insurance.
Reviewing and updating risk management processes to ensure they are inclusive of climate change risks.
Investing in new technologies and solutions that can help better predict and respond to extreme weather events.
Often, even at a corporate level, organizations attempting to deal with a critical climate event do not have an effective or efficient way to manage the resources required to achieve resilience. Obstacles like overlapping and disconnected tools, data streams, interfaces, and teams can slow an organization's response to a crawl when every minute counts. Siloed solutions complicate processes, causing confusion when teams and command centers should be working in sync. As a result, a fully integrated and holistic approach to critical event management is crucial to unlocking climate resilience and business continuity when faced with climate hazards.
With the right solutions in place such as Everbridge's Critical Event Management (CEM) platform, organizations can minimize the impact of climate-related disruptions, recover more quickly and with less damage, and maintain their ability to operate and grow in a changing climate. According to the 2021 study published by Forrester, which analyzed the data from 11 customers using Everbridge's CEM (Critical Event Management) Platform, over a 3-year period these organizations had an average ROI of 354% (The Total Economic Impact of Everbridge CEM Platform, March 2021). Investing in such technology will ultimately help organizations remain competitive in an ever-changing economic and environmental landscape.
An integrated CEM platform offers a holistic severe weather solution to groups charged with natural disaster management. When teams and command centers operate from a centralized platform, responses are rapid and coordinated. CEM software, for example, can send alerts that afford first responders and critical event managers precious time to assess the risks, as well as identify and locate endangered team members and assets.
A unified emergency software platform can also automate action plans, SOPs, and communications, such as sending public safety notifications, so that teams have the information and data they need to act quickly. After, analytics pinpoint where and when bottlenecks delayed responses, as well as where changes can improve processes.
To learn more about the importance of resilience and how your organization can become more adaptive to the risks of climate change, download the full report here.