Blog
Bringing AlertFlorida to life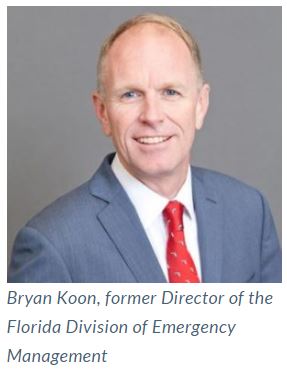 In 2016 Everbidge was selected as the service provider for the development and implementation of AlertFlorida, a landmark initiative which provides statewide emergency alert and notification services to Florida residents, businesses and visitors. We invited Bryan Koon, Vice President of Homeland Security and Emergency Management at IEM and former Director of the Florida Division of Emergency Management, to provide more information on how AlertFlorida came to be and how counties work with a statewide system.
What was your role in the creation and implementation of the AlertFlorida statewide emergency notification initiative?
I am the former Director of the Florida Division of Emergency Management. I worked with all of the stakeholders to help develop the criteria that we were looking for in a state-wide notification system, and once a review panel made a decision, I approved the decision. I helped evaluate vendors once we had decided to upgrade to a statewide deployment and helped formulate the roll out plan to counties.
Can you summarize the responsibilities of the counties and of the state for AlertFlorida?
While it was clear that a statewide notification system would both improve Florida's ability to reach every citizen and reduce the overall cost to the taxpayer, gaining the consensus to do so was difficult. There was concern from the local level that a state-funded and administered program would remove their ability to communicate directly with their residents and provide the specific information they needed to know in that situation. The first significant shift occurred through the continuous engagement of the Florida Emergency Preparedness Association (FEPA) by the Florida Division of Emergency Management (FDEM). FDEM developed the trust that allowed for the formation of a joint group to study the feasibility of a state-wide system. This process allowed the counties to outline exactly what it was they wanted in a notification system, with the primary element being that they be allowed to have operational control of the messaging. This was agreeable to FDEM, as we didn't have the staff or local knowledge to craft and disseminate those messages in a timely manner.
What was the implementation timeline?
The program was designed to be implemented over a couple of years to allow for communities who had already existing programs to finish out their contract, and to determine whether in fact they wanted to participate. Participation is completely voluntary; no jurisdiction is forced to participate. If they could justify spending their own dollars on a program that was already being provided to them for free by the state, they could do so. As you may imagine, nearly every county chose the more cost-advantageous and feature-filled product, and adoption far surpassed the original timeline. Getting counties to come on board was surprisingly easy; as the early adopters saw the value and ease of use of the transition to the new system, they told their colleagues in other counties and they signed up. In Florida, as it is likely in every state, it is much easier to have their colleague convince a county director of the value of a product than it is to have the state mandate a solution.
How did you ensure your staff felt confident in the transition? How did you handle existing data?
Each county was provided a seamless transition into the Everbridge system by participating in three customized implementation calls followed by a two-day onsite training session. These calls and onsite engagement were designed to assist the jurisdiction with customizing and setting up their system to meet the unique needs of their citizens and stakeholders. Hands on training was performed for all users of the system. Any existing data they had access to was transferred into the Everbridge template and uploaded into the system giving them instant access to the citizens they currently contact.
What's next for AlertFlorida?
At this point in its life-cycle, AlertFlorida is a stable, proven product that has saved lives and property in the state. It is now at a point where it can be utilized even further, by expanding the awareness of product to visitors to the state, be utilized and integrated with cities, schools, and universities, and as a platform for even better hazard awareness.