Blog
Community policing: Combating the Opioid Crisis
Community policing has been a positive strategy for achieving a number of of desirable outcomes for law enforcement agencies. These outcomes include lowering local crime rates, improving public opinion of law enforcement, and boosting social media presence, just to name a few. Now, thanks to an experimental strategy tested in North Carolina, eliminating drug markets can be added to that list.
In an effort to combat a number of overt drug markets that were present in the city of High Point, NC since the first heroin epidemic 40 years ago, the High Point Police Department teamed up with other experienced law enforcement and violent crime professionals to devise a plan to eliminate the markets. The goal was to develop a strategy to eliminate overt drug markets within the city to drive down the key crime problems associated with them (homicide, gun-assault, prostitution, etc.) using a strategy that differed from traditional narcotic enforcement. What came from this endeavor came to be known as the High Point Drug Market Intervention Strategy and has been successfully deployed by cities across the country to eliminate overt drug markets.
Community policing was at the heart of the strategy. The overall concept was to "make a change in the culture of the community, and for the community and the dealers' families and peers to make it very clear that selling drugs was unacceptable and must stop, and if law enforcement had to take steps, those steps represented the will of the community, not outside oppression."
The process involved taking a community-oriented approach to reducing drug activity. At the most basic level, the strategy involved 3 phases:
Identification: identify the target geographic area and the active dealers operating within that area. Immediately prosecute the most dangerous members and build cases against the others.
Notification: notify active dealers that law enforcement already has a case already established against them, but inform the dealers that they won't immediately be prosecuted. Instead, dealers are given a choice, to be prosecuted or attend a "call-in" meeting where they would be presented resources such as housing, food, employment, and other social service resources if they agree to stop dealing.
Resource Delivery/Community Support: once dealers have chosen to stop dealing in return for not being arrested, they can be enrolled in social service resources to help keep them off the streets, leading to the closing of the drug market.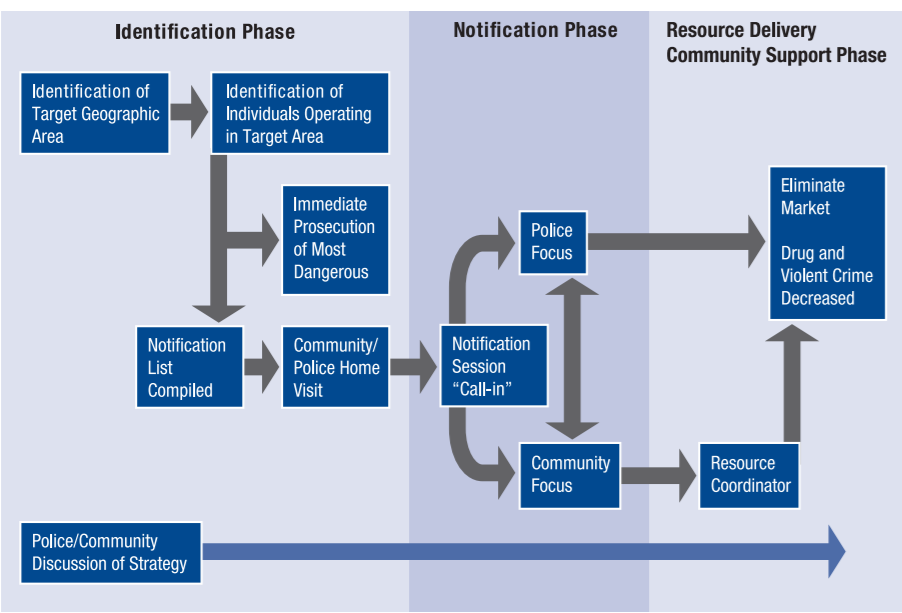 Violent crime in the neighborhood where the strategy was first implemented was down 57% after 5 years. High Point saw 4 markets close down followed by a 20% decrease in violent crime citywide.
According to High Point PD Chief James Fealy, "[The strategy] produces results that are so dramatic it's almost incredible. It is sustainable. It does not produce the community harms that our traditional street-sweeping, unfocused efforts of the past have. The most important benefit of this work by the people of High Point is the reconciliation that emerges from the dialog between the minority community and the police. In a 30-year law enforcement career, I have never seen an effort like this. It's nothing short of miraculous."
Learn more about Community Policing.
Discover how Everbridge Nixle can help your agency connect with residents.