Blog
How do you create (and leverage) situational intelligence?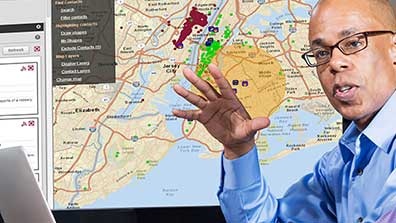 Dr. Robert C. Chandler recently described the difference between situational awareness and situational intelligence. Situational awareness focuses on gathering information from the "traditional or formal channels of information." This may be news, city or corporate communications, radio or video, etc. Primarily, these are "passive" sources. Situational intelligence, on the other hand, is more of a "dynamic process of gathering information (inputs), interpreting data (insight) and informing others/requesting feedback (interaction) – a combination of situational intelligence and social intelligence. It draws from people who are close to the situation and involves two-way communication. It is not only drawing from passive sources, but actively communicating with those involved.
If you look at Everbridge's network effect, one organization can gather information from other organizations to increase their level of intelligence about an event. A corporation or school can be getting immediate data on a flu pandemic, for instance. This information received early on in the pandemic can affect the communication, preparations, and actions of the corporation and school.
Similarly, using a tool like Everbridge's integration with Zapier, a single notification could be sent to Facebook, Twitter and a web page in under a minute. A trusted first responder using Mobile Member could even now initiate the message while on the scene to recipients and social media outlets—all through one notification.
However, to be truly ready to harness situational intelligence using social media, what else is required? Sergeant Matthew Simons, the Social Media Coordinator for the City of Newburyport, MA recently identified three starting points.
First you need support from your organizations agency heads or management to develop a program. They need to understand the value of social media and situational intelligence.
Second, there needs to be an established social media policy outlining the rules, content, conduct, and personal use restrictions. Using these elements to train and authorize the message senders.
Third there needs to be a social media strategy. Why are you using social media? What social media will meet your goals? A police department may use it to help their communities know current crime trends and practices that can help citizens feel safer. A corporation can use it to keep their employees up to date during a PR crisis, or to build a relationship with their customers.
Use a Social Media Strategy Overview, touching on the importance of leveraging the "What, Who, Objective, Frequency, Message type, and Message Example" of social media to generate situational intelligence.
For more on this important of establishing Situational Intelligence, join next week's webinar: Creating Situational Intelligence: Leveraging Information To Make Better Decisions, Part 2.