Best Practices
Everbridge's Best in Resilience™ Study results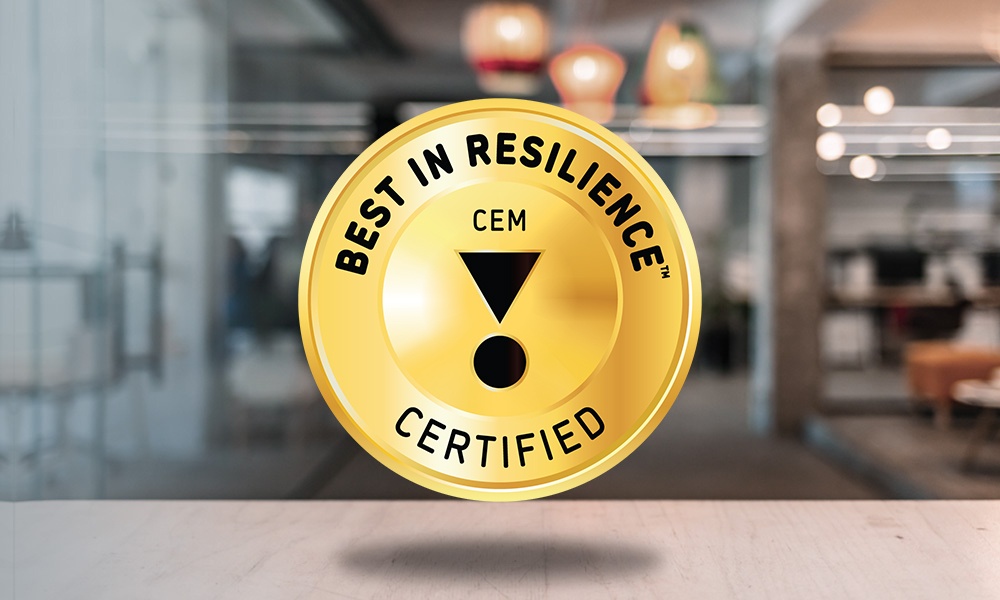 The Best in Resilience™ Certification is designed to help organizations protect their people, safeguard operations, and sustain performance with critical event management (CEM) best practices. Our Best in Resilience™ Certification utilizes a proprietary Critical Event Management (CEM) Standards Framework™ to provide organizations with the industry's first end-to-end methodology for evaluating and benchmarking resilience.
Based on over 20 years of experience in professional service implementations across thousands of businesses from over 150 countries, our Best in Resilience™ Certification helps leaders in the public and private sectors better understand their current capabilities: helping them make informed decisions based on their unique risk appetites.
As an organization committed to providing best-in-class risk readiness to our customers, we felt it necessary to gain a better understanding of how organizations around the globe view and partake in risk readiness. In this blog, we'll discuss findings from Everbridge's Best in Resilience™ Study and glean insight into how today's global organizations are preparing for and responding to critical events.
Findings from Everbridge's Best in Resilience™ Study
A survey was issued to existing Best in Resilience™ Certification participants in June 2022. Survey respondents were asked a range of questions about their organization's preparedness in the face of disruptive events. A sampling of the results from companies that achieved the Best in Resilience™ Certification status included these key findings:
98% feel optimistic about building resilience against critical events in the future
84% can notify impacted/potentially impacted parties in less than 10 minutes
84% routinely assess risk events and determine their impact in less than 15 minutes of learning about the event
68% can account for the safety of the majority of employees in less than 30 minutes
61% use dynamic location information to identify risks to people and target communications with them
Leaders are most concerned about cyber threats (84.1%), physical attacks (84.1%), and severe weather (81.8%)
They take action through training (97.7%), tabletop exercises (90.9%), and software deployment/use (81.8%)
Organizations following proven industry best practices in keeping their people safe and operations running shared the following sentiment related to benchmarking their resilience with Everbridge:
"The key benefit is the ability to collaborate with other companies in the Best in Resilience program and share best practices. It also provides validation to key executives on our overall resiliency."
– Chris DeRemer, Manager, Global Security Operations Center, Exact Sciences
"The Best in Resilience Program provides credible recognition of the efforts we have undertaken to protect our people, operations, and reputation."
– Aaron Van Gieson, Senior Continuity and Program Manager at Medtronic
"A great benchmarking tool to see how our organization stacks up against others and provides opportunities for us to improve."
– Brad Abelt, GSOC & Security Ops Manager at Johnson Controls
Secure resilience with the Everbridge Best in Resilience™ Certification
Becoming Best in Resilience™ Certified allows organizations to benchmark their performance against industry peers, identify areas of strength and opportunities for improvement; improve resilience planning, budgeting, and resource allocation; demonstrate a commitment to duty of care; instill trust among employees, partners, and customers; and recruit and retain top talent among other benefits.
At Everbridge, our list of Best in Resilience™ Certified organizations continues to grow. Today, our Best in Resilience™ Certified organizations include healthcare company Humana and global cancer diagnostics leader Exact Sciences. They join the ranks of organizations such as Siemens, Goldman Sachs, Dow, Discover, Takeda, NBC Universal, Lincoln Financial Group, AARP, American Family Insurance, Medtronic, Battelle, the Department of Labor, the State of Oregon, and the country of Iceland in meeting the rigorous formalized standards to becoming CEM Certified™.