Blog
Expanding duty of care through location-awareness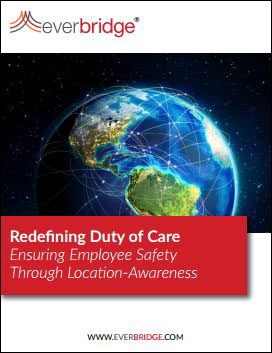 With a significant portion of the workforce transition to mobile work – 72% by 2020 according to IDC, organizations must consider expanding duty of care in the coming years. Just because an employee is not located in an office building, does not mean organizations have any less of a responsibility to keep them safe. Where should organizations start with a new approach to duty of care? Location. In the age of the mobile worker, all organizations should know where employees are located whether they are working in the field or traveling abroad. In fact, the following questions should be answered with relative ease when an incident impacting employees occurs:
How many employees are actually in the building? How many are in the specific facility where the incident is taking place?
What happens if I have a workplace violence issue? How will I quickly account for everyone?
Where are my field workers, currently? Are they home for the day, or are they still at the remote work site?
What if I have executives that are traveling around the country or around the world? How do I know they are safe? How do I know if they need assistance?
Expanding duty of care requires organizations to consider THREE types of locations:
'Static' Location – Where does somebody typically work? Where do they live? It may not be where they are, but it is likely a good indication of where they might be. If something bad happens there, even if they're not there, they may need to know about it.
'Last Known' Location – Where is somebody right now? Which building? It may not necessarily be the building they work in most of the time, but it could be that they are currently across the campus or working remotely from a home office.
'Expected' Location – Where is somebody planning on being in the future? Who is visiting the Paris office or who's expected to be in Paris? Who's known to be traveling to Paris between, say, last Friday and next Friday? You need to be able to account for all of these people, even if it means making the best prediction possible to do so. Unfortunately, according to Ernst & Young's latest Global Mobility Effectiveness Survey, only 30 percent of companies have a system in place for tracking business travelers.
To learn more about expanding duty of care and location-awareness, download our white paper "Redefining Duty of Care: Ensuring Employee Safety Through Location-Awareness."