Blog
An expanding mobile workforce requires a new approach to duty of care
With more than 72 percent of U.S. workers expected to be mobile by 2020, according to IDC, organizations need to start looking at a new approach to duty of care. In fact, there's a chance employee safety and security plans will need a major overhaul as protecting mobile workers is much different than protecting employee who work in a traditional office building.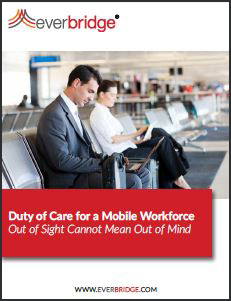 In Steven M. Crimando's recent white paper, he touched on the topic of how organizations need a new approach to duty of care in today's mobile world. One of the key points he harped on is that organizations must understand the different types of mobile works, which include:
Home-based working – Employees based at home, with no designated office or workspace, but who may use "touch-down" centers or office hoteling arrangements, or attend meetings with other team members in offices.
Mobile–based working – Employees without a designated office, using "touch-down" centers and ad hoc home working, but not necessarily based at home.
Field working – Employees performing tasks while out of the office by using mostly hand-held technologies. Field working can be conducted by employees with a designated office base, and/or based at home.
Employers will face different challenges for each of these groups. One important thing to keep in mind, according to Crimando, is that there can be no preferential treatment when creating and employee safety and security plan in regards to the new mobile workforce. To learn more about how your organization should be addressing duty of care during the shift to mobile work, download Crimando's white paper, "Duty of Care for a Mobile Workforce: Out of Sign Cannot Mean Out of Mind." If you'd like to see how Everbridge can help your organization with employee safety and security, contact us, or request a demo!