Blog
Nixle in action: Missing Rohnert Park boy found safe with help from Nixle
In 2015, over 460,000 children were reported missing to the National Center for Missing and Exploited Children, according to the FBI.[1] With limited resources, it can be very difficult for law enforcement agencies to devote the time and officers necessary to recover all of these missing children. In today's world of technology, Nixle can be a valuable tool when reaching out to the community and creating community engagement.
Recently in Rohnert Park, an at-risk 13-year-old was reported missing. It was also reported that he might be disoriented, as this has happened in the past.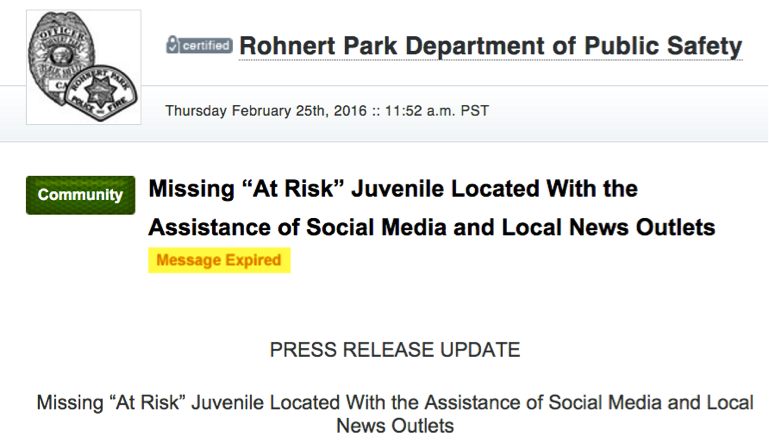 The next morning, after 13 hours of being missing, an employee of the Rohnert Park Unified School District found the missing child and called the authorities immediately. The boy was found in good health and was reunited with his family. The woman who identified the boy was aware of the situation because of a Nixle message she received from the city's Department of Public Safety. [2] The alert enabled officials to reach out the community in hopes that the alert would lead to valuable information and aid in the search, which it certainly did.
With the alarmingly high number of missing children per year, Nixle is a tool that can help ease the burden on law enforcement and enhance community engagement to help in the search for missing children. Nixle is partnered with the National Center for Missing and Exploited Children[3] to provide resources to law enforcement when a child goes missing to help reunite missing kids with their families.
To receive alerts from your local agencies, text your zip code to 888-777.
[1] http://www.missingkids.org/KeyFacts
[2] https://local.nixle.com/alert/5595123/
[3] http://www.nixle.com/community-partners/