Blog
The All-Hazards Approach to Planning and Critical Event Management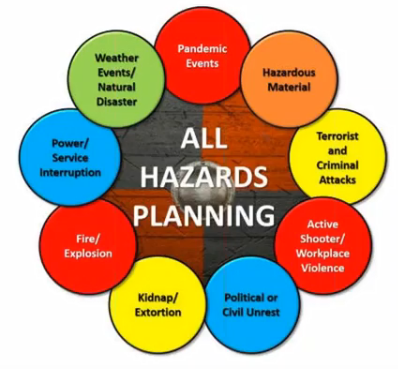 Why is it so important for public safety agencies to adopt an all-hazards approach to communication planning? And how does this planning approach fit in with the broader spectrum of critical event management? To answer these questions, Everbridge ran a webinar on the topic of building emergency messaging into all-hazard weather planning where guest speaker Brian Toolan, Technical Account Manager for the AlertFlorida Statewide notification system and former Operations Chief for the State of Connecticut Emergency Operations Center, gave his personal take on the matter. Brian noted that there are 6 key reasons why it is critical to have a communication plan that addresses all-hazards:
Reduce Public Panic
Have a complete plan in place for any at-risk critical event to reduce the likelihood of mistakes in execution or gaps in response that could lead to public panic.
Situational Awareness
Keep those affected by the event aware of what actions you are taking and why. Residents will want to know what your plan of action is and by keeping them updated, you provide them with meaningful context.
Respond to and Address the Rumor Mill
By having a plan in place before an event occurs, you can get in front of the rumors that can be spread through social media and word-of-mouth. A proactive approach to messaging means you will lead the conversation instead of responding to rumors.
Develop a Common Operating Picture
Ensure all responders and officials are on the same page and addressing the same issues. Residents shouldn't get confused by receiving alerts about multiple events at the same time. Keep your messaging focused and specific.
Send a Unified Message Addressing the Hazards
All outgoing messages should come from a single unified voice that is broadcasting a single message, regardless of the platform being used (ENS, social media, etc). Don't confuse your residents by sending them conflicting instructions or reports, ensure all alerts have a common direction.
Keep Requirements in Mind
Many agencies are Federally required to follow certain messaging protocols during critical events. Don't forget about these protocols and guidelines when planning your communications to ensure they are followed for their specific purposes and to avoid regulatory repercussions after the event is over. Everbridge provides a Critical Event Management platform that enables the all-hazards approach. By combining functionality of threat assessment, coordination, response, and task execution into one centralized platform, agencies can not only respond to a wide variety of incidents, they can do so faster and with less errors. Watch the full webinar, Building Emergency Messaging into your All-Hazards Weather Plan.