Blog
Why Amber alerts are sometimes not enough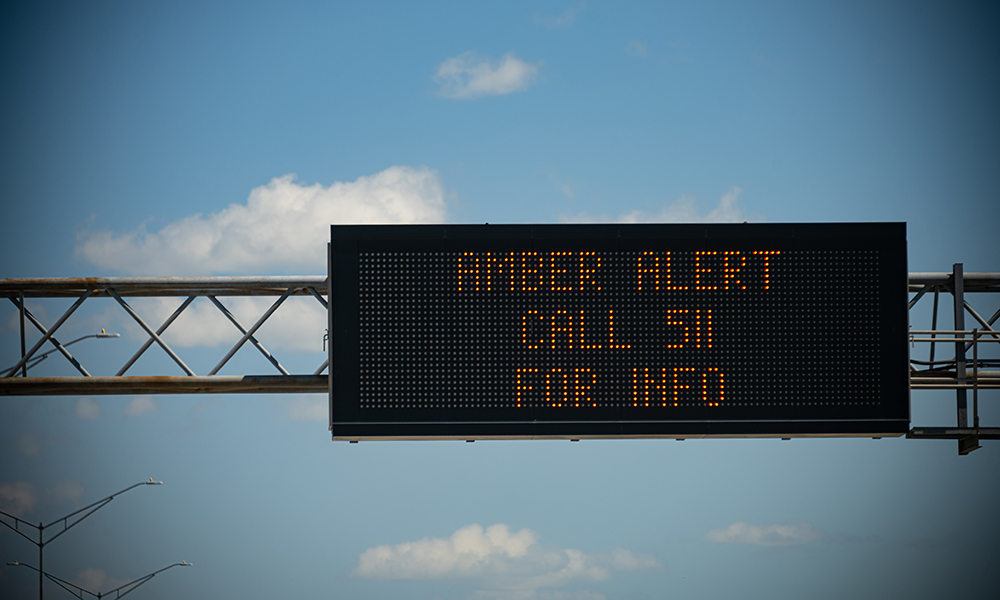 Locating a Missing Child Requires Swift Action and Broad Public Reach
When a child is reported missing, federal law requires that child be entered into the FBI's National Crime Information Center (NCIC). According to the FBI, in 2020 there were 365,348 NCIC entries for missing children.
Of those cases, authorities issued only 200 Amber Alerts.
There are several reasons why a missing child case may not meet the standards of an Amber Alert. The Department of Justice requires minimum criteria to be met before a missing child case can be made public via Amber Alert. Oftentimes, there is not enough information on the incident. The Amber Alert guidelines specify the need for a sufficient description of the child or captor, confirmation that abduction has taken place and evidence that the child is at serious risk of injury or death.
According to the Justice Department, these recommended guidelines should be followed:
Authorities believe the child may have been abducted
The child was 17 years old or younger
The child is in imminent danger or injury or death
There's enough information about the child and abduction for an alert
Child's name and other data have been issued into a national database that's accessible to law enforcement across the country
Add to this the fact that states may create their own criteria for when a missing child case rises to the level of an Amber Alert.
This leaves law enforcement in a predicament: how can they get information out quickly about a missing child if it does not meet the qualifications of an Amber Alert?
The San Angelo Police Department in Texas experienced a situation in which children were reported missing from their community. The department needed to get information out immediately. Two girls, one 5 years old and the other 10 years old, were reported missing on Friday September 25, 2015. The San Angelo PD issued an Everbridge Alert to residents with a description of the girls and their last known location. The police also conducted a door-to-door search of surrounding neighborhoods. Shortly after the Alert was issued, a concerned citizen noticed the girls walking down the street, contacted SAPD and stayed with the girls until authorities arrived. The children were unharmed and successfully reunited with their families. Said Officer Tracy Gonzalez of San Angelo PD:
"The ability to quickly find the missing girls was just wonderful. I think we just have a unique mixture for success…true community partnership in combination with a great engagement product."
In another case – also out of San Angelo – police issued an Everbridge Alert for a missing 9-year-old boy who did not meet the state mandated criteria for an Amber Alert. According to reports, "Approximately 32 minutes from the time the alert was issued, the child was located by three good Samaritans."
Unlike Amber Alerts, Everbridge allows for messages about missing children or other emergencies to be localized and targeted to a specific location. Everbridge's Location-Based SMS (LB-SMS) platform is used by government authorities to send targeted text messages to a defined area. LB-SMS relies on information which is already available within the mobile operators' network. By integrating into the same systems, Everbridge is able to send SMS to people in a specified geographical region – without accessing any of personal information such as phone numbers or the location of individuals.
As such, Everbridge's smart alerts can fill in the gaps when cases of missing children do not qualify for an Amber Alert broadcast.
In the case of the Bynum Family, a 21-year-old girl with the mental capacity of a 5-year-old and her young nephew, age 2, went missing in July 2015. Fearing for the safety of the two, the family asked for an Amber Alert to be sent out. Unfortunately, the case did not meet the state requirements. The particular state in which the two went missing mandates that the child must be under 18 and believed to be in danger of serious harm or death. Although an Amber Alert was not allowed to be issued on this case, the city was able to send out an Everbridge Alert throughout Northwest Indiana in hopes of finding the Bynums.
Likewise, consider the case of three children who went missing in De Pere, Wisconsin. The kids were taken following a domestic dispute. Police say after they notified the public that the children were missing, they received an anonymous tip leading them to the kids and their father, who they arrested. According to reports, officers said they filed the paperwork needed to trigger an Amber Alert but were able to get the word out faster using Everbridge and social media posts.
When every second counts, Everbridge alerts have proven to be an incredibly important tool for helping to locate a missing child, especially when the case does not meet qualifications for an Amber Alert. Because of their precision, wide reach and quick functionality, Everbridge Alerts have been used by many public safety agencies to help bring children home.