Steps to prevent and reduce workplace violence for healthcare workers
Workplace violence in healthcare
The occurrence of workplace violence for healthcare workers is nearly 4 times higher than other industries. In fact, according to a survey conducted by the American Nurses Association, nurses are particularly vulnerable to workplace violence, with 21% of nurses reporting having been physically assaulted in the last 12 months and over 50% reported being verbally abused. The majority of these incidents (80%) are caused by patients.
The Joint Commission has been following this troubling trajectory and in 2010, it issued a Sentinel Alert due to the increased reports of assault, rape, and homicide. Based on further data in the Sentinel Database, it listed the following top-noted contributing factors in reports of violence:
• 62% noted leadership factors, most notable problems in the areas of policy and procedure development and implementation.
• 60% of reported noted human resources-related factors such as the increased need for staff education and competency assessment processes.
• 58% noted patient assessment issues, particularly in the areas of flawed patient observation protocols, inadequate assessment tools, and lack of psychiatric assessment.
• 53% noted communication failures, both among staff and with patients and family.
• 36% noted physical environment, in terms of deficiencies in general safety of the environment and security procedures and practices.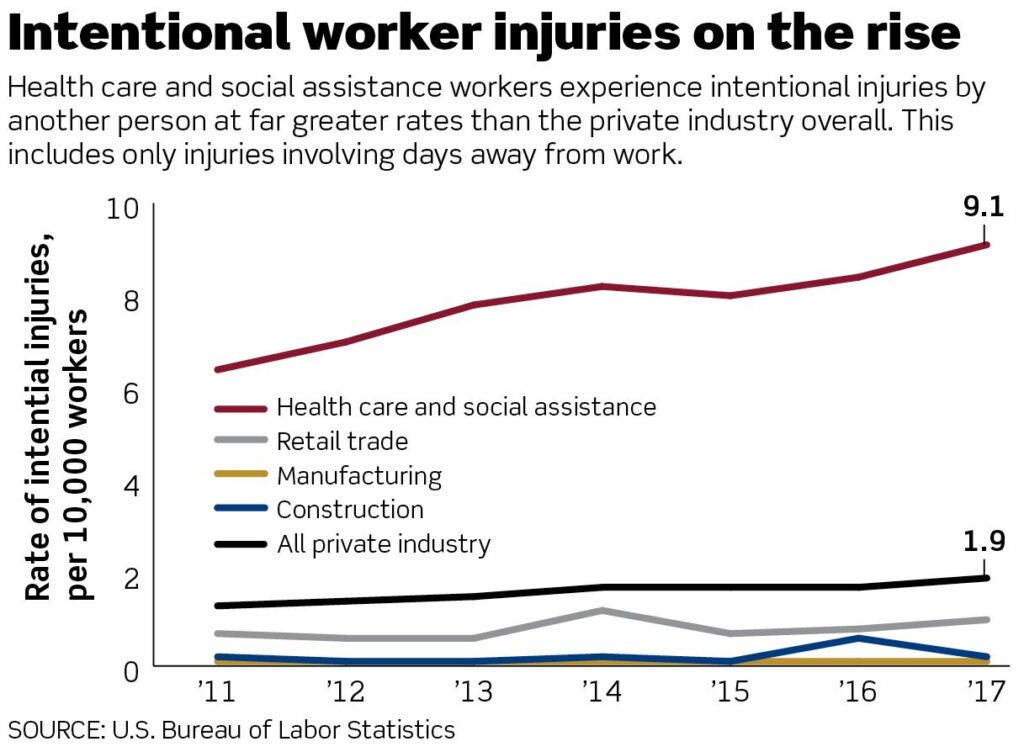 In addition to the direct physical impact on nursing staff including medical costs, and lost days at work, workplace violence can lead to staff dissatisfaction and likelihood to quit (32% of nurses who are assaulted are likely to leave the healthcare organization). On average, the cost of replacing a nurse is $27,000 to $103,000, including separation, recruiting, hiring, orientation, and training. The Joint Commission requires healthcare facilities to address and maintain a written plan on how the hospital provides for the security of patients, staff, and visitors. So, what can you do to reduce the likelihood of workplace violence for your staff.
1. Develop and enforce comprehensive policies and procedures against workplace violence.
• Evaluate objective measures of violence to identify risks and risk levels.
• Establish a comprehensive workplace violence prevention program.
• Ensure that the violence prevention program addresses the possibility of gun violence, including active shooters.
2. Train staff to recognize the warning signs of violent behavior and respond proactively.
• Encourage all employees and other staff to report incidents of violence or any perceived threats of violence.
• Ensure staff have multiple tools of alerting officials to report violent or threatening behavior – "See Something, Say Something."
3. Establish a secure environment including physical (locks, etc..) and electronic (including monitoring, access controls, etc..) measures.
4. Ensure appropriate follow-up to violent events, including communication, post-incident support, and investigation.
Learn best practices for preventing and managing workplace violence on our Featured Topic Page on Workplace Violence and by accessing our latest resources including:
• Keeping Healthcare Workers Safe: Communication Guidelines for Lone and Remote Healthcare Staff
• Preventing Workplace Violence: Legal Issues and Operational Risk Management
Everbridge is trusted by more than 1,100 of the country's leading hospitals to keep people safe, and operations running. To learn how the Everbridge Critical Event Management platform is used every day in hospitals to communicate the right information at the right time to reduce the risk of events such as active shooter or workplace violence, visit www.everbridge.com/healthcare.