Everbridge Now Deployed to Power the Countrywide Public Warning System for the African Island Nation of Mauritius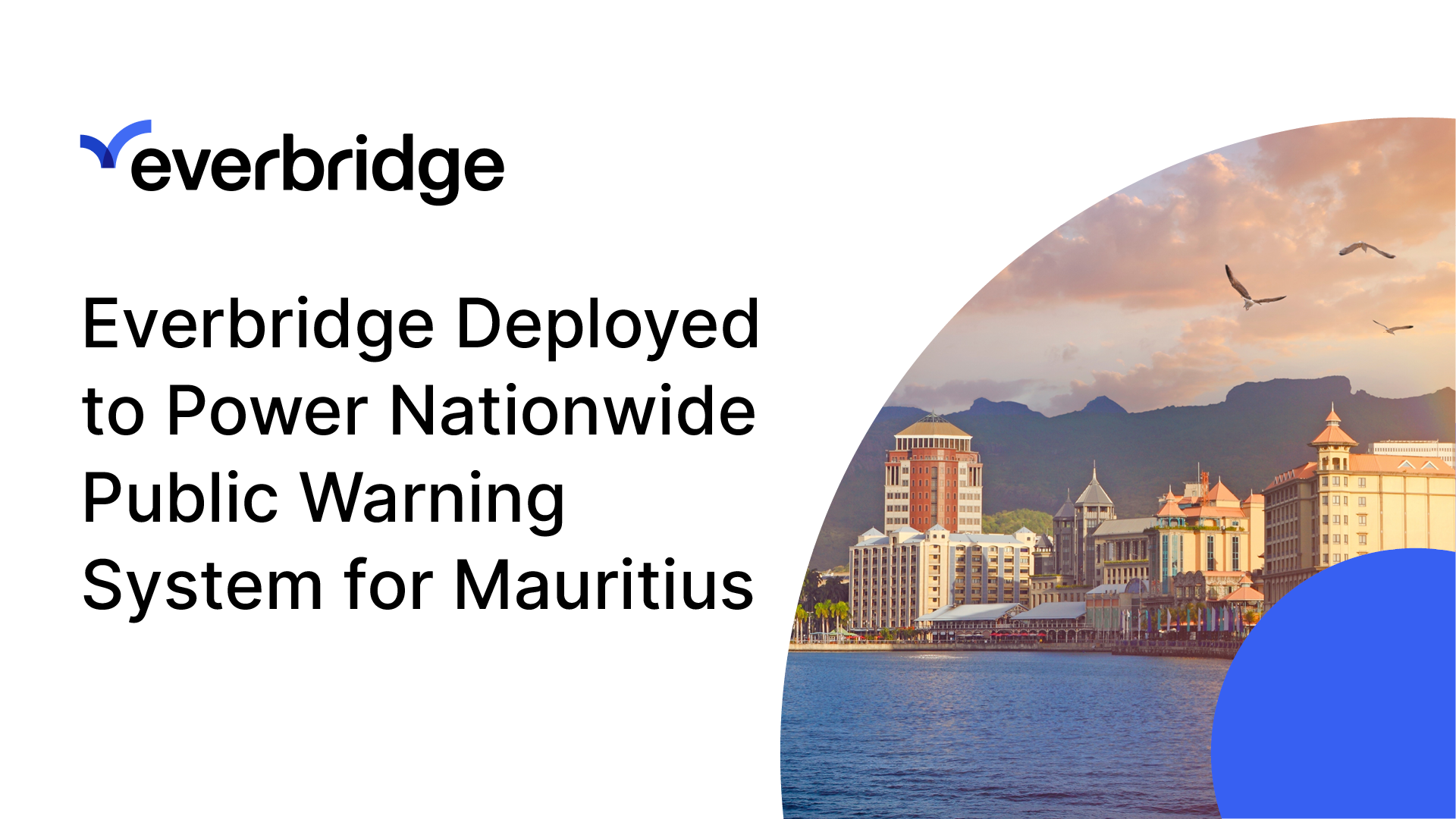 Republic of Mauritius has implemented Everbridge's complete end-to-end Public Warning solution on a nationwide basis to protect nearly 3 million residents and annual tourists
Everbridge continues to serve the last mile of Early Warning Systems in more countries than any other provider across the Americas, EMEA, and APAC regions
BURLINGTON, Mass., March 28, 2023 – Everbridge, Inc. (Nasdaq: EVBG), the global leader in critical event management (CEM) and national Public Warning solutions, today announced that the Republic of Mauritius completed implementation of its population alerting solution to help keep residents and visitors safe and informed in the event of an emergency. Home to 1.3 million residents and a popular destination for over 1.4 million annual tourists, Mauritius was recently named one of the Most Innovative Countries in the World.
To help ensure the safety of residents and visitors alike, Mauritius' National Disaster Risk Reduction & Management Centre (NDRRMC) selected Everbridge to power the early warning system for the country's four islands – the main island of Mauritius and the smaller islands of Rodrigues, Agaléga, and St. Brandon. Everbridge has been deployed across all government and law enforcement agencies, including the National Police, Military, Fire & Rescue Services, National Coast Guard, and Meteorological Services to immediately inform the public in the event of an emergency.
"The Everbridge public warning system allows us to turn around critical information very quickly," explained Inspector Hemraj Kumar Mohit of NDRRMC. "Within minutes, we can reach large portions of the population leveraging a system with proven scale."
Situated in the Indian Ocean, Mauritius remains prone to severe weather hazards such as cyclones, tsunamis, storm surges, landslides, and coastal flooding, as well as oil spills, HAZMAT incidents, and sugarcane fires. As witnessed in recent torrential rains, the new alert system sent critical, location-based messages via e-mail, SMS, and voice calls to mobile and landline phones before, during, and after the emergency, and was integrated with the Filtered Alert Hub, radio, and social media through the Common Alerting Protocol (CAP).
"We are honored to support the Republic of Mauritius on the evolution of its national warning system," said Stefica Divkovic, Senior Vice President of EMEA at Everbridge. "Our Public Warning solution enables government organizations to immediately connect with people in an affected area during a critical event regardless of nationality, residency, or mobile device type. Every nation can benefit from a modern alerting platform that reaches all citizens in times of crisis."
Mauritius' emergency alerting system expands on Everbridge's position as the global leader in nationwide Public Warning. More governments across the globe deploy the Everbridge population alerting solutions than any other provider, offering the ability to reach over two billion residents and visitors in countries and territories including Norway, Spain, the Netherlands, United Kingdom, Germany, Estonia, Sweden, Iceland, Greece, Singapore, New Zealand, Australia, Peru, and multiple countries across the Middle East, as well as entire states within India and the United States.
Everbridge (NASDAQ: EVBG) empowers enterprises and government organizations to anticipate, mitigate, respond to, and recover stronger from critical events. In today's unpredictable world, resilient organizations minimize impact to people and operations, absorb stress, and return to productivity faster when deploying critical event management (CEM) technology. Everbridge digitizes organizational resilience by combining intelligent automation with the industry's most comprehensive risk data to Keep People Safe and Organizations Running™. For more information, visit https://www.everbridge.com/, read the company blog, and follow on Twitter. Everbridge… Empowering Resilience.
Cautionary Language Concerning Forward-Looking Statements
This press release contains "forward-looking statements" within the meaning of the "safe harbor" provisions of the Private Securities Litigation Reform Act of 1995, including but not limited to, statements regarding the anticipated opportunity and trends for growth in our critical communications and enterprise safety applications and our overall business, our market opportunity, our expectations regarding sales of our products, our goal to maintain market leadership and extend the markets in which we compete for customers, and anticipated impact on financial results. These forward-looking statements are made as of the date of this press release and were based on current expectations, estimates, forecasts and projections as well as the beliefs and assumptions of management. Words such as "expect," "anticipate," "should," "believe," "target," "project," "goals," "estimate," "potential," "predict," "may," "will," "could," "intend," variations of these terms or the negative of these terms and similar expressions are intended to identify these forward-looking statements. Forward-looking statements are subject to a number of risks and uncertainties, many of which involve factors or circumstances that are beyond our control. Our actual results could differ materially from those stated or implied in forward-looking statements due to a number of factors, including but not limited to: the ability of our products and services to perform as intended and meet our customers' expectations; our ability to successfully integrate businesses and assets that we may acquire; our ability to attract new customers and retain and increase sales to existing customers; our ability to increase sales of our Mass Notification application and/or ability to increase sales of our other applications; developments in the market for targeted and contextually relevant critical communications or the associated regulatory environment; our estimates of market opportunity and forecasts of market growth may prove to be inaccurate; we have not been profitable on a consistent basis historically and may not achieve or maintain profitability in the future; the lengthy and unpredictable sales cycles for new customers; nature of our business exposes us to inherent liability risks; our ability to attract, integrate and retain qualified personnel; our ability to maintain successful relationships with our channel partners and technology partners; our ability to manage our growth effectively; our ability to respond to competitive pressures; potential liability related to privacy and security of personally identifiable information; our ability to protect our intellectual property rights, and the other risks detailed in our risk factors discussed in filings with the U.S. Securities and Exchange Commission ("SEC"), including but not limited to our Annual Report on Form 10-K for the year ended December 31, 2022 filed with the SEC on February 24, 2023 and other subsequent filings with the SEC. The forward-looking statements included in this press release represent our views as of the date of this press release. We undertake no intention or obligation to update or revise any forward-looking statements, whether as a result of new information, future events or otherwise. These forward-looking statements should not be relied upon as representing our views as of any date subsequent to the date of this press release.
All Everbridge products are trademarks of Everbridge, Inc. in the USA and other countries. All other product or company names mentioned are the property of their respective owners.
Everbridge Contacts:
Jim Gatta
Media Relations
jim.gatta@everbridge.com
215-290-3799
Jeff Young
Media Relations
jeff.young@everbridge.com
781-859-4116