Everbridge Opens 2023 Common Alerting Protocol (CAP) Workshop in Switzerland with Presentation on Artificial Intelligence for Emergency Warning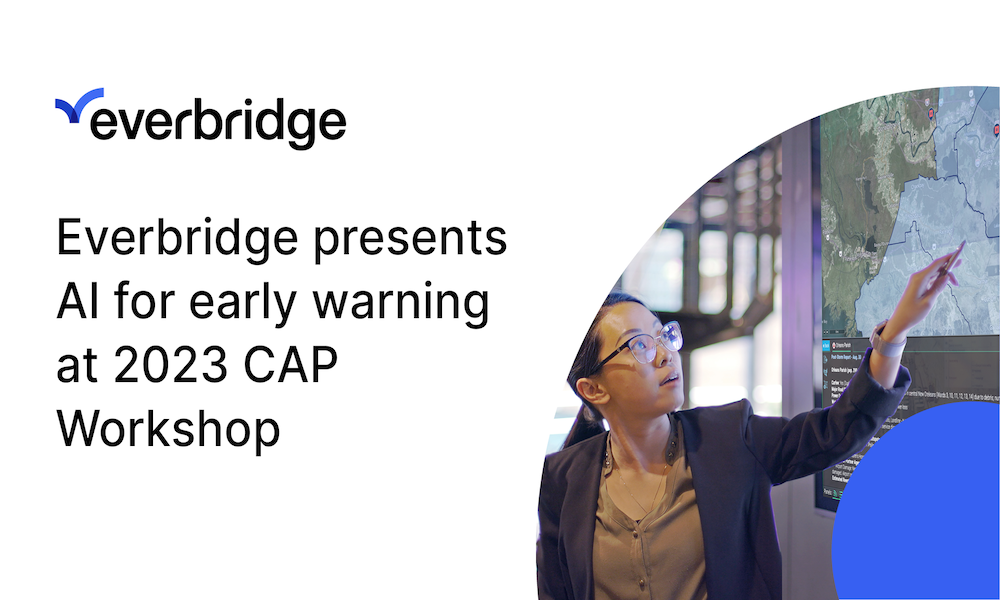 The United States Agency for International Development (USAID) and Alert-Hub.Org CIC are hosting the global workshop, which focuses on the expanding adoption of CAP in early warning
GENEVA, Switzerland, October 12, 2023 – Everbridge, Inc. (Nasdaq: EVBG), the global leader in critical event management (CEM) and national public warning software solutions, today announced its participation at the 2023 CAP Implementation Workshop, taking place this week, October 11-12, in Geneva, Switzerland. The workshop brings together government and non-governmental organizations (NGOs), private enterprise, scholars, researchers, and emergency managers to discuss emergency alerting as enabled by the CAP standard, ITU-T Recommendation X.1303.
Everbridge kicked off the two-day workshop with a presentation on The Use of Artificial Intelligence for Emergency Warning. The prototype presented is a key result of a European Horizon 2020 research project and is being developed with careful consideration of the evolution in the European regulatory environment, notably the "AI Act." The Act, passed by the European Parliament in June 2023 with an overwhelming majority, ensures AI systems used in the European Union are safe, transparent, traceable, non-discriminatory, and environmentally friendly.
"With emergency services and disaster relief operations often stretched beyond capacity, we now look to AI technology to find ways to automate crisis response and deliver resources faster and more efficiently than ever," said Morten Seliussen, VP of Engineering at Everbridge. "Artificial intelligence and machine learning have accelerated to the point where they can make accurate predictions, automate decisions, and trigger lifesaving actions. We are looking forward to sharing our experience with the Common Alerting Protocol and showcasing new approaches to AI-powered technologies at the annual CAP Implementation workshop."
The Common Alerting Protocol (CAP) is defined as a simple but general format for exchanging all-hazard emergency alerts and public warnings over various ICT networks, allowing a consistent warning message to be broadcast simultaneously over many different​ warning systems, thereby increasing warning reach and effectiveness.
While 85% of the world's population live in a country with at least one national CAP feed, developing nations have lagged behind other countries in their adoption of CAP. This gap inspired the Call to Action on Emergency Alerting, endorsed by the Workshop participants as well as the International Federation of the Red Cross, the United Nations Office for Disaster Risk Reduction (UNDRR), and World Broadcasting Unions (WBU), among others.
Workshop participants will also hear presentations focusing on CAP implementation in various nations – including Canada, China, Egypt, Germany, India, Italy, East Timor, Zambia, and Zimbabwe – as well as from the World Meteorological Organization (WMO), which will provide updates on the UN Early Warnings for All Action Plan that builds on the worldwide CAP infrastructure.
In addition to its participation at the 2023 CAP Implementation Workshop, Everbridge serves as an active institutional member of both the International Telecommunications Union(ITU)and the UNDRR Private Sector Alliance for Disaster Resilient Societies (ARISE); takes part in the European Union research and innovation program Horizon 2020; and joins standards bodies, government agencies, and NGOs in endorsing theGlobal Digital Compact assertion that "timely warning of life-critical emergencies is essential to public communication services."
About Everbridge
Everbridge (Nasdaq: EVBG) empowers enterprises and government organizations to anticipate, mitigate, respond to, and recover stronger from critical events. In today's unpredictable world, resilient organizations minimize impact to people and operations, absorb stress, and return to productivity faster when deploying critical event management (CEM) technology. Everbridge digitizes organizational resilience by combining intelligent automation with the industry's most comprehensive risk data to Keep People Safe and Organizations Running™. For more information, visit https://www.everbridge.com/, read the company blog, and follow on Twitter. Everbridge… Empowering Resilience.
Cautionary Language Concerning Forward-Looking Statements
This press release contains "forward-looking statements" within the meaning of the "safe harbor" provisions of the Private Securities Litigation Reform Act of 1995, including but not limited to, statements regarding the anticipated opportunity and trends for growth in our critical communications and enterprise safety applications and our overall business, our market opportunity, our expectations regarding sales of our products, our goal to maintain market leadership and extend the markets in which we compete for customers, and anticipated impact on financial results. These forward-looking statements are made as of the date of this press release and were based on current expectations, estimates, forecasts and projections as well as the beliefs and assumptions of management. Words such as "expect," "anticipate," "should," "believe," "target," "project," "goals," "estimate," "potential," "predict," "may," "will," "could," "intend," variations of these terms or the negative of these terms and similar expressions are intended to identify these forward-looking statements. Forward-looking statements are subject to a number of risks and uncertainties, many of which involve factors or circumstances that are beyond our control.
Our actual results could differ materially from those stated or implied in forward-looking statements due to a number of factors, including but not limited to: the ability of our products and services to perform as intended and meet our customers' expectations; our ability to successfully integrate businesses and assets that we may acquire; our ability to attract new customers and retain and increase sales to existing customers; our ability to increase sales of our Mass Notification application and/or ability to increase sales of our other applications; developments in the market for targeted and contextually relevant critical communications or the associated regulatory environment; our estimates of market opportunity and forecasts of market growth may prove to be inaccurate; we have not been profitable on a consistent basis historically and may not achieve or maintain profitability in the future; the lengthy and unpredictable sales cycles for new customers; nature of our business exposes us to inherent liability risks; our ability to attract, integrate and retain qualified personnel; our ability to maintain successful relationships with our channel partners and technology partners; our ability to manage our growth effectively; our ability to respond to competitive pressures; potential liability related to privacy and security of personally identifiable information; our ability to protect our intellectual property rights, and the other risks detailed in our risk factors discussed in filings with the U.S. Securities and Exchange Commission ("SEC"), including but not limited to our Annual Report on Form 10-K for the year ended December 31, 2022 filed with the SEC on February 24, 2023 and other subsequent filings with the SEC.
The forward-looking statements included in this press release represent our views as of the date of this press release. We undertake no intention or obligation to update or revise any forward-looking statements, whether as a result of new information, future events or otherwise. These forward-looking statements should not be relied upon as representing our views as of any date subsequent to the date of this press release.
All Everbridge products are trademarks of Everbridge, Inc. in the USA and other countries. All other product or company names mentioned are the property of their respective owners.
Everbridge Contacts:
Jim Gatta
Media Relations
jim.gatta@everbridge.com
215-290-3799
Jeff Young
Media Relations
jeff.young@everbridge.com
781-859-4116