Everbridge Stages Interactive Critical Event Exercise to Visitors at International Security Expo 2023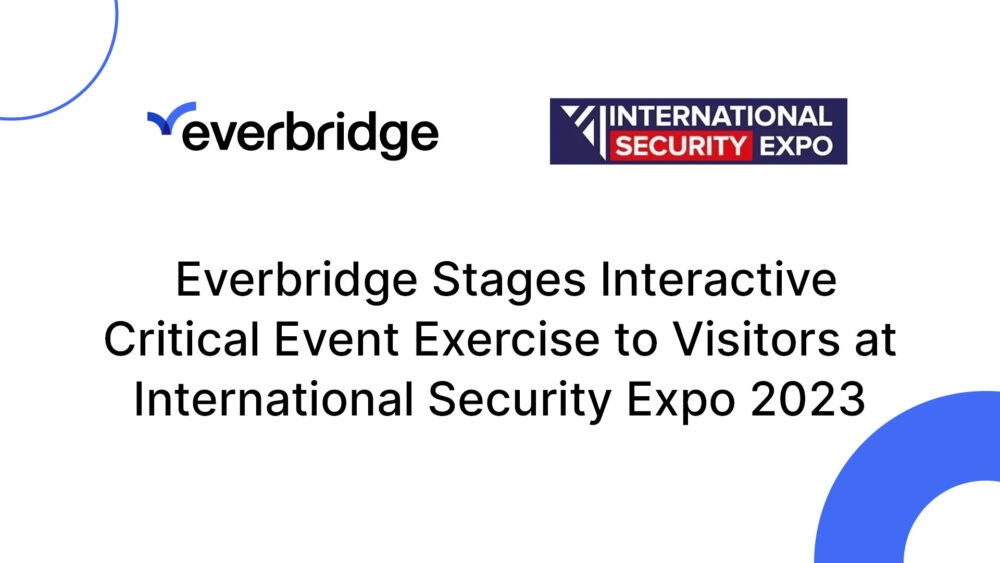 Focus on the safety and resilience for employees, assets, and the public; visitors invited to take part in a simulated emergency on stand E100   
London, UK, September 19, 2023 – Everbridge, Inc. (Nasdaq: EVBG), the global leader in critical event management (CEM) and national public warning software solutions, will be demonstrating how its enterprise-grade solutions deliver smart security and help to build resilience for people in an emergency on its stand (E100) at the International Security Expo (Olympia), 26-27 September.
The Everbridge 360TM Platform automates and accelerates the operational response of organisations to critical events. One of the key features being offered by the company at ISE 2023 is an opportunity for visitors to be part of a simulated scenario encompassing an emerging threat. This desktop exercise will simulate the key stages and elements of a response protocol and provide best practice advice for visitors to take away. Slots for the 20-minute exercise can be booked via Everbridge's Meeting Scheduler.
Presentations at ISE 2023
Everbridge is a sponsor of ISE 2023, and two senior Everbridge spokespeople, Tracy Reinhold, CSO, and Owen Miles, Field CTO, CEM Business Solutions, will be speaking at the event.
Tracy Reinhold will be part of the panel: 'What Are the Priorities the Security Community Should Concentrate on to Help in the Delivery of Martyn's Law?' Joined by fellow panelists Figen Murray, Campaigner for Martyn's Law, Nick Aldworth, Director of Risk to Resolution Ltd., and Barrie Millett, Director Intelligence Operations, Mitie, the session will look at some of the areas within the draft legislation that may require amendment or clarifications and asking 'how the wider Security Community can help. ' The panel session is part of the International Security Council that takes place at 10.30 on September 27th.
Owen Miles will present on the subject of how to successfully navigate the complexity of multiple events against the backdrop of escalating and interconnected global crises. The presentations will take place in the Innovation Theatre at 15.00 on the 26th September and 10.00 on the 27th September.
"ISE 2023 is a significant event in our annual calendar, attracting key security professionals and senior public sector and governmental decision makers," said Tracy Reinhold, Chief Security Officer at Everbridge. "It provides a unique opportunity for us to not only outline best practices when it comes to managing critical events, but to interactively take visitors through an emergency scenario that will help them to identify gaps or areas of consideration in their own responses to incidents."
Everbridge (Nasdaq: EVBG) empowers enterprises and government organizations to anticipate, mitigate, respond to, and recover stronger from critical events. In today's unpredictable world, resilient organizations minimize impact to people and operations, absorb stress, and return to productivity faster when deploying critical event management (CEM) technology. Everbridge digitizes organizational resilience by combining intelligent automation with the industry's most comprehensive risk data to Keep People Safe and Organizations Running™. For more information, visit https://www.everbridge.com/, read the company blog, and follow on Twitter. Everbridge… Empowering Resilience.
PR Contacts:
Julie Kirby / Lorena Duke
Ascendant Communications
jkirby@ascendcomms.net / lduke@ascendcomms.net
07956 955625 / 07719 863333