New York City Deploys Everbridge to Keep Holiday Revelers Safe During the 97th Annual Macy's Thanksgiving Day Parade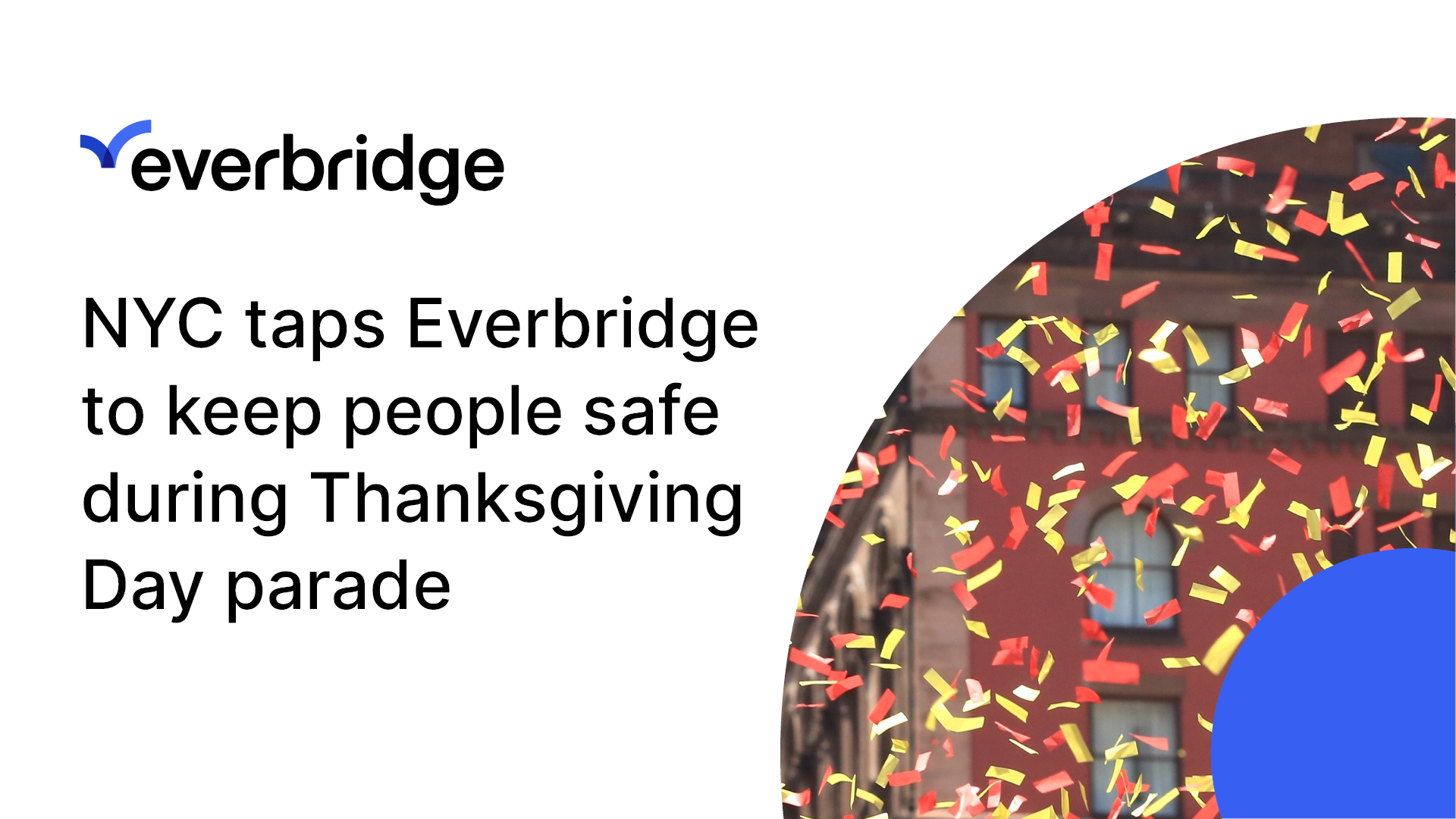 Everbridge to Power Mobile Alerts for the World's Largest Holiday Parade
BURLINGTON, Mass. – November 21, 2023 – Everbridge, Inc. (Nasdaq: EVBG), the global leader in critical event management (CEM) and national public warning software solutions, today announced that the City of New York has once again deployed its critical event management platform to alert attendees of the 2023 Macy's Thanksgiving Day Parade in the event of an emergency, disruption, or need to share important information during the festivities. Everbridge powers the statewide emergency notification platform NY-ALERT and the New York City emergency notification platform Notify NYC.
Residents and visitors who are planning to line the parade route are encouraged to register for alerts by texting THANKSGIVING to 692692 (NYCNYC) to receive critical updates from New York City Emergency Management in English, THXGIVINGESP to 692692 to receive updates in Spanish, and THXGIVINGFRE to 692692 to receive updates in French.
"With the official start of the holiday season beginning this week, Notify NYC is a great tool to stay informed and receive real time updates for anyone attending the Macy's Thanksgiving Day Parade festivities," said New York City Emergency Management Commissioner Zach Iscol. "New Yorkers and out-of-town visitors alike can get important up-to-the-minute information as they enjoy our annual holiday celebration. We are thrilled to partner once again with Everbridge to provide spectators with this simple but critical tool."
As tens of millions watch from home, more than three million people are expected to attend the nationally televised parade which kicks off at 9 a.m. ET on Thursday, November 23 this week, stretching 2.5 miles along Manhattan (from 77th Street and Central Park West to Macy's Herald Square).
Everbridge and its mass notification solutions make it easy for residents, visitors, and attendees to receive important safety and event information on their cellphones through an event-based keyword. Text messages may include safety, traffic, weather, and event alerts, including street closures and detours, transit delays, parade disruptions, reunification locations for missing persons, and updates along the parade route.
Notify NYC will also once again deploy Everbridge for the city's New Year's Eve celebration on December 31, as an estimated one million people gather in Times Square to usher in 2024.
Everbridge (Nasdaq: EVBG) empowers enterprises and government organizations to anticipate, mitigate, respond to, and recover stronger from critical events. In today's unpredictable world, resilient organizations minimize impact to people and operations, absorb stress, and return to productivity faster when deploying critical event management (CEM) technology. Everbridge digitizes organizational resilience by combining intelligent automation with the industry's most comprehensive risk data to Keep People Safe and Organizations Running™. For more information, visit https://www.everbridge.com/, read the company blog, and follow on Twitter. Everbridge… Empowering Resilience.
Cautionary Language Concerning Forward-Looking Statements
This press release contains "forward-looking statements" within the meaning of the "safe harbor" provisions of the Private Securities Litigation Reform Act of 1995, including but not limited to, statements regarding the anticipated opportunity and trends for growth in our critical communications and enterprise safety applications and our overall business, our market opportunity, our expectations regarding sales of our products, our goal to maintain market leadership and extend the markets in which we compete for customers, and anticipated impact on financial results. These forward-looking statements are made as of the date of this press release and were based on current expectations, estimates, forecasts and projections as well as the beliefs and assumptions of management. Words such as "expect," "anticipate," "should," "believe," "target," "project," "goals," "estimate," "potential," "predict," "may," "will," "could," "intend," variations of these terms or the negative of these terms and similar expressions are intended to identify these forward-looking statements. Forward-looking statements are subject to a number of risks and uncertainties, many of which involve factors or circumstances that are beyond our control. Our actual results could differ materially from those stated or implied in forward-looking statements due to a number of factors, including but not limited to: the ability of our products and services to perform as intended and meet our customers' expectations; our ability to successfully integrate businesses and assets that we may acquire; our ability to attract new customers and retain and increase sales to existing customers; our ability to increase sales of our Mass Notification application and/or ability to increase sales of our other applications; developments in the market for targeted and contextually relevant critical communications or the associated regulatory environment; our estimates of market opportunity and forecasts of market growth may prove to be inaccurate; we have not been profitable on a consistent basis historically and may not achieve or maintain profitability in the future; the lengthy and unpredictable sales cycles for new customers; nature of our business exposes us to inherent liability risks; our ability to attract, integrate and retain qualified personnel; our ability to maintain successful relationships with our channel partners and technology partners; our ability to manage our growth effectively; our ability to respond to competitive pressures; potential liability related to privacy and security of personally identifiable information; our ability to protect our intellectual property rights, and the other risks detailed in our risk factors discussed in filings with the U.S. Securities and Exchange Commission ("SEC"), including but not limited to our Annual Report on Form 10-K for the year ended December 31, 2022 filed with the SEC on February 24, 2023 and other subsequent filings with the SEC. The forward- looking statements included in this press release represent our views as of the date of this press release. We undertake no intention or obligation to update or revise any forward- looking statements, whether as a result of new information, future events or otherwise. These forward-looking statements should not be relied upon as representing our views as of any date subsequent to the date of this press release.
All Everbridge products are trademarks of Everbridge, Inc. in the USA and other countries. All other product or company names mentioned are the property of their respective owners.