Protecting employees with the power of integrated E911 and mass notification solutions 
Unlocking effective emergency response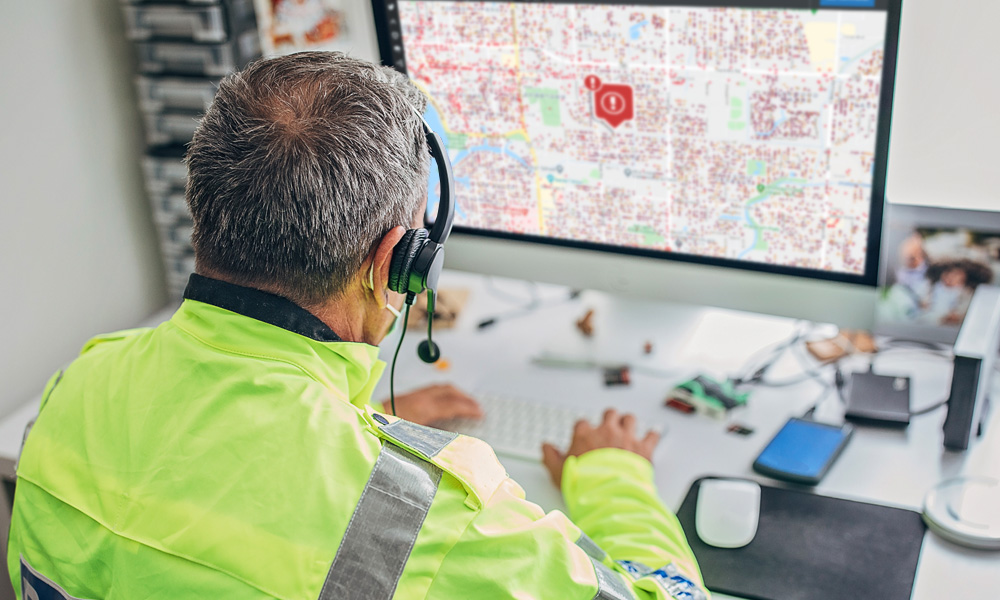 The duty to care for employees and protect them from undue risk has never been more important. Each year, the U.S. experiences an estimated 240 million calls made to 9-1-1. Because of this, lawmakers have enacted federal regulations like Kari's Law and the RAY BAUM's Act. These legislations help ensure certain protections are provided during emergency situations. For example, emergency calls must be routed to the correct call center and a caller's exact location needs to be easily identifiable.
Mass notifications help organizations fulfill their duty of care
However, businesses should not just prioritize compliance with these important federal legislations. Leaders need to be able to quickly alert their people to keep them out of harm's way. By integrating E911 technology with enhanced notification and alerting software, organizations can ensure 100% compliance while protecting their people. These solutions help to define the "who, when, and where" during emergency situations and automatically communicate this information to employees. Below, we will explain the many benefits organizations gain by integrating E911 and mass notification systems.
Organizations have an obligation to keep employees safe, whether they are on-site, working remotely, or traveling for business. Businesses and security professionals must be able to effectively respond to physical and digital threats that might impact their teams. This responsibility is only magnified by today's increase in risk events.
With an automated mass notification system, organizations can quickly reach team members anywhere, anytime. Leaders can notify their teams in case of emergency, enable reliable two-way communication, and mobilize a response team if necessary.
Read our white paper, "From Chaos to Control: The importance of integrated notification and response systems in emergency situations", to learn more.
E911 technology enables compliance with U.S. federal legislation
Organizations are now required to comply with two E911 regulations: Kari's Law and the RAY BAUM's Act:
Kari's Law
Kari's Law requires that anyone must be able to dial 9-1-1 from a multi-line telephone system (MLTS) and reach services without interruption or delay. The law was made in honor of Kari Hunt whose daughter tried dialing 9-1-1 on her behalf. However, she could not reach help due to having to dial "9" before 9-1-1.
The RAY BAUM's Act
The RAY BAUM's Act requires organizations to automatically provide an emergency caller's "dispatchable location" to the nearest emergency call center or Public Safety Answering Point (PSAP). The dispatchable location must include detailed location information such as a street address, floor, apartment, or suite number. The goal is for emergency responders to be able to find the caller without undue delay.
These regulations ensure that individuals receive critical help as quickly and easily as possible during emergencies. Additionally, Kari's Law and the RAY BAUM's Act helps responders reach a caller's exact location even inside large, crowded buildings. E911 solutions ensure compliance with these two federal regulations and help fulfill an organization's duty of care to employees. With cloud-based E911 solutions, companies can protect their workforce, especially as mobile and work-from-home models become the standard.
E911 addresses three business challenges:
Find: Quickly locate an employee who dials 9-1-1.
Route: Correctly route a 9-1-1 call to the PSAP closest to the caller's location versus the headquarters' location.
Notify: Ensure on-site security is aware of the emergency, where it is located in the building or campus, and whether they can provide additional help to the emergency caller or first responders upon arrival.
More powerful together: Combining RedSky E911 and mass notification with incident communications
Organizations can enhance emergency management, streamline everyday operations, and strengthen organizational resilience with an integrated E911 and mass notification solution. Automating mass notifications helps to increase efficiency and improve the impact your team members can make in critical situations.
Overall, organizations need to uphold their duty of care to employees and promote a safe, secure environment. Beyond that, compliance with Kari's Law and the RAY BAUM's Act is a federal mandate. Companies may be liable if emergency callers cannot reach 911 services or be located within your enterprise. Organizations can achieve duty of care and federal compliance goals by combining E911 and mass notification technology.
Everbridge provides organizations in the U.S. and Canada with a world-class, integrated E911 and mass notification solution. E911 powered by RedSky ensures federal E911 compliance while Everbridge Mass Notification enhances incident communications. Whether on or off campus, our platform dynamically locates users, routes the 9-1-1 call to the nearest PSAP, and notifies security personnel. Everbridge can also automatically alert designated individuals of the emergency and leaders can facilitate evacuations or take additional actions if necessary.
To begin your journey toward compliance and a safer, more resilient organization, read "From Chaos to Control: The importance of integrated notification and response systems in emergency situations".
Curious about enhancing your notification capabilities or complying with federal E911 legislation? Get in touch at redskypartners@everbridge.com to learn more.