Establishing a Resilient Enterprise Response Plan
Wildfire preparedness and risk management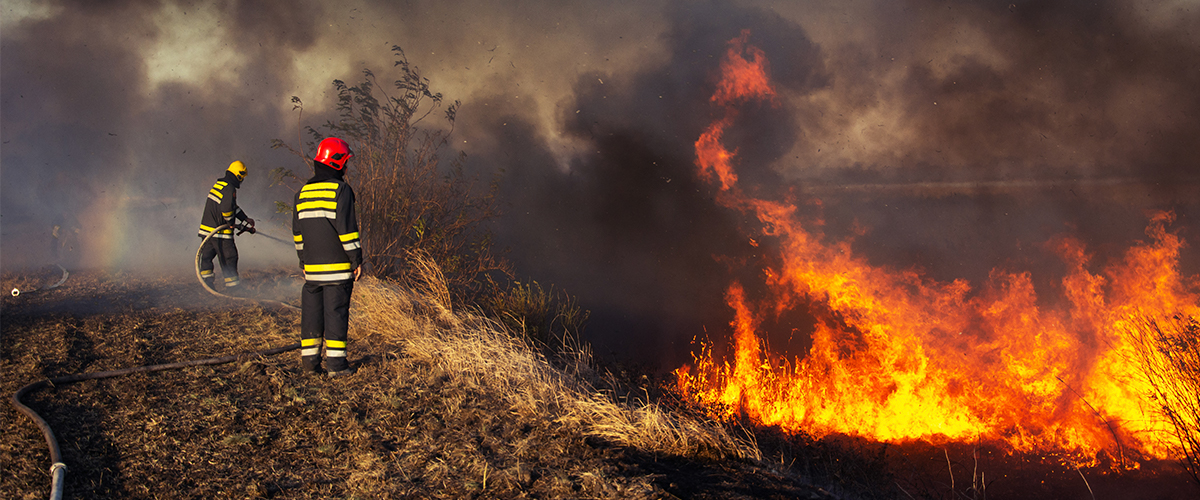 Over the past few years, the world has seen an uptick in natural disasters and social unrest, and the threat landscape is only becoming more complex. As the threat landscape evolves, the parameters of security defense are also expanding to include a new factor: climate change.
Climate change is one of the biggest threats to businesses today, with more than 80% of executives concerned by its potential impact. However, one climate threat sticks out among the rest: wildfires.
Global wildfire activity is expected to surge in upcoming years. Devastated areas are likely to be hit again. For Australia, this news comes as a bitter reminder of the previous bushfires which ravaged more than 46 million acres of land and 10,000 structures. In the United States, California's upcoming fire season sparks new fears in millions of Americans as they recall the damage and devastation of previous fires where more than10.3 million acres burned across an area larger than the state of Rhode Island. In South America, concerns around the world's largest wetland grow, as more than 17 million square miles of it are burned down.
With the rate of wildfires increasing and the scope of their damage expanding, businesses must find new ways to protect their employees and assets from harm while prioritizing wildfire preparedness and prevention.
The risks of wildfires
Wildfires pose a massive risk to individuals, communities, and businesses. Most organizations that experience a fast-moving wildfire turn to ashes, or at the very least, are left structurally unsound and incapable of operational continuity – the effects of which are felt by their communities on an economic and social level. But why do businesses struggle so much with wildfires in comparison to other natural disasters?
While wildfires can cause widespread damage and loss of life like every natural disaster, other natural disasters like hurricanes, tornados, and earthquakes stick to specific geographical locations and last for minutes or a few days. Unlike the rest, wildfires can last for months and start from anywhere in the world, making wildfire preparedness an essential part of any resilient enterprise response plan.
Evaluating the risks wildfires pose to businesses
With several devastating wildfire seasons on record in recent years, more and more US companies have flagged wildfires as a potential risk factor in annual reports. Multiple companies listed in the S&P 500 added wildfires as a growing concern to their 10-K filing as instances of wildfires soar.
The growing costs and occurrences of wildfires have many businesses scrambling to find long-term solutions to this particular climate risk. For example, Quanta Services, a Texas-based power infrastructure company, recently warned investors their current insurance coverage may not sufficiently account for wildfire risk. Numerous insurers are looking to shift the burden of responsibility for wildfires onto businesses. This shift in responsibility could result in wildfire resilience and preparedness as a condition of coverage to prevent another $13 billion in costs to the insurance industry. While time will tell how insurers will respond to the expected surge of wildfires, one of the best things businesses can do before the next wildfire season is create a wildfire emergency response plan.
How to create a comprehensive wildfire emergency response plan
There are several things to consider when looking to create a comprehensive wildfire emergency response plan. However, before businesses can begin, they should first include wildfires as part of their business continuity efforts.
Include wildfires as part of a business continuity plan
As we all know, many business processes are time-sensitive: any interruption can pose a massive threat. Business continuity plans help minimize the impact of any business disruption by taking into account risk factors. Due to the global risk of wildfires and their ability to create long-term havoc and devastation, businesses should include the risk of wildfires in their business continuity planning. We suggest a Mobile Business Continuity Plan.
Complete a wildfire risk audit
Following the addition of wildfire risk to a business continuity plan, businesses should evaluate the risks they face from wildfires by completing a wildfire risk audit. Organizations should consider the locations of their offices, workforce, and supply chains to establish if they are at a high to extreme risk of wildfires. However, organizations don't need to be at a high or extreme risk of wildfires to experience one. For this reason, every business should consider the risks they face from a wildfire. Some common wildfire risks include:
Property: Whether a building, piece of equipment, or operation, businesses that experience a wildfire face property damage. Even if an organization escapes the flames, it will likely be disrupted due to damage to the surrounding area.
Assets: Certain industries may have assets threatened by wildfires. Industries like real estate and agriculture are particularly vulnerable to asset damage and destruction.
People: Maybe a business's location isn't at risk of a wildfire, but some of their employees are. With wildfires capable of starting anywhere, moving fast, and lasting for months, businesses need to prepare for their workforce being displaced, evacuated, or destroyed.
Organizations are encouraged to invest in a risk monitoring solution, such as Risk Center, to target, track, and monitor wildfires effectively.
Establish a means of communicating with your workforce
With wildfires capable of starting from any location and spreading across tens of thousands of acres in a matter of hours, businesses need to determine the best way to connect with their employees in a time of crisis – and it needs to be fast. Those on the front lines of critical events like the West Coast Wildfires, such as Jamie Crozat and her family, can attest to that.
Jamie and her family were victims of wildfire. Thanks to the speed and reliability of Nixle, a mass communication tool developed by Everbridge, Jamie and her family were capable of fleeing their home within 90 minutes of its destruction.
Thanks to the technological advancements made by companies like Everbridge over the past years, businesses can notify and protect employees like Jamie from calamity by efficiently and reliably communicating with them through specialized mass notification tools. As Jamie and other survivors of wildfire would argue, communication is the best way to minimize wildfire risk and maximize safety.
Wildfire preparedness is an essential part of enterprise planning
Whether businesses in high to extreme risk areas are planning for wildfires or effectively preparing for a changing threat landscape, preparing for a wildfire is an essential step in any resilient enterprise response plan. While there is no one-size-fits-all in risk management, there is an array of information designed to help businesses improve their wildfire resilience, preparedness, and monitoring abilities.
To learn more about developing an effective wildfire response plan for your business, click below.