Everbridge Ensures Operational Resilience for State and Local Governments in Preparation for Above-Average 2022 U.S. Hurricane Season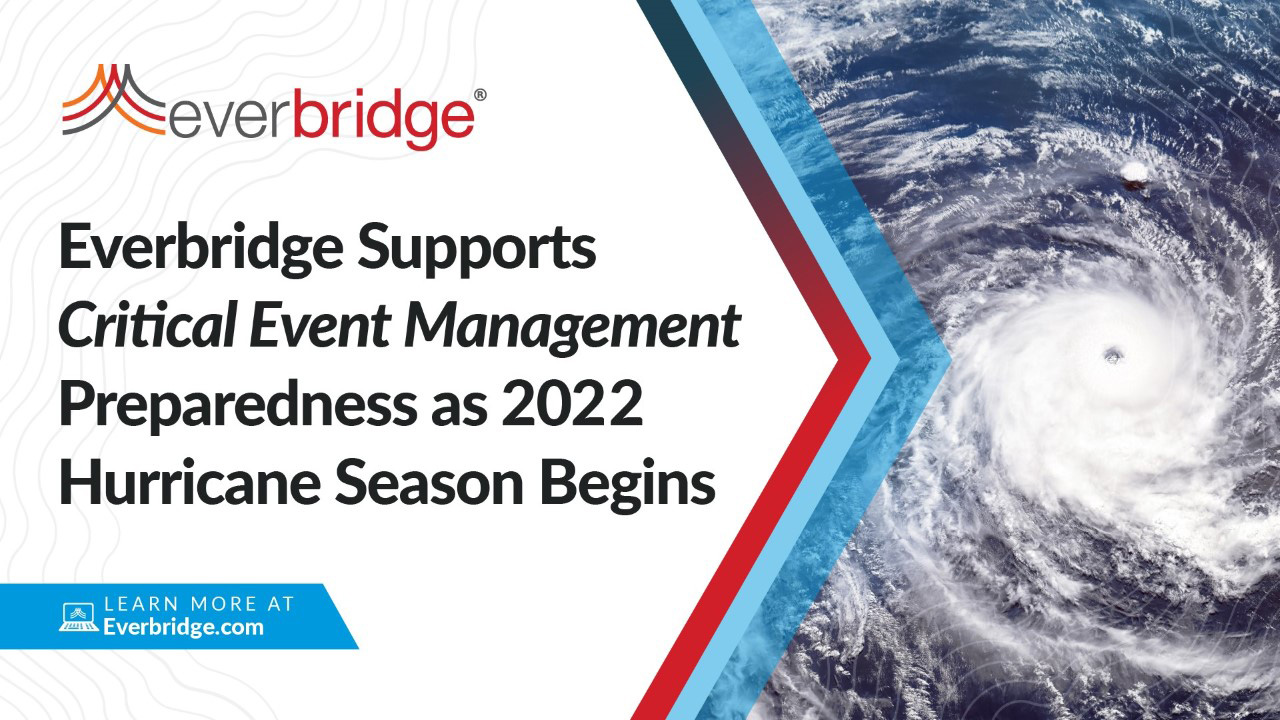 As the National Oceanic and Atmospheric Administration (NOAA) Predicts Another Active Atlantic Hurricane Season, Everbridge Highlights Customer Preparedness and Response
BURLINGTON, Mass., June 30, 2022 – Everbridge, Inc. (NASDAQ: EVBG), the global leader in critical event management (CEM) and national public warning software solutions, today announced its support for hundreds of counties and cities along the U.S. Gulf Coast and Atlantic Seaboard as the 2022 hurricane season gets underway.
"We have a mission to ensure public safety, community awareness and emergency response," said Mayor Jane Castor of Tampa, Florida. "To uphold this commitment, we need to reach our residents, visitors, and staff as quickly and reliably as possible.  Everbridge helps us to ensure citizens and businesses have access to real-time public information when seconds count. We are well-prepared to keep our population informed leading up to, during, and beyond hurricane season."
As Mayor Castor explained in an official statement and accompanying press conference: "It's critical to make a plan in case disaster strikes. Preparing now, before a storm hits, will help keep yourself and your loved ones safe. From having a prepared emergency kit, to knowing your evacuation zone, I encourage all residents to take action and be Tampa Ready by making a plan, getting an emergency kit and staying informed by texting TampaReady to 888-777 or TampaLista to 888-777."
According to the National Oceanic and Atmospheric Administration (NOAA), the forecast for this year's season – June 1 through November 30 – predicts a 65% chance of above-normal activity, with the likelihood of 14 to 21 named storms, six to ten of which could become hurricanes. NOAA forecasts three to six of those hurricanes could rise to Category 3, 4 or 5 storms with winds of 111 mph or higher. This year's hurricane outlook follows a record-breaking 2021 season and would mark the seventh year in a row of unusually high hurricane activity.
"When hurricanes strike, communication between emergency managers, first responders, search and rescue teams, and the general population remains vital to saving lives," said Mike Mostow, Vice President of Public Safety at Everbridge. "Our team of Public Safety experts stands dedicated to providing our customers with the right tools, best practices and functionality to ensure preparedness during the hurricane season, and to always maximize response and safety efforts."
Ahead of the 2022 Atlantic Hurricane season, the Everbridge Customer Success team reinforced critical event management and emergency messaging recommendations, guidelines and tips that organizations should incorporate into their hurricane readiness and preparedness plans. Levering the Everbridge Platform, cities, counties and states across the U.S. can follow these best practices for effectively communicating with citizens during a crisis:
Deploy a population-wide opt-in means for the public to receive critical updates and information via their mobile device – provide communities with a quick and easy-to-implement, opt-in solution for citizens to text a keyword or zip-code to an established SMS short-code.
Contribute to a risk data sharing network that connects the public sector with the private sector – enable government agencies, hospitals, universities, airports, and local businesses to share life-saving information to respond quicker to emergency situations.
Execute special/functional needs registries – identify at-risk citizens during an emergency to ensure high-priority individuals (e.g., nursing homes, hospitals) receive specialized care.
Create incident zones by geographic location – trigger mobile emergency alerts from government authorities when an individual travels into, or returns back to, an area designated as an active critical event.
Maximize outreach with robust database of contacts – to complement opt-in databases, emergency officials turn to the Everbridge Resident Connection database – a robust database of landline, voice over Internet protocol (VoIP) and cellular business and residential contacts to reach the greater population with more confidence.
During the 2021 Atlantic hurricane season – further complicated by the COVID-19 pandemic – many communities along the eastern seaboard and Gulf Coast utilized the Everbridge platform to communicate critical safety information to residents and employees.
For more information, access the Everbridge Hurricane Best Practice and Preparedness materials, including:
Everbridge, Inc. (NASDAQ: EVBG) is a global software company that provides enterprise software applications that automate and accelerate organizations' operational response to critical events in order to Keep People Safe and Organizations Running™. During public safety threats such as active shooter situations, terrorist attacks or severe weather conditions, as well as critical business events including IT outages, cyber-attacks, product recalls or supply-chain interruptions, over 6,200 customers in 76 countries rely on the Company's Critical Event Management Platform to quickly and reliably aggregate and assess threat data, locate people at risk and responders able to assist, automate the execution of pre-defined communications processes through the secure delivery to over 100 different communication modalities, and track progress on executing response plans. For more information, visit www.everbridge.com, read the company blog, and follow on Twitter and Facebook.
Cautionary Language Concerning Forward-Looking Statements
This press release contains "forward-looking statements" within the meaning of the "safe harbor" provisions of the Private Securities Litigation Reform Act of 1995, including but not limited to, statements regarding our ability to execute on our operational initiatives, drive sustainable growth and improved profitability, generate significant value for shareholders and increase optionality. These forward-looking statements are made as of the date of this press release and were based on current expectations, estimates, forecasts and projections as well as the beliefs and assumptions of management. Words such as "expect," "anticipate," "should," "believe," "target," "project," "goals," "estimate," "potential," "predict," "may," "will," "could," "intend," variations of these terms or the negative of these terms and similar expressions are intended to identify these forward-looking statements. Forward-looking statements are subject to a number of risks and uncertainties, many of which involve factors or circumstances that are beyond our control. These risks and uncertainties include, but are not limited to, the implementation of our 2022 strategic realignment or simplification strategies may not be successful; the ability of our products and services to perform as intended and meet our customers' expectations; our ability to successfully integrate businesses and assets that we may acquire; our ability to attract new customers and retain and increase sales to existing customers; our ability to increase sales of our Mass Notification application and/or ability to increase sales of our other applications; developments in the market for targeted and contextually relevant critical communications or the associated regulatory environment; our estimates of market opportunity and forecasts of market growth may prove to be inaccurate; we have not been profitable on a consistent basis historically and may not achieve or maintain profitability in the future; the lengthy and unpredictable sales cycles for new customers; nature of our business exposes us to inherent liability risks; our ability to attract, integrate and retain qualified personnel; our ability to maintain successful relationships with our channel partners and technology partners; our ability to manage our growth effectively; our ability to respond to competitive pressures; potential liability related to privacy and security of personally identifiable information; our ability to protect our intellectual property rights; activist investor actions threatened or commenced against us could cause us to incur substantial costs, and the other risks detailed in our risk factors discussed in filings with the U.S. Securities and Exchange Commission ("SEC"), including but not limited to our Annual Report on Form 10-K for the year ended December 31, 2021 filed with the SEC on February 25, 2022. The forward-looking statements included in this press release represent our views as of the date of this press release. We undertake no intention or obligation to update or revise any forward-looking statements, whether as a result of new information, future events or otherwise. These forward-looking statements should not be relied upon as representing our views as of any date subsequent to the date of this press release.
All Everbridge products are trademarks of Everbridge, Inc. in the USA and other countries. All other product or company names mentioned are the property of their respective owners.
Jim Gatta
Media Relations
215-290-3799
Jeff Young
Media Relations
781-859-4116